How to Make La Pissaladière the Niçoise Flatbread
It's hard to define la Pissaladière with slow-cooked onions, olives and anchovies. It's not quite pizza, not quite a focaccia, but somewhere in between. Nevertheless, this popular street food is a delicious reason to visit Nice, France!
What is La Pissaladière?
A staple in traditional Cuisine Nissarde recipes, la Pissaladièra (in Nissart) is reproduced below with the permission of the Office de Tourisme Métropolitain Nice Côte d'Azur. While the exact origins of pissaladière are unclear, it is a dish that may have evolved as it moved along the Ligurian coastline – a Niçoise take on Genoese focaccia. Regardless, there are mentions of pissalat à la niçoise in the 19th-century.

"An emblematic specialty of Niçoise cuisine, as well as socca or salade niçoise, the pissaladière takes its name from the fact that this specialty was brushed with pissalat before cooking. It is the memory of the «manna» of the Romans, meal composed of bread with another food: onions, olives, meat, fish, vegetables. A pissaladière, accompanied by a glass of wine, allows you to taste the fundamental trilogy of Mediterranean food, bread, oil, and wine …" ~ Office de Tourisme Métropolitain Nice Côte d'Azur.
Find this recipe and many other Niçoise specialities in Carnets de cuisine du Comté de Nice. You can purchase the book online at Amazon or the Office de Tourisme Métropolitain Nice Côte d'Azur.

La Pissaladière
This traditional recipe is so popular that there are even songs written about this savoury flatbread. Slow-cooked onions are layered on a soft dough crust and decorated with olives and anchovies. Nothing could be better served with a glass of local rosé any time of the year!
Ingredients
For the Bread Dough:
500

g

Flour

15 to 20

g

Baker's Yeast

10 to 15

ml

Water

15

ml

Olive Oil

10

g

Salt
For the Filling:
4

lbs

Onions

2

Garlic Cloves

8

fillets of

Salted Anchovies

100

ml

Olive Oil

1

Bouquet Garni

thyme, bay leaf, rosemary,

handful of

Black Nice Olives

Salt and Ground Pepper
Instructions
Prepare the Onions:
Peel the onions, slice them finely, and place them in a cooking pot with the olive oil, the unpeeled garlic cloves, the bouquet garni, salt and pepper. Cover and leave to cook on low heat for 45 minutes. The key is that the onions must cook without browning. Add some water to the pot if necessary, but the liquid must be completely absorbed by the end of the cooking. Stop cooking just before the onions sizzle. Remove the garlic and the bouquet garni.
Make the Dough:
Place 125g of flour in a heap on a flat surface. Make a hole, and add the yeast, moistened with some warm water. Knead the flour and the yeast to obtain a dough ball and leave it to rest in a terrine dish covered with a cloth. The dough should double in size in 30 minutes.

Make a ring out of the rest of the flour, and put water, olive oil and salt in the middle. Knead the dough, adding water for a good consistency. Add the yeast dough and knead both together. Allow the mixture to rest for an hour covered.
Final Stage:
Oil a 30 cm pie dish (or a baking sheet), spread the pastry to a thickness of 5 mm, add the onions and decorate with anchovies and olives.

Put in a preheated oven for 20 minutes at 180/200°C (350°F/400°F). Add some ground pepper when taking the pissaladière out of the oven.

Let the dish cool before serving.
Additional Flatbreads to Try:
Cambozola and Fig Flatbread
A warm and toasty lavash (sheet flatbread) covered in bold creamy Cambozola cheese and figs with fresh thyme and pine nuts baked to perfection.
Check out this recipe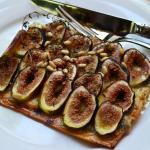 Pink Lady Apple, Cheddar and Prosciutto Flatbread
This is the perfect summer dish, delicious as a main course with a side salad or cut in smaller portions to share as an aperitif. If you want to make this vegetarian, you can skip the prosciutto or replace it with veggies. It's perfect with a chilled glass of Mirabeau Classic Rosé! The recipe serves four as a main course, more if you serve as an appetizer.
Check out this recipe

Focaccia
Focaccia is an oven-baked flatbread seasoned with herbs to create a hearty, flavourful bread. Focaccia makes a perfect addition to any meal or enjoyed on its own with some oil and balsamic vinegar. Enjoy this simple recipe and make it your own by adding meat, cheese, or any vegetable of your choice!
Check out this recipe

All rights reserved. Perfectly Provence articles and other content may not be published, broadcast, rewritten (including translations into other languages) or redistributed without written permission. For usage information, please contact us.
Syndication Information
Affiliate Information
As an Amazon Associate, this website earns from qualifying purchases. Some recipes, posts and pages may have affiliate links. If you purchase via these links, we receive a small commission that does not impact your price. Thank you in advance for supporting our work to maintain Perfectly Provence.