French Seafood Ragout Recipe with Scallop and Lobster
We recently invited friends Lee and Barbara to dinner to celebrate Barbara's birthday. For a friend new to our circle, it was a delight to make a special dinner as a birthday gift. And, as I have often said, the gift of food is definitely one that comes from the heart. I pored over my long list of recipes, trying to decide which would be the one. Continue reading here to read about the recipe choices and more.
So, once I decided on the recipe for a Curried Scallop and Lobster Ragoût, I wondered whether it would pair with a rosé from Central Coast, California. Read about the details of this lovely wine on Provence WineZine here. The Vin Gris de Cigare rosé from the Bonny Doon vineyard does not have the typical aromas or flavour profile most often associated with rosés (especially those from Provence). It isn't fruit-forward, and the acidity is fairly high.

Curried Scallop and Lobster Ragoût
A delicious dessert created to be shared with friends and that tastes even better paired with wine!
Ingredients
1

lb

All-Butter Puff Pastry

thawed

4

tbsp

Butter

divided

2

Leeks

white and light green parts

2

large

Plum Tomatoes

3

small

Plum Tomatoes

1/2

teaspoon

Curry Powder

large pinch

Saffron

Salt and Freshly Ground Black Pepper

1/2

cup

Heavy Cream

1/2

lb

Sea Scallops

2

Lobster Tails

steamed for 8 minutes

Egg White

for brushing pastry
Instructions
Start by making the puff pastry boxes. Using a sharp, pointed knife, cut out four 5-inch square pieces of puff pastry. (Don't roll the pastry thinner, as it won't puff as much.) Use the same knife, cut around the inside edges and create a box with handles. See my illustration below.

Use a little egg white to attach the strips to the bottom. Score the inside edge of the box with a sharp knife (do not cut through to the bottom). Place boxes on a parchment-lined baking sheet and refrigerate until about 20 minutes prior to serving. For a box alternative, see notes **

Cut the leeks in half lengthwise, and wash carefully to remove any sand or grit. Slice the halves into crescent moons about 1/4 inch thick.

Remove the seeds from the plum tomatoes and dice the flesh (no need to peel the tomatoes).

Heat 3 tablespoons butter in a large skillet over medium heat. Add the leeks and cook for 8 to 10 minutes, or until soft; do not let them brown. Add the diced tomatoes and cook for 5 more minutes. Season with the curry powder, salt, and freshly ground pepper, and cook 1 minute longer to allow flavours to meld. Add cream and cook until it begins to thicken — about 2 minutes. Remove from the heat and set aside.

Approximately 25 minutes before you plan to serve, preheat the oven to 400°F (200°C). While the oven is preheating, take the pastry boxes out of the refrigerator. Brush inside the bottom of the boxes and the tops of the side strips with egg white, be careful that the egg white doesn't touch the sides or they won't puff. Bake for 18-20 minutes until puffed and deep golden-brown.

While the boxes are baking, pat the scallops dry, remove the tough muscle on the sides (depending on where you purchased them, the fishmonger may already have done this), and cut them into quarters. Add the remaining 1 tablespoon of butter to a small skillet over medium-high heat. Sauté in the butter until lightly browned. This will take only a minute or two.

Transfer the scallops to the skillet with the leek, tomato, and cream. Remove the lobster tails from their shells, and cut them into 1/2-inch dice. Add the lobster to the ragoût, and return the skillet to medium-high heat.

Remove the pastry boxes from the oven, and very carefully remove the centre bottom, which will eventually become the box top. (Be very careful, as 400°F (200°C) butter is very hot!) Spoon the ragoût into the boxes and place the box lid on top. Serve immediately.
Notes
**Alternatively, you don't need to make a box. Simply cut out squares of puff pastry (4-inch squares are good), brush them with egg white (again, making sure it doesn't touch the sides of the pastry), and bake them for the requisite 20 minutes. You can then just split them in half horizontally, spoon the filling on the bottom, and then cover with the top.
Additional Seafood Recipes:
Wasabi Seared Scallops with Tamari Butter
A tasteful seafood recipe that can be served as a first course or light main course with a salad.
Check out this recipe

Provençal Seafood Stew
This recipe from Cocoa & Lavender was adapted from a recipe by Mark Bittman.
Check out this recipe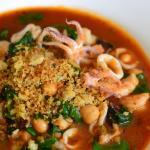 Monkfish Fillets With Tomatoes And Fresh Peas
Monkfish is a delicious fish, sometimes compared to lobster in texture. As long as your fishmonger prepares it properly, it is easy to work with, and the results are yummy.
Check out this recipe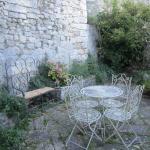 Salmon Wellington (en Crôute)
This classic seafood dish is a bit of a nod to old school recipes (think Julia Child) and definitely, a dinner party hit.
Check out this recipe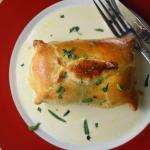 Salmon and Prawn Parcels
Crispy, flaky Filo pastry parcels hide a delicious seafood secret of buttery salmon and prawns with a tart and creamy lemon butter sauce.
Check out this recipe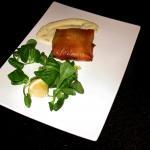 All rights reserved. Perfectly Provence articles and other content may not be published, broadcast, rewritten (including translations into other languages) or redistributed without written permission. For usage information, please contact us.
Syndication Information
Affiliate Information
As an Amazon Associate, this website earns from qualifying purchases. Some recipes, posts and pages may have affiliate links. If you purchase via these links, we receive a small commission that does not impact your price. Thank you in advance for supporting our work to maintain Perfectly Provence.