French Duck with Spicy Noodles
As it is with all cultures, international flavours and dishes are adapted into your local cuisine with a loving and "tasteful" twist. And this dish is no exception. Local honey lends itself to this sweet and spicy favourite that is traditionally Asian inspired, but classically French in execution.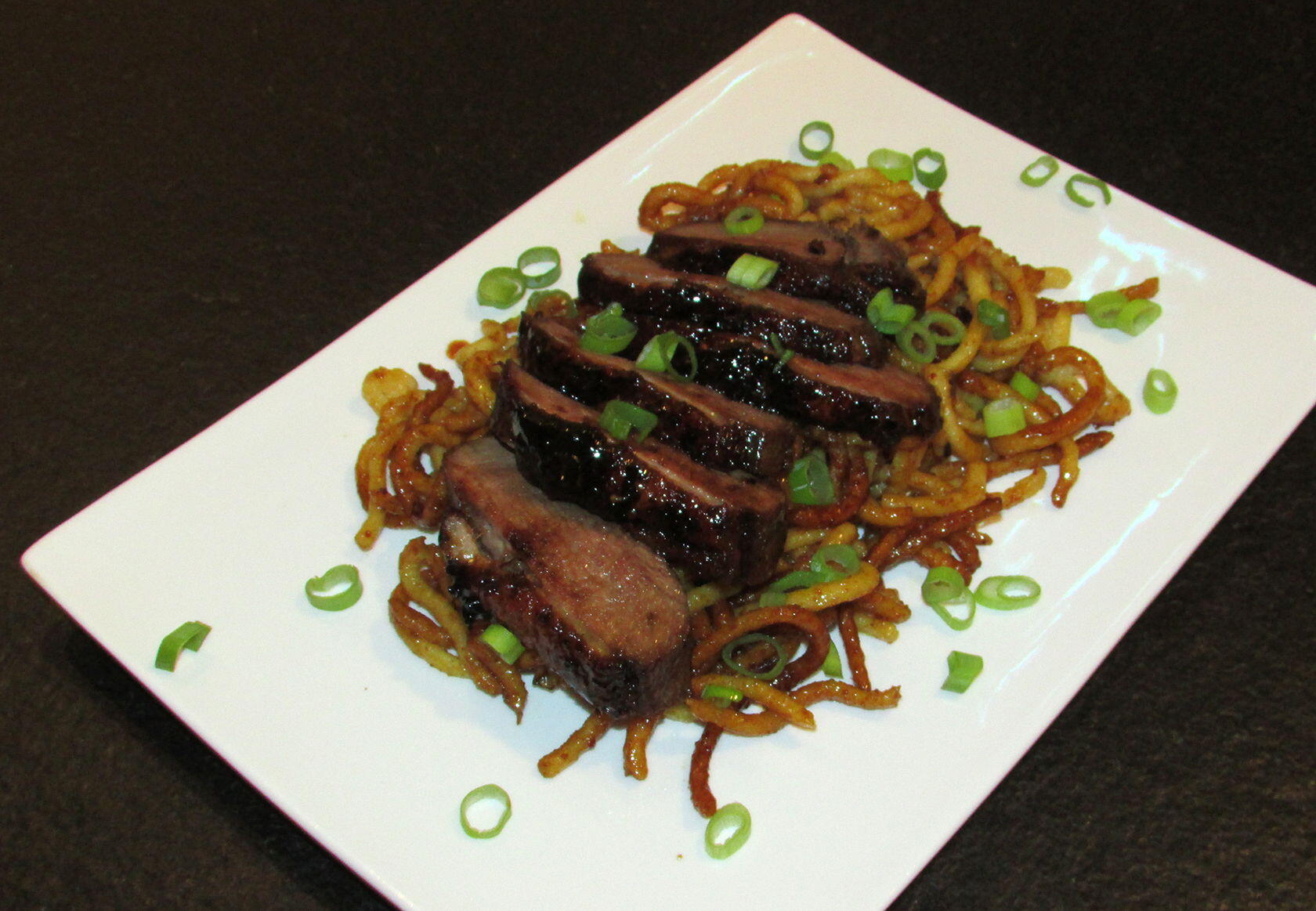 Duck Breast with Spicy Noodles
Tender juicy duck breasts served with spicy rice noodles.
Ingredients
For the Duck
2

Duck Breasts

1

tbsp

Coriander seeds

1

tsp

Black peppercorns

1

tsp

Salt

1

tbsp

Soy sauce

2

tbsp

Honey
For the Noodles
1

tsp

olive oil

3

Shallots

very finely sliced

300

gr

Rice Noodles

2

tsp

Soy sauce

2

tsp

Chili

finely chopped

1

tsp

Mild curry powder

1

Egg
Instructions
Preheat the oven to 200C.

Grind the coriander and peppercorns in a pestle and mortar into a fine powder and rub generously into the skin of the duck and season with salt and pepper.

Place the duck breast skin side down in a hot frying pan, reduce the heat immediately and cook until the skin is a lovely brown and the fat is rendered.

Add the soy sauce and honey and cook for about a minute.

Slash the fat on the duck breast and then sear it on both sides in a very hot pan.

Remove it from the pan and place in the oven at 180C/350F/Gas 4 for about 10 minutes.

Meanwhile, drain off any excess fat from the frying pan.

Put in the shallots, garlic, thyme and tomatoes and cook for a minute or two.

De-glaze the pan with the balsamic vinegar and red wine.

Add the butter and red currants and reduce the sauce for a couple of minutes.

Remove the duck from the oven to rest.

To cook the noodles place the oil in a non-stick wok over a high heat.

Add the shallots and stir for a minute or two.

Add the noodles and stir for another minute.

Add the soy sauce, chili and curry powder and stir through, releasing the spices.

Add the egg and stir for 1 minute until cooked through.

To serve place the noodles on a plate, slice the duck on the diagonal and place on the noodles, drizzle over the sauce and sprinkle with chopped chives.