Easy Grilled Halibut and a Provencal Wine Pairing
The thing is, we weren't planning on grilled halibut for dinner. But sometimes, that is how things go when you get to the grocery store, and they don't have what you had planned.
In most cases, that isn't too complicated a switch, but for this meal, we had planned a cooking and wine pairing with Susan and Towny in New Hampshire via Zoom. I quickly called Susan from the seafood counter to let her know our planned protein was unavailable and to make sure Towny hadn't left for their fishmonger. We were having a virtual dinner party, and the goal was also to find a good food match for a rosé from Château Sainte Roseline.
The menu was simple but perfect: herb and lavender marinated halibut fillets grilled over hot coals, accompanied by new potatoes bathed in butter and sprinkled with parsley and fresh asparagus. Keep reading here for the results of the wine pairing.

Grilled Halibut Provencal
If you want something new to grill, try this halibut recipe! The dish can be paired with a glass of rosé from Provence.
Ingredients
2

tbsp

Extra Virgin Olive Oil

plus extra for serving

1 1/2

tsp

Fresh Basil

finely chopped

1 1/2

tsp

Fresh Thyme

finely chopped

1

tsp

Dried Culinary Lavender Buds

1/2

tsp

Kosher Salt

1/4

tsp

Freshly Ground Black Pepper

healthy pinch

Hot Pepper Flakes

I used Piment d'Espelette

2

Halibut Fillets

with skin, about 6 ounces each

Lemon Wedges
Instructions
In a small bowl, whisk together into a paste all the ingredients except fish and lemon. Spread the paste evenly on the non-skin side of the fish fillets. Let marinate for 20-30 minutes to allow the flavours to settle in.

Grill, skin side down, on a well-seasoned rack over direct high heat until the flesh is opaque throughout and starting to flake, 7-8 minutes, without turning. Serve hot with a drizzle of olive oil and garnish with lemon wedges.

Note: My grill temperature was 500°F (260°C) to start and I reduced the temperature to 400°F (200°C) as soon as I set the fish on the grill.
More Fish Recipes to Try:
Crispy Salmon with a Lemon Risotto
Quick to prepare this salmon dish is a light main course any time of the year. The wonderful thing about risotto is you can make it the main event, slow down the cooking and occasionally stirring while you chat with your guests.
Check out this recipe

Seared Tuna with Sorrel and Fennel
A simple, flavourful tuna preparation made with the bounties of both the sea and small farms
Check out this recipe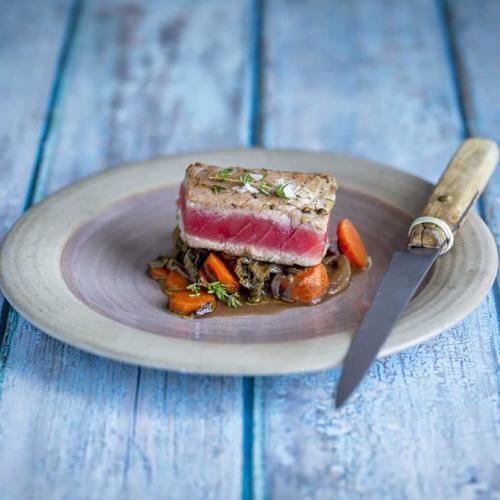 Provencal Fish Soup
I created this recipe to be beautiful, tasty (of course) as well as relatively budget-friendly. There are lots of vegetables in the stock and base as I was aiming for an aromatic soup. You can substitute the cod for other fish, but I found it's fleshy texture the most delicious and practical for my presentation.
Check out this recipe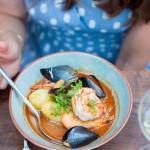 Mediterranean Fish with a Vegetable Tian
A tian is the Provencal name for an clay casserole dish (oven friendly). It is also the name used to describe a layered baked dish, which can be savoury or sweet.
Check out this recipe

Monkfish Fillets With Tomatoes And Fresh Peas
Monkfish is a delicious fish, sometimes compared to lobster in texture. As long as your fishmonger prepares it properly, it is easy to work with, and the results are yummy.
Check out this recipe