Road Trip to Lyon and Top 5 Things to Do
Lyon is the 3rd largest city in France and the French capital of gastronomy! With its beautiful old town, many restaurants, museums and shops, there are plenty of things to do in Lyon. Here are all our tips for your next road trip or a perfect weekend trip in Lyon.
Top five things to do in Lyon on a weekend trip
1. Wander through the old town streets of Vieux-Lyon
Vieux-Lyon, or the Saint-Jean area, is the most picturesque part of Lyon. The cobblestone streets with colourful houses are filled with small shops, cafés and restaurants. Wander around the streets of Rue Saint-Jean and Rue du Boeuf, and have a drink on a terrace on Place de la Baleine.
There are cute little shops with typical products from Lyon. For example, grab a 'brioche' bread with pink coloured pralines at one of the bakery shops, or try the local 'Coussins de Lyon', which are colourful sweet treats of chocolate and marzipan.
2. Visit the Traboules, hidden passageways
3. Head up to Notre-Dame de Fourvière with the funicular and walk back down for the views
4. Eat in a typical Bouchon Lyonnais restaurant
5. Visit the Presqu'ile with its beautiful squares Place des Terreaux and Place Bellecour
Continue reading here for Laura's photos and details about their weekend in beautiful Lyon.
---
One could say that Lyon is at the intersections of France. After Paris and Marseille, Lyon is France's third-largest city. Located almost in the country's centre, the drive from Marseille takes a little over 3 hours and 4.5 from Paris. However, on the train (TGV), from either metropolis, the travel time is cut considerably. Moreover, Lyon enjoys easy access to mountain sporting activities with the Alps to the East. And the trip to the heart of Burgundy's wine country is only a couple of hours away.

Perhaps all of the above makes Lyon so attractive and the perfect road trip destination from Provence. With the "best of France" flowing towards Lyon, the city has a justified reputation for its high-quality gastronomy, deep cultural history, and as a UNESCO World Heritage Site.
Eating in Lyon
French markets are known for quality, seasonal produce, but in a city with a reputation for gastronomy, a visit to the les Halles de Lyon Paul Bocuse is a must. Lyon's covered market began in 1859 on the Place des Cordeliers. A metal structure covered the stands, but the market was open-air otherwise. In 1971, the newly expanded Halles de Lyon opened with three floors of merchant space. Further upgrades and modernisations took place in 2004.
Today, this indoor marketplace has over 55 food merchants. If you can't find an ingredient at les Halles, it likely doesn't exist. So whether you are shopping for poultry, fowl, beef, vegetables, fish, cheese or a libation, this market has it all. Open daily, there is parking nearby and several popular restaurants too.
Les Halles de Lyon Paul Bocuse
102 Cr Lafayette F,
69003 Lyon
Michel and Shirley headed to Lyon on a road trip from Sablet. At the same time, there is little doubt about what might have attracted these two food lovers to the gourmet city – sights, wine and restaurants. Where did they eat? They visited one of the oldest, most authentic bouchons in Lyon.
Café Comptoir Abel
25 Rue Guynemer
69002 Lyon
Telephone: +33 (0)4 78 37 46 18
Lyon sits at the confluence of the Rhône and Saône Rivers and enjoys the fruits of wine labour from Côtes du Rhône vineyards to the south and Burgundy a couple of hours north. The most traditional Lyonnais restaurants are called "bouchons." Lyon's version of a Paris bistro, these lively restaurants serve local fare. The meals are hearty to go along with the wine. Menus might include Rosette Lyonnaise (a cured pork sausage), potatoes gratin, sausage varieties such as a pistachio version, or coq au vin. On the sweeter side, among the local specialities are candied chestnuts (marrons glacés), pralines (pink sugar-coated almonds) and bugnes, a "light" version of a beignet. After a few food-filled days in Lyon, it may be time to return to the lighter tastes of Provence.
Pink Praline Brioche à la Praline
This sweet bread has a crusty exterior yet is soft on the interior, and the pink pralines add the Lyonnaise touch.
Check out this recipe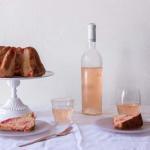 Tarte aux Prâlines Roses
An elegant but simple dessert for your New Year's Eve fête or a romantic Valentine's dinner!
Check out this recipe

Festival of Lights
Lyon is also famous for its Festival of Lights or Fête des Lumières, set around December 8th. On this date, the people of Lyon place candles or lamps in their windows in reverence to the Virgin Mary. The origins of today's professional light show were, in fact, a celebration that began quite by accident. In 1852, a statue of the Virgin Mary was to be inaugurated on Fourviere Hill to pay homage to the Lord for banishing the Black Plague from the city. Unfortunately, due to violent weather, the official event was postponed. Finally, once the storm passed, the inhabitants of Lyon lit their homes with candles and took to the streets to celebrate.
All rights reserved. Perfectly Provence articles and other content may not be published, broadcast, rewritten (including translations into other languages) or redistributed without written permission. For usage information, please contact us.
Syndication Information
Affiliate Information
As an Amazon Associate, this website earns from qualifying purchases. Some recipes, posts and pages may have affiliate links. If you purchase via these links, we receive a small commission that does not impact your price. Thank you in advance for supporting our work to maintain Perfectly Provence.