Easy Apple Crumble for Dessert
I would be hard-pressed to find anyone who doesn't like the sweet aroma of baked apples, cinnamon and sugar. This Apple Crumble is easy to make for dessert. It is real comfort food for cold nights and, as so many people are now following a gluten-free diet, it also ticks the box on that. This dessert is a great option for Thanksgiving for those who do not like pumpkin pie. While you are enjoying dessert, maybe it is time to start thinking about Provence for the Holidays.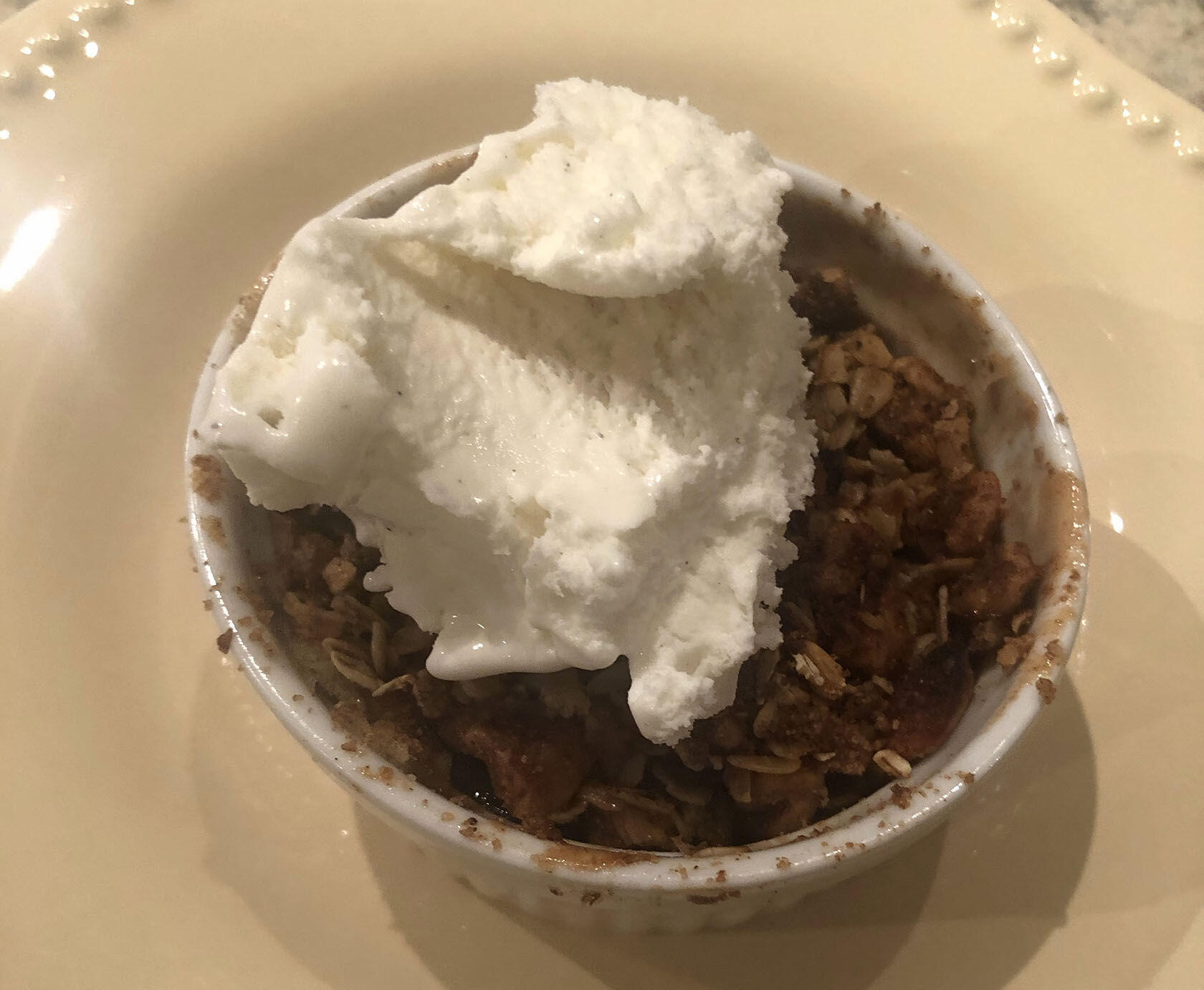 Easy Apple Crumble
This dessert is quick to prepare and the results are almost always flawless. Enjoy!
Ingredients
2

large

Baking Apples

peeled, cored and cubed

1/4

cup

Dried Raisins

2

tsp

Cinnamon

1/4

tsp

Ground Nutmeg

4

tbsp

brown sugar

Juice of 1/2

Lemon

1/4

cup

dark rum

1/2

cup

walnuts

finely chopped

1/2

cup

Rolled Oats

make sure they are gluten-free

1/4

cup

Unsalted Butter (Chilled)

cut in small chunks
Instructions
In a small bowl, pour rum over raisins and allow the raisins to plump for 30 minutes.

Grease 4 individual ramekins with butter.

Preheat oven to 350˚F (180˚C).

In a medium bowl, mix together the apples, 1 teaspoon cinnamon, nutmeg, 2 tablespoons brown sugar, lemon juice.

Add the soaked raisins and the rum. Stir to coat.

Add 1/4 apple mixture to each ramekin.

In a small bowl, add chopped walnuts, rolled oats, 1 teaspoons cinnamon, 2 tablespoons brown sugar and a pinch of salt and mix to incorporate.

Use your fingers to mash the butter into the mixture, creating small clumps.

Divide the mixture on top of each of the 4 ramekins, pressing down lightly on the tops.

Bake in the 350˚F (180˚C) oven for 40-45 minutes and tops are nicely browned.

Allow to cool for 20 minutes.

Serve topped with vanilla ice cream or freshly whipped cream.
Fall Dessert Ideas
Pear (or apple) tarte tatin is a French dessert classic that only exists as a result of a fortunate culinary accident. This version is a twist on the traditional fruit using ingredients that grow in Provence – enjoy a slice of Quince Almond Tarte Tatin.
The bounty of fresh plums at our local market inspired this Plum Streusel Tart.
Just try to resist this homemade Apple Beignet with Caramel Ice Cream. This recipe turns seasonal apples into the best doughnuts ever.