Cooking Classes in Marseille? Spend a Day with the Provence Gourmet
For someone who had never spent much time in Marseille, now I'm loving it! I jumped at the chance to join a cooking class in Marseille with Gilles Conchy of Provence Gourmet.
Marseille is a city of wide, busy streets and tight alleys. High-end fashions and ethnic robes. Elegant eateries and takeout pizzas. It's everything you might expect from France's second-largest city, plus a whole lot more. For my return visit to Marseille, I was excited to see it again, especially Les Vieux Port, the Saturday fish market and an inside view of a true "Marseillaise" apartment.
…Continue reading here for BB's cooking class in Marseille. Gilles Conchy is the friendly face behind Provence Gourmet. He offers market tours and cooking classes in Marseille, Aix-en-Provence, and in the Alpilles near St Remy de Provence.
Gilles Conchy says it was Provencal food and family ties that tugged him back to Provence after four years in California. Although, he admits that he could still be a "California boy." The sandy, windswept beaches and seemingly endless sunny days of the southwest U.S. fit like a second skin to someone who grew up in Marseille. It is a place where the Mediterranean and cobalt sky competes in a daily beauty pageant. Read his background story here.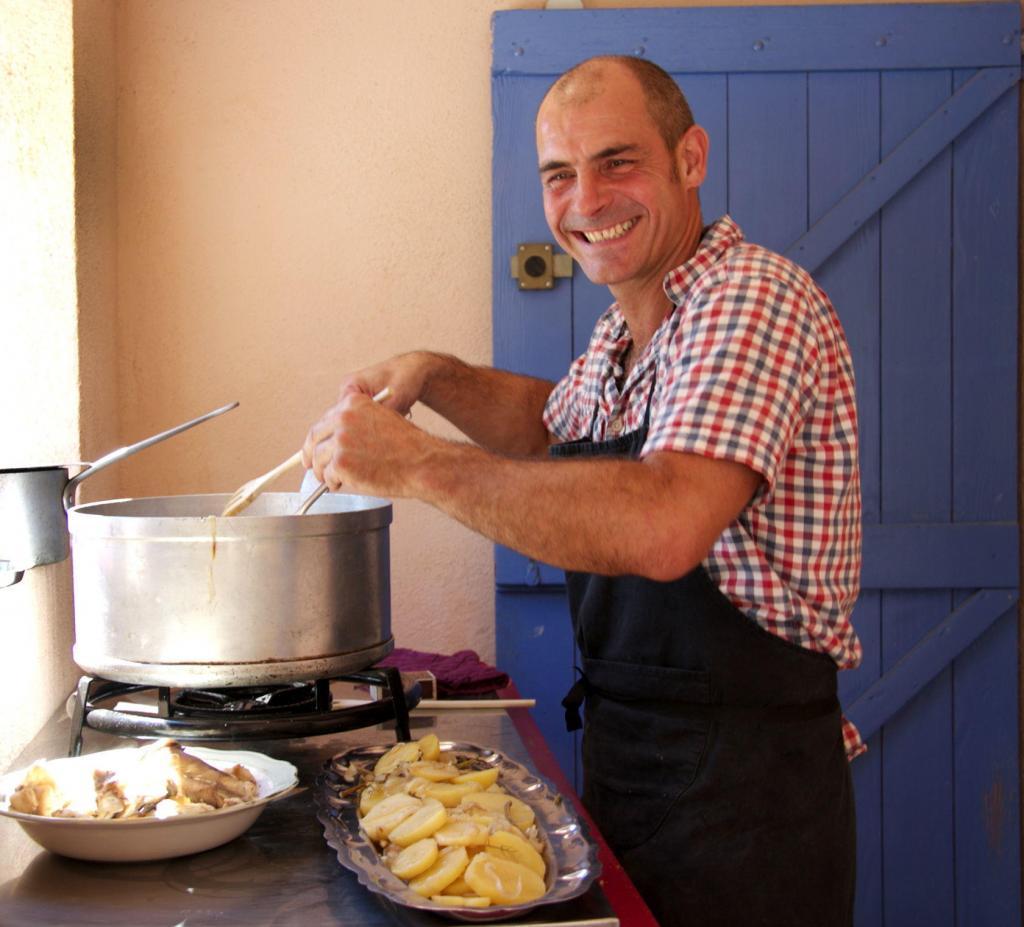 Provence Gourmet Recipes
Red Wine Poached Pears – a perfect fall dessert, combining the late-season fruit with red wine.
Olive Tapenade on a Mesclun Salad – easy recipe, a Provencal classic you can enjoy any time of the year.
How to make Bourride – a simple Provencal fish stew. It is made with white fish, and the broth is thickened with aïoli, a homemade garlicky mayonnaise. It is a cousin of Bouillabaisse as many ingredients are similar.
Fresh Mussels Provencal Style – a Mediterranean variation of cooking this type of mollusc. Mussel farming is the highest volume shellfish industry in Europe. However, it is by no means contemporary, shellfish cultivation on wooden stakes is known to have existed by the 13th century in France.
Brandade is a salt cod recipe from Provence, this version served as a main course dish.
A Classic Provencal Dish Artichokes Barigoule – Braised in a white wine broth, the artichokes hearts and other vegetables create a simple dish.
Delicious Raspberry Tart with an Almond Crust – An easy dessert to make. The fresh raspberries and the hint of mint give it a summer feel.
Read about options for culinary holidays in Provence. Take a class, join a cooking week, enjoy a market tour, or try a workshop.