Braised Short Ribs a Hearty Recipe for Autumn
One of the beautiful things about Provence is the changing seasons. In autumn months, the sun takes a longer time to get out of bed and break through the sometimes dense low-level fog. Once the extreme fire risk has lifted, in late September, the farmers are allowed once again to light bonfires. The morning air fills with a light hint of sweet smoke from clippings and dead branches. Evening falls suddenly and early encouraging you to set the table for a warm, hearty meal like this one for braised short ribs.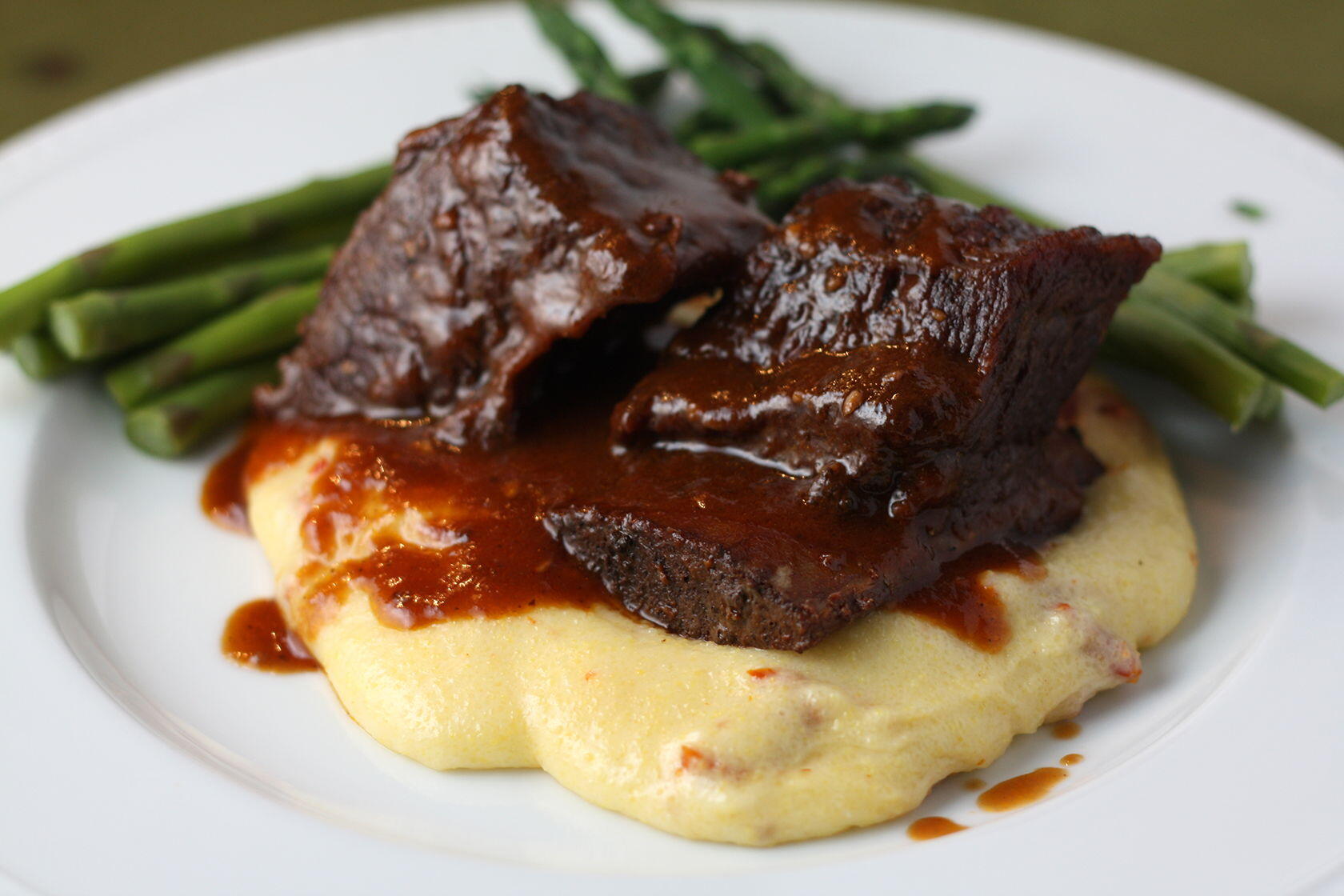 Braised Short Ribs
This is a dish that your guests will love. It is a great weekend meal, as it can (and should) be made in advance and reheated.
Ingredients
6

large

Boneless Beef Chuck Ribs (well-marbled)

or 8 meaty bone-in beef short ribs

3

tablespoons

Canola Oil

1

large

Onion

thinly sliced

3

Carrots

peeled and cut in thirds

1

cup

Dry Red Wine

good quality

3

large

Garlic Cloves

peeled and crushed

8

oz

crushed tomatoes

1

tablespoons

Thyme

chopped

1

tablespoons

Oregano

chopped

1

tablespoons

rosemary

chopped

2

Bay Leaves

1/4

cup

Flat leaf parsley

chopped

to taste

Salt and Pepper
Instructions
Pre-heat the oven to 325 degrees.

Pat the ribs very dry and season with salt and pepper on both sides.

In a large skillet, heat the 3 tablespoons of oil until shimmering.

Working in batches, add the ribs to the skillet being careful not to crowd them.

Brown the beef on all sides over medium high heat, you want to get a good sear.

As they are seared, remove the ribs with a slotted spoon and place them in a single layer in a large oven-proof casserole or baking dish.

Saute the onion slices in the skillet until they start to brown.

Add the sauteed onions, carrots and bay leaves to the beef ribs.

Add the garlic cloves, crushed tomatoes and wine to the pan.

Bring to a boil, scraping the bits from the bottom of the skillet.

Pour the heated liquid into the casserole, you should have enough liquid to cover the ribs halfway up.

Sprinkle with herbs and parsley.

Cover the casserole tightly with aluminum foil and place in pre-heated oven for 3 hours.

Allow the ribs to cool in the casserole and refrigerate overnight.

1 hour before serving, pre-heat the oven to 325 degrees. Remove the casserole from the refrigerator and skim the hardened fat from the ribs.

Re-heat the ribs for 1 hour.

Serve over pureed potatoes, sprinkle with fresh chopped parsley.
Notes
This dish is best made a day ahead so the flavours can "get to know each other."