Provencal Poischichade and Other Easy Appetizers
This summer when we were in Provence visiting family and pre-planning for our group tour, I noticed a developing trend for appetizers. The traditional black olive tapenade is of course always present. However, there is a movement to use alternative ingredients to create hummus-like dips, I call these spreads ades.
Pick a commonly used ingredient like chickpeas, roasted peppers, sun-dried tomatoes or even basil; make it spreadable, then add the suffix ade and voila, you have a fabulous finger food to serve at your next apéro. The three recipes below for poischichade (hummus without tahini), tomatade (sun-dried tomatoes), and poivronade (with fire-roasted red peppers) are my own inventions.
These are fantastic easy-to-make appetizers that you can make any time of the year. Alternatively, visit Remember Provence for their incredible line of pre-made, authentic dips direct from Provence.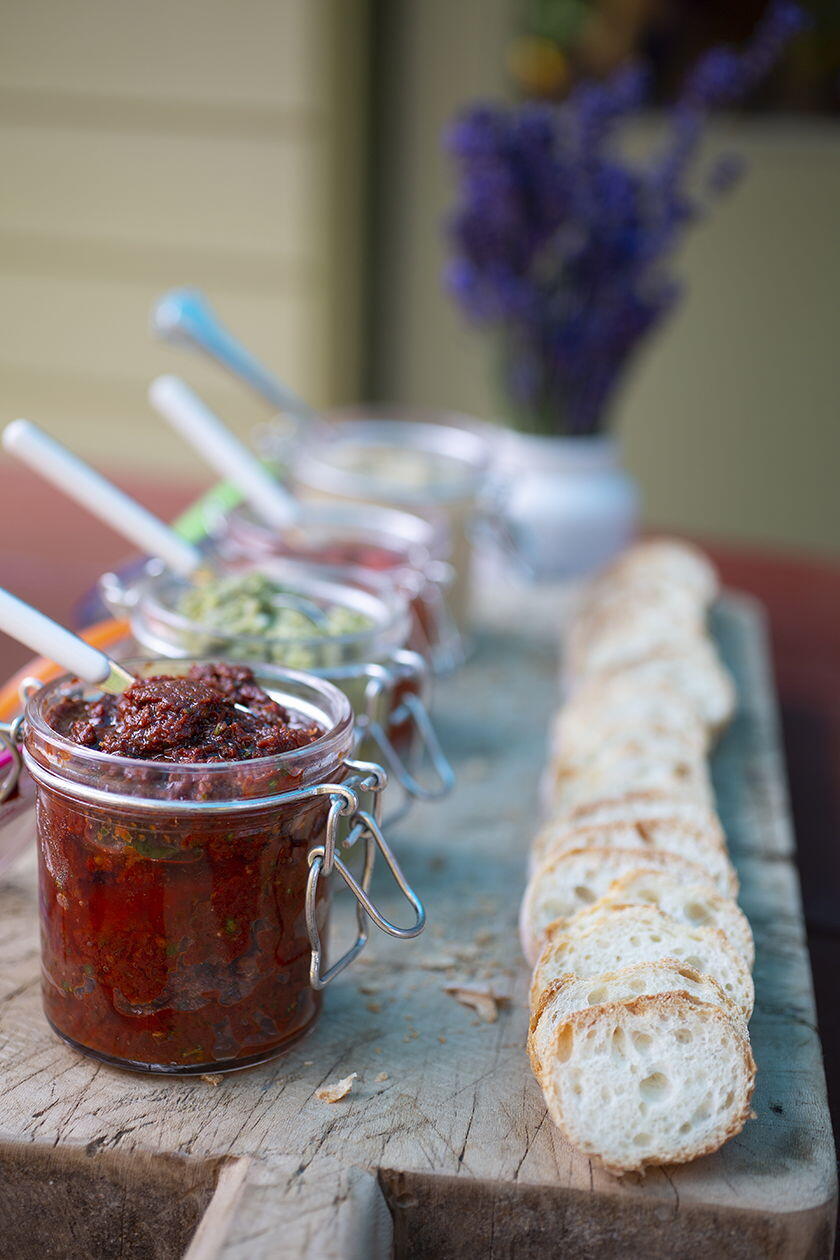 Poischichade, Poivronade, Tomatade Appetizers from Provence
Poischichade: A chickpea spread very similar to hummus made without tahini and flavored a healthy spoonful of cumin. Poivronade: A fire-roasted, sweet pepper dip that is good on everything from tartines to roasted cauliflower to hamburgers. Tomatade: A delicious spread made from sun-dried tomatoes that tastes great on just about everything.
Ingredients
Poischichade
1

15oz (425g) can

Chickpeas

well-drained

2

tbsp

Extra virgin olive oil

1

Garlic Clove

mashed

1

tsp

Cumin

1

squeeze

Lemon juice
Poivronade
2

Red bell peppers

burn the skin off over a gas flame

1/2

Sweet onion

chopped super fine

1

Garlic Clove

mashed

2

tbsp

Extra virgin olive oil

1/2

tsp

Apple Cider Vinegar

4

basil leaves
 Tomatade
1

12oz (340g) jar

Sun-dried Tomatoes (in oil) 

drain and save the oil

1

Garlic Clove

chopped fine

4

basil leaves
Instructions
Poischichade
The prep time for this chickpea dip is ONE (1) minute. Mix everything in the bowl of your food processor and coarsely puree. Season with salt and pepper and serve.
Poivronade
Burn the skins off the red peppers and wipe the charred skin away.

Chop the pepper super fine and saute with the chopped onion, garlic, and olive oil. Cook for five minutes, or until tender.

Put everything into the bowl of your food processor along with the vinegar and basil. Season with salt and pepper then puree. I like to leave a little chunky, but the final texture is your choice.
 Tomatade
OK, maybe the easiest recipe of all time. Mix everything together in a food processor and coarsely puree. Add a touch of the oil that the tomatoes came packed in. Enjoy!
Other Provencal Appetizers:
Provencal Olive Tapenades – Gilles a.k.a the Provence Gourmet shares his recipe for two simple tapenades using green and black olives. If you are interested in cooking classes and learning some traditional Provencal meals please contact Gilles.
Provencal Artichokes Stuffed with Goat Cheese and Tapenade – The combination of fresh artichokes, goat cheese and tapenade translate into "Provence in a bite" to be enjoyed with some chilled rosé.
Green Olive Tapenade – another recipe from the Provence Gourmet for a typical Provencal green olive tapenade to serve with aperitifs or to flavour the main dish.