Savoury Anchovy Puff Pastry Bites for Cocktail Hour
These Anchovy Puff Pastry bites are a bit of a "throw-back" appetizer from a book of retro holiday recipes. Since not everyone likes the taste of anchovy, you can change the filling – sundried tomato, basil pesto or tapenade all work well. Read David's original post for perfect puffs (with step-by-step photos) seasonal recipe inspiration from "The Merrie Christmas Cookbook."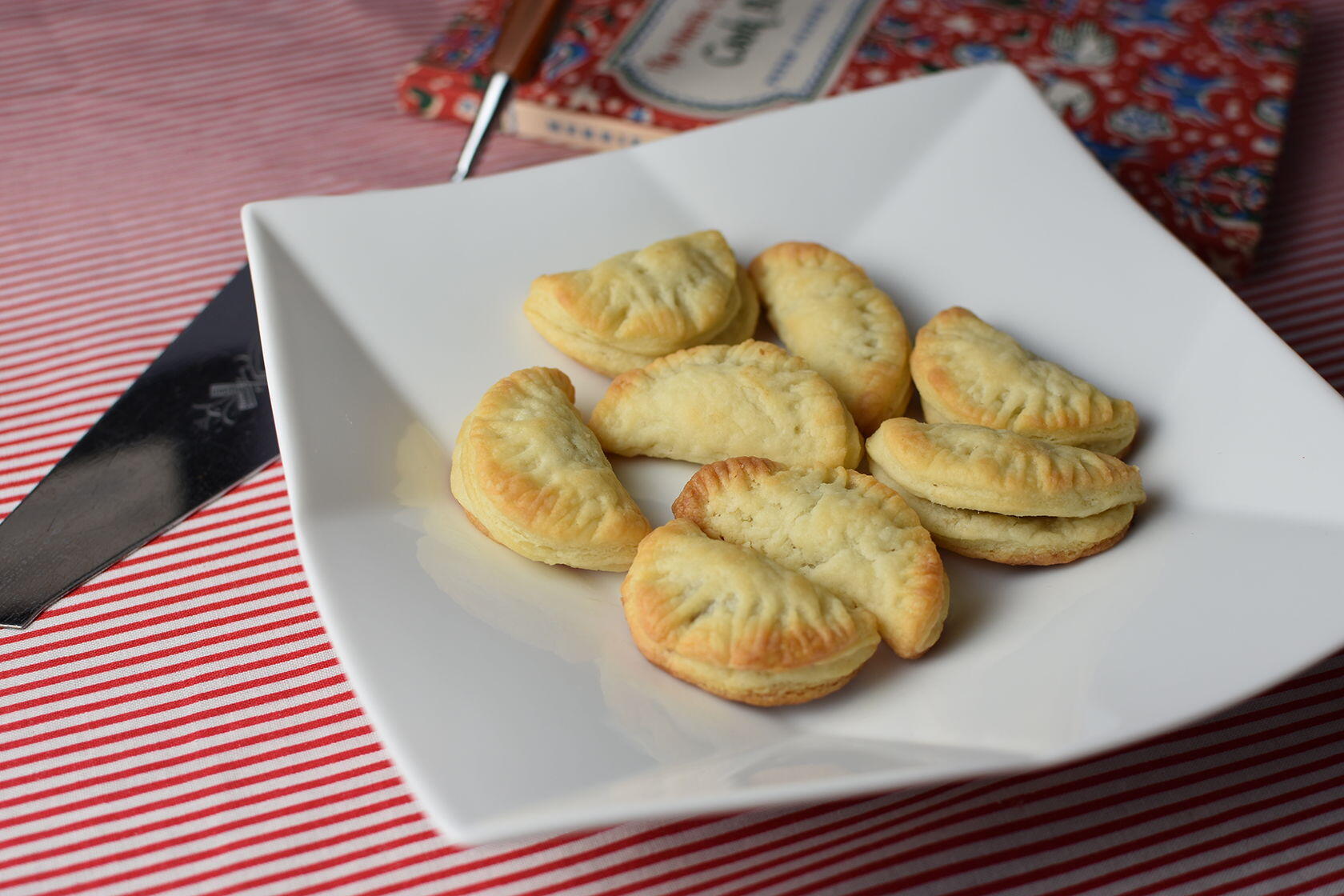 Savoury Anchovy Pastry Bites
Making the dough is the hardest part of this recipe, and it's not hard at all with a food processor. Enjoy these savoury (slightly retro) bites during the holidays with a glass of cheer.
Ingredients
1

cup

Flour

8

oz

Cold Cream Cheese

4

oz

cold butter

Anchovy paste

(or other filling)
Instructions
Place flour in the bowl of the food processor fitted with the steel blade.

Cut cream cheese and butter into cubes and place on top of flour.

Cover and begin processing with 10 pulses. Then run processor until the dough comes together in a ball. Because the cream cheese and butter started cold, this dough can be rolled and used immediately. *

Preheat oven to 400°F/200°C. Roll the pastry thin - about 1/8inch thick. Using a 2-inch round cutter, cut into rounds. Gather scraps, knead then together, and re-roll. You should have at least 60 rounds.

Place 1/4 teaspoon of your chosen filling in the center of each round, then fold in half and use the tines of a fork to crimp curved edges.

Place the half-moons on a parchment-lined baking sheet and bake for 10 minutes.

Serve warm.
Notes
* If you don't have a food processor, use room temperature cream cheese and butter, and mix by hand. When using this method, the dough must be refrigerated for at least an hour prior to using.
Cocktail Party Ideas
Drinks:
Pink Elephant Martini Cocktail Recipe it's La Vie en Rose
Rosé Royale for a Festive Cocktail
Pure Rosé Cocktail with Beautiful Rose Ice Cubes
Cinnamon Royale a Rosé Cocktail
Nibbles:
Madeleines Salées Try this Savoury Version
Panisse Chickpea Fritters Recipe an Appetizer from Provence
3 Quick Appetizers for Holiday Entertaining
Walnut, Blue Cheese Tarte Soleil Appetizer Recipe