Spanish Tortilla Fan? Make Room for La Trucha from Nice
Eggs and Swiss chard are the main ingredients in la trucha, a culinary favourite in Nice, France. Like the Spanish tortilla de patatas, made with egg and potato, la trucha covers a range of meals from snack food to picnic fare to a light meal. Easy to prepare and served hot or cold, la trucha is denser than an omelette, more like a frittata.
The recipe for la Trucha comes from Carnets de cuisine du Comté de Nice, a cookbook and a tribute to the essence of Cuisine Nissarde sharing food with family and friends. The recipe below was translated and published with the permission of the Office de Tourisme Métropolitain Nice Côte d'Azur. Available in French only, you can find Carnets de cuisine du Comté de Nice online at Amazon or the tourist office in Nice, France.

La Trucha a Niçoise Favourite
The trucha is a nourishing staple of Cuisine Nissarde. Enjoy it hot, warm, or cold with olive oil and crusty bread. This recipe makes enough for two (2) people for a lunchtime meal. * Variations listed in notes.
Equipment
1 Large Serving Dish

to flip the trucha mid-way through cooking
Ingredients
6

large

Eggs

2.2

lbs

Swiss Chard Greens

1

large

Onion

1

Garlic Clove

100

g

Grated Parmesan

or sbrinz cheese

Olive Oil

Salt and Pepper
Instructions
Separate the greens from the Swiss chard ribs (or better still, just use the leafy green parts). Cut the chard leaves into 1 cm strips. Rinse the chopped chard well in cold water 2 or 3 times. This is an important step, as it removes the acidity from the chard. Drain carefully.

Cut the onion into small cubes and let it brown in a pan with a generous amount of olive oil.

In a bowl, beat the eggs, and add the cheese, the chard, and the cooked onion. Add salt and pepper.

Generously oil a non-stick pan (even one with a non-stick base) with 2 tablespoons of olive oil and heat over a moderate flame. Pour in the mixture and cook over low heat, pressing down well with a wooden spatula to obtain a thickness of 2 to 3 centimetres (about 1 inch?) thick (the volume of the chard will decrease by half as it cooks).

This is the tricky part of the recipe: the trucha must not stick to the pan's surface and should have a nice colour. After 20 minutes, when the top of the trucha starts to set, flip it over with a serving dish.

Oil the pan again and cook for 15 minutes on medium heat without a lid.
Notes
Variations:
Blanch the chard greens in 2 litres of salted water. Allow them to cool down, and press them hard between your hands to extract the excess water. Chop coarsely with a knife.
Break up the chard with a fork and a clove of garlic. When cooked, drain and squeeze out the moisture with your hands. Chop the chard with a knife.
In season, a few chopped chervil or parsley leaves can be added to the eggs, but this is not essential to the recipe, which is already very tasty if the chard is of high quality.
Mix 50 grams of pine nuts, previously roasted in the oven, into the mixture.
Bread Recipes for your Lunch:

Zucchini Quick Bread - "Cake" aux Courgettes
The "cake" is very moist and freezes beautifully.
Check out this recipe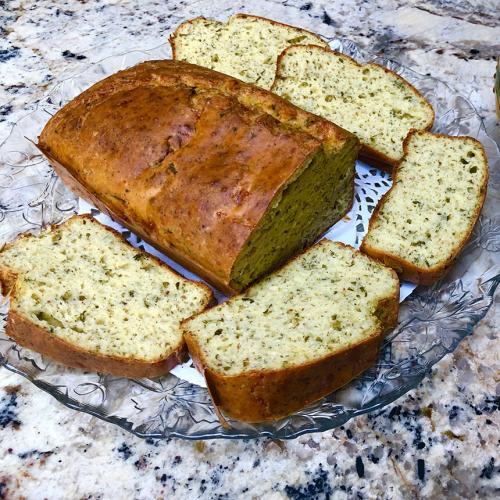 Simplified French Brioche Loaf
A time-friendly recipe for a delicious French Brioche Loaf of bread!
Check out this recipe

Pain aux Noix - Walnut Bread
Making bread take a bit of time, but there is nothing more satisfying. For this bread recipe make sure to use fresh.
Check out this recipe