Food Lover? You Will Love Nice on the French Riviera
Nice is a city for food lovers. It is the only city in France with a wine appellation inside the city limits. The mild Mediterranean climate means fresh produce and ready access to seafood all year. Cuisine Nissarde is a culinary label that designates traditional recipes and restaurants that make these favourite dishes.
We turned to Céline O'Donnell, a private tour guide and native of Nice, France, for her advice on some of the places a food lover should visit when in Nice. She opened up her address book so you can enjoy these local's favourites from the founder of Nice by Heart.

"Nice is a city very interesting to visit for people of all ages. The variety of activities and places to visit that this city offers allows everyone to have an unforgettable time." ~ Céline O'Donnell
What day(s) is the Market in Nice?
The market days in Nice are from Tuesday to Sunday. While there are several markets in Nice, the two (2) most famous and interesting are the Cours Saleya market in the Old town of Nice from 9 am to 1 pm and the market in the Liberation district from 7 am to 1:30 pm.
The Cours Saleya market is on the most famous street of Vieux Nice, parallel to the sea, and at the foot of Castle hill. It was where painter Henri Matisse lived on this street—while at the market, look at the Nice Opera House, rebuilt at the end of the 19th century by François Aune, a pupil of Gustave Eiffel. A flea market replaces the fruit and vegetable market on Mondays.

However, like many locals, I prefer the Libration market, which is bigger and offers more choices from regional producers at affordable prices. Visiting this less touristy area is also an opportunity to immerse yourself in the way of life in Nice. There is also its Cité Marchande, a little covered market, still in its original state, where I used to go with my grandmother when I was a child. I always take a little walk around the Cité Marchand, which still has the signs of the stores from the 1960s, because it's always a trip back in time for me. To get to the market, take line 1, Tram, and stop at Libération.
Do you have a favourite market stall?
I don't have a favourite market stall because there are so many choices of fresh, quality products. So, I always choose according to my desires of the day. However, I carefully look at the signage and always choose regional products. The small producers who are passionate and concerned about the quality of their products are dear to my heart.
Where do you go if you are going out for coffee?
Nice has plenty of choices in French-style cafés. But if I want to taste excellent coffee, I go to the famous Cafés Indiens in Old Nice. This café, founded in 1925, is a must for coffee lovers. Cafés Indiens is family-run by the 3rd generation with the know-how passed down over the years. This coffee shop roasts the beans on site (torréfieur), so you can try coffees of the world on the spot or buy beans to take away.
Cafés Indiens
There are two addresses in the Old Nice
35, Rue pairolière and 2 Bis, Rue st réparate
Closed Sundays and Mondays.
Opens at 9h – 19h other days.
I prefer the one on Rue Pairolière because there are tables outside where you can enjoy coffee while people-watching.
Do you have a favourite bakery in Nice?
My favourite bakery in Nice is Chez Maitre Pierre. This bakery offers delicious artisanal bread made with the best flours, primarily organic, and natural leavening that they create themselves.
Chez Maitre Pierre
41 Rue Massena
Open daily in the morning

However, if you want to taste the best pain au chocolat in Nice, I recommend the Philippe Tayac Patisserie. The famous young pastry chef produces the perfect pain au chocolat. It's an art form. While the price of a pain au chocolat at this location is higher than in other bakeries-patisseries, the taste is exceptional. Here is a video of the production.
Philippe Tayac Patisserie
15 Rue du Maréchal Joffre
Open daily
Since I can resist a great pastry, I also have a place where you will find delicious millefeuilles. This classic French pastry was Napoleon's favourite.
Patisserie Canet
7 rue Longchamp
Where do you go for lunch with friends?
My favourite place for lunch with friends is where I love to go with my clients, the Chez Acchiardo restaurant. The younger generation now operates this restaurant, established in 1927, in the heart of Old Nice. Brothers Jean François and Raphaël ensure that service is smooth while chef Virginie (their sister) prepares Niçoise specialities the way she learned from her father and grandmother.

Loved by locals, Acchiardo restaurant is a unique place with a friendly welcome. The menu includes traditional dishes you can't find everywhere, such as Les allouettes sans tête, a popular Provençal dish of mincemeat wrapped in a thin slice of beef or veal and cooked in a sauce with wine, mushrooms, herbs of Provence and tomatoes. The atmosphere is typically niçoise and very lively.
My advice to travellers who discover this place is always to start their meal "like the locals" by sharing "une assiette Niçoise," a large plate of specialities such as pissaladière, panisses, and truchia.
Chez Acchiardo
38 Rue Droite in the Old Town of Nice
This restaurant is always full! It is therefore strongly advised to reserve your table in advance.
Telephone: +33 (0)4 93 85 51 16
Jean François and Raphael speak English.
Closed Saturdays and Sundays.
Where do you go for an apéro?
La Cave de la Tour is where I like to go for a cocktail with friends. Created in 1947, this cellar and restaurant are east of the old town, near Garibaldi square. A family operation, the grandson, his wife and his daughter welcome you in this small, generous, authentic place with original décor. For the aperitif, while tasting a local wine like Bellet or Saint Jeannet. Make sure to try their version of pissaladière (onion pie) and la tourte de blette salée.

La Cave de la Tour
3 rue de la Tour
Telephone: +33 (0)4 93 80 03 31
Closed on Mondays

What is your top pick for a romantic dinner?
Without a doubt it's L'Hôtel Amour! The name says it all and clearly announces the theme of the evening. The hotel's restaurant is an inspired and inspiring place with beautiful decorations and a delicious Mediterranean-inspired menu. My favourite dish is their lemon chicken, paired with natural wine. Please don't leave without trying one of their desserts. I like the light and fresh strawberry salad with mint and pistachios.

Going to the Hotel Amour is like a trip back in time. One of the owners has put together a unique collection of Vallauris ceramics from the 1950s and 1960s, along with objects related to the French navy. In addition, the hotel's décor dates from the same period with a mix of Provence and Nice countryside themes and references to the great painters who lived and worked on the French Riviera, like Henri Matisse and Yves Klein. Highly romantic, this restaurant is ideal for a romantic dinner for two.
L'Hôtel Amour
3 avenue des fleurs

Where do you go for dinner with friends?
Geppetto! This Italian restaurant is well-known in Nice since its owner, Alex, a very charismatic and colourful character, posted videos of him in his kitchen cooking on social networks. Everything on the menu at Gepetto is delicious, the helpings are generous, and the atmosphere is always friendly. Smiles, good humour, birthday songs, it speaks loudly, the service is an Italian theatre play!
The menu choices deliver an explosion of flavours from the starter course to dessert. They serve only seafood from the local fishery, market vegetables, quality meats, perfectly matched wines and excellent Italian products. My friends and I know that dinner at Geppetto's will always be a moment of happiness and that we will enjoy dishes cooked with ultra-fresh products.
One of the dishes that has contributed to Geppetto's success is the famous carbonara pasta cooked according to the "real" recipe. However, there are plenty of Italian options, including octopus and squid pasta, risotto with porcini mushrooms, ricotta spinach cannelloni, and ravioli with smoked burrata. Enjoy this video restaurant's animated owner.
Geppetto
9 rue Chauvin
The restaurant is a short walk from Place Massena
Closed on Sundays and Mondays
Traditional Recipes from Nice
Enjoy a few of these classic recipes from Nice in your home.
Pissaladière
Best served as an appetizer with cocktails or a green salad for a light lunch!
Check out this recipe

La Pissaladière
This traditional recipe is so popular that there are even songs written about this savoury flatbread. Slow-cooked onions are layered on a soft dough crust and decorated with olives and anchovies. Nothing could be better served with a glass of local rosé any time of the year!
Check out this recipe

Salade Niçoise
A lovely collection of fresh potatoes, tomatoes, olives, beans, herbs, and tuna on a delightful bed of crisp green lettuce dressed with a light and tangy vinaigrette and anchovy filets.
Check out this recipe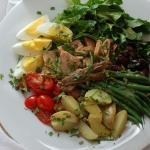 Tourte de Blettes Salée from Nice
This savoury tart's main ingredient is blette (chard), which grows all year near Nice, France. Considered part of traditional Niçose cuisine, there are two variations sweet and savoury (salée). Serve this tart with a green salad for lunch or a light dinner.
Check out this recipe

Swiss Chard Pie - Tourta de Blea - Tourte aux Blette Sucrée
This delicious dessert contains raisins, dry cheese, pinenuts, and apples. Enjoy! 
Check out this recipe