Insiders Tips for your Visit to Lovely Antibes
While living and working in dynamic Hong Kong, Tom and Paul were hooked and began visiting Antibes and Cote d'Azur. Leaving behind Asia's intense lifestyle and demanding jobs in luxury hotel design (Tom) and financial markets (Paul), they moved to Antibes in 2012. It's been a decade, and Antibes is a hometown they may never leave.
Leveraging their talents and experience with luxury travel, they launched Antibes Rental. They have a hand-picked collection of well-appointed holiday properties near the old town. Each of their vacation rental homes has been carefully curated, thoughtfully renovated, and meticulously appointed with charming French details.
They are happy to share this French Riviera city's best experiences and have opened their address book to create Antibes Insider. The book is a curated "insiders" guide to all the best places in and around Antibes.

We asked Tom and Paul to share a few of the tips you might find inside the book's covers:
---
Insiders Tips for Antibes
Tell us a bit about where you live on the French Riviera.
Antibes is one of the only medieval cities on the Mediterranean that has been nicely preserved. Surrounded by ramparts dating from the 10th century, the old town retains a village sensation inside the walls. Conveniently located on the French Riviera between must-see Nice and Cannes, Antibes is a relatively small centre. Outside the one-time defensive walls is Port Vauban. Billed as "Europe's largest marina," this is where vessels of every size and shape moor – from superyachts to fishing boats.

Vieil Antibes is a treasure trove of pedestrian-friendly streets and shaded plazas inside the restored rampart walls. There are winding alleyways with Azaleas flaunting their dazzling flowers against stone walls. Down these lanes are surprises around every corner. Waiting for you to discover is a carved door from the 1500s, an almost hidden chapel, and stunning sea views.

Antibes feels like an old village where everybody knows each other. The locals are welcoming and keen on making you a part of this peaceful atmosphere.
Why is Antibes a great place for someone to visit?
There is something for everyone in Antibes, whether you need a relaxing beach vacation or are looking for cultural immersion. Cap d'Antibes is for adventure seekers with a selection of nautical activities. For those who love history and culture, there are many museums and galleries in Antibes to satisfy your curiosity.

Is there a must-see attraction in Antibes?
The Picasso Museum is by far the most popular activity of Antibes. This location is where Picasso – the master artist – worked in 1946, making the third level his atelier (studio). The building hosts a remarkable exhibition of original works by Picasso, Nicolas de Staël and many other renowned artists. Don't miss the sculptures on the terrasse and the exceptional view of Cap d'Antibes.

If you only had one week in Antibes, what would you do to fill your days?
That depends on the season. Given that we are on the Mediterranean, we would spend two or three days at the beach, including one day at a private beach club. Spend a day strolling around the old town, buying local produce at the market, and visiting one or two museums. Try a water sport like a paddle tour, canoe, or even scuba diving for a more active sporty day. Dedicated a day to walk on the Sentier du littoral trail on the Cap d'Antibes and find the perfect cove for a rest. Finally, we would spend a day visiting Juan-les-Pins, its endless sandy beaches and many nice shops and restaurants.

Eating and Drinking in Town
Can you tell us about the markets?
There are several markets in Antibes. The most famous one is the Provençal market, which CNN has voted one of the world's top markets. All the products you can find in the provençal market are fresh and local. It opens daily from 6 am until 1 pm during the summer months and is closed on Mondays from September 1st to May 31st. We never miss the socca stall. It's a local delicacy made with chickpea flour pancake cooked in a mobile, wood-burning stove.

For clothes and other shopping, head to Place de Gaulle and Place Nationale for clothing, brocantes, and flea markets.
Where do you go for coffee?
We're so proud to have our traditional coffee roaster in Antibes (La Torref de Fersen) for high-end coffee. Franck in the old town has some of the best coffee in the world. We also like to sit at Place Nationale and people-watch while the bustle flows reassuringly around us.

Do you have a favourite bakery?
Created in 1924, Boulangerie Veziano is the oldest bakery in Antibes. Boulangerie Veziano is popular with both locals and tourists alike. We do recommend the traditional pissaladière or fougassette. This bakery is known to be a favourite of celebrity Alain Ducasse.
Boulangerie Veziano
2 Rue de la Pompe
06600 Antibes
Pissaladière
This recipe was created by David, it is a blend of several variations for the same dish. This version will serve 6 as a main course or 12 as an appetizer. 
Check out this recipe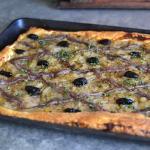 Where do you recommend going for a casual lunch with friends?
Antibes has a variety of small places and very distinguished dining. Le Safranier is ideal for brunch with your friends. Book a terrace table and admire the picturesque Place du Safranier.
Restaurant Le Safranier
1 Place du Safranier
06600 Antibes
Where is your go-to spot for an apéro?
We recommend Le Café Brun for couples looking for a glass of wine or a cocktail. Café Brun appears small at first, but the cafe has several rooms behind the bar. It's perfect for an aperitif, cocktail or a light meal.
Le Café Brun
6 Rue Aubernon
06600 Antibes
What is your top pick for a romantic dinner?
With one well-deserved Michelin Star, Le Figuier de Saint-Esprit is one of the best places for a classical French dining experience in a romantic setting. The elegant dining room at Le Figuier features a large fig tree providing a magical setting. We recommend the chef's signature dish, a saddle of lamb baked in an earthenware pot. Other popular dishes include the baby cuttlefish, clam cannelloni and roasted turbot.
Le Figuier de Saint-Esprit
14 Rue du Saint-Esprit
06600 Antibes
The Eden-Roc restaurant and Louroc Restaurant are also once-in-a-lifetime culinary experiences.

Where do you like to go for dinner with friends?
At the corner of a hidden street in the old town, there is a "Maître Restaurateur" restaurant which definitely deserves a visit. From amuse-bouche to dessert, l'Arazur respects fresh, seasonal ingredients and each course is beautifully presented. The five-course seasonal tasting menu at €60 is a must.
What is your pick for nearby family-friendly dining?
Le Don Juan is easily spotted. Look for a restaurant with wooden baskets overflowing with market-fresh tomatoes and vegetables at its entrance. The service is friendly, and the dining room's decor is modern and clean.
Touring from Lovely Antibes
What is the best day trip from Antibes?
Visitors to Antibes have a wide selection of places to visit within a one-hour reach. Given the well-developed train and bus network, visitors do not need to have a car to explore the Cote d'Azur. Below is a brief selection of some of our favourite trips and excursions.
Nice is about 20 minutes away from Antibes by train. Explore the old town or walk along the Promenade des Anglais for a stunning view of the Mediterranean.
Located 15-minutes from Antibes by train, Cannes is a great destination for high-end designer boutiques and high-street style shopping. The wide variety of beaches, cafés and restaurants make Cannes perfect for a day-trip during a stay in Antibes.
Saint Paul de Vence – this medieval village is located about 30 minutes from Antibes and is known for its art galleries, Fondation Maeght Modern Art Museum and Provencal shops.
Where to Stay in Antibes
There are many nice places to stay in Antibes, of course, we'd recommend staying in one of our properties. Any accommodation in the old town is convenient to shops and minutes away from the beach. Here are two options:
Clos des Vignes, in Old Town Antibes, is a charming two-bedroom rental on the French Riviera. Only steps from tempting boutiques and a selection of restaurants, the house is a peaceful escape. Shop for supplies at the Provencal farmer's market, or spend the day at a nearby beach before returning to your private terrace with seaside views for cocktails and dinner al fresco.
Set in a quiet residential neighbourhood, five (5) bedroom La Calado is a quick walk to Antibes' Old Town. This beautifully refurbished holiday rental has everything you need to stay on the Côte d'Azur. Initially constructed in 1926, the meticulously restored villa maintains its classic elegance. Spread out over four floors, the spacious home has plenty of private corners.

---
Photo credits: Images were provided by and published with the permission of Antibes Rental.
As an Amazon Associate, this website earns from qualifying purchases. Note: if you purchase a book via these links, we receive a small commission that does not impact your pay.