2023 Holiday Shopping Gift Guide from Provence
2023 Holiday Shopping Gift Guide
As December approaches, the countdown is on for holiday shopping. In our 2023 Holiday Shopping Gift Guide and Our Provencal Marketplace, we have collected some of our favourite creators from Provence and beyond.
These made-in-France products are for the home (table, kitchen and décor), fashion, and self-care (soaps, candles). In addition, we invite you to browse the selection of our favourite time-tested creations made with traditional materials and methodologies. In our opinion, the founders of these companies are leaders who source eco-friendly ingredients and create top-quality artisanal designs.

---
Disclaimer: Some of these products include affiliate links, and the website earns a small fee from qualifying purchases. However, that does not impact your price. Thank you in advance for supporting Perfectly Provence.
---
Shop: Our Provence Marketplace
Fashion:
Silk Scarves from Provence
Ana Masse is an artist behind "Ana Treasure Box" who wants to help spice up your outfits. She hand paints silk scarves that stand out from the crowd and elevate any outfit. After several art mediums, Ana fell in love with silk painting, which became her "true art passion." Her scarves come in a variety of styles and vibrant colours. From her studio in Provence, she designs one-of-a-kind wearable art. Wear these scarves as an accessory or framed and displayed as art. These scarves are made with natural fabrics and professional dyes, resistant to washing and fading.
Hand Painted (Peinture Sur Soie )
100% natural silk
Original one-of-a-kind designs inspired by Provence
Dimensions: 90cm x 90 cm mostly, others 160cm x 45cm or 55cm x 55cm.

Dress up your Wine:
Designed and handcrafted in Provence by Francesca Provenzano – Le Rob'Fresh – is a chic and eco-friendly fabric bag for transporting your wine bottle or other beverage while keeping it cool. The cooler bag is available in two sizes and a collection of textile motifs around wine, Provence and many other themes. Every Rob'Fresh comes with an environmentally-friendly kraft gel pack which thaws slower than water. Rob'Fresh bags are machine-washable in the wool cycle. Rob'Fresh bags are made with textile certified as OEKO-TEX® – a label guaranteeing the total absence of toxic products – Rob'Fresh reflects Francesca's commitment to sustainability and environmental respect!
Contact Us Here to Place an Order



Artful Accessories from Provence
At L'AUGUSTE Provence, showcasing the Provencal countryside always starts with an image. Finding inspiration in Provence's landscapes, local traditions, and exceptional French craftsmanship, the founders launched L'AUGUSTE Provence in 2021. These ladies combine their expertise to turn watercolour paintings into attractive, practical accessories. L'AUGUSTE Provence products combine luxury materials and elegant designs with skilled craftsmanship.
The company's expertly handcrafted accessories are made in Provence and showcase the region with contemporary watercolour designs. Discover the L'AUGUSTE Provence brand story and beautiful accessory collection.

---
Curated Box Collections
My French Country Home Box is a curated subscription box with beautiful artisan keepsakes from French manufacturers. Inspired by Sharon Santoni's passion for sharing her favourite brands and ideas, the MFCHbox was created. She connects smaller French businesses and artisan creators with a broader audience. The first My French Country Home Box collection shipped in February 2017. Since then, Sharon Santoni and her team have curated a thematic grouping of made-in-France luxury products every quarter. Past boxes have included "Summer in Provence" and "Midnight in Paris." A limited number of these beautiful subscription boxes ship quarterly to worldwide destinations.

The Sweet Stuff!
Remember Provence has sourced several confectionary collections. These seasonal candies make for terrific hostess gifts or your holiday dessert table. Try the Gourmet Provencal Chocolate box or the Luxury Christmas Desserts.
Shop: Our Provence Marketplace
---
Gifts for the Home:
Flowers all Year
My French Country Home sourced this antique earthenware pitcher. In Provencal colours, this jug is perfect for fresh flowers.

Linens
There is nothing quite like the holidays for meals with friends and family; festive table settings are a great way to set the mood. Remember Provence has a collection of high-quality Provencal textiles available in various colours and patterns. In addition, there are table runners, placemats, tablecloths, and napkins to create your art de la table from playful to sophisticated. So buy a set or mix and match. In our 2023 Holiday Gift Guide are two new linen collections from Remember Provence – Roussillon and Sunflower.








More Linens
Nothing is better than a French tea towel; this one from French Address is a classic! It is 100% made in linen and woven by French linen expert manufacturer Charvet.

With its delicate stitching pattern, this linen table runner makes a beautiful gift for someone special on your list.

Wicker
French Address sourced this beautifully handcrafted wicker serving tray from an artisan in the French Alpes. Wickerwork is one of those traditional artisan crafts in France, and there are less than 300 artisans today. The tray is made with organic white wicker and with orange leather handles.

My French Country Home sourced this lovely and practical glass carrier in natural wicker. It holds up to 12 glasses.

Earthenware for the Kitchen
Pottery production has existed in Provence for centuries in centres like Vallauris and Moustiers Sainte Marie. The fabrication of glazed and white earthenware serves both decorative and practical purposes. Many traditional Provencal recipes call for slow-cooking methods for which the heavy stoneware is ideally suited. Faience-style serving dishes are more delicate and decorative. Browse the range of finely decorated dishes, pots and vases.

Glassware:
These glass storage jars from French Address with a lavender motif will brighten any kitchen.
---
Self-Care from Provence:
Bright Eyes
Rose Eye Balm: From the Okanagan Lavender & Herb Farm in British Columbia, Canada, this Rose Eye Balm is made with a floral, essential oil extracted from Damask rose petals and lavender flowers. It is a nuanced oil – rich in healing properties and is the inspiration behind our replenishing and therapeutic eye balm.

Rose Hip Oil: Brighten and revitalize dull and tired skin with this luxurious, vitamin-rich Rosehip Oil with lavender essential oil. High in the essential fatty acids that promote cell regeneration and tissue healing, rosehip oil has traditionally been used to fade scars and stretch marks, ease under-eye puffiness, and restore rough skin patches.

Okanagan Lavender & Herb Farm is a family-run operation requiring an entire team for planting, harvesting, drying, distilling, and bottling. All that before packaging, selling, marketing, and occasionally sleeping. From plant to the final product – the farm operations reflect the McFadden family's dedication to environmental stewardship, supporting local business and quality production.
Please note: Shipping is only available within Canada.
Luxury Perfumed Candles

Rose et Marius is a luxury perfume house and home décor brand based in Aix-en-Provence. Founder Magali Fleurquin-Bonnard's inspiration for the exquisitely designed product line originates from childhood memories at the family's country home. The company works with exceptional artisans whose knowledge passes from generation to generation, and Rose et Marius produces 90% of its creations in Provence.
In 2021, Rose et Marius received the prestigious label of Craftsmen of Art, which recognized the excellence of their artisanal collections and dedication to savoir-faire français. Read about the Rose et Marius fragrance of Aix-en-Provence.

Rose et Marius offers box sets with three (3) mini candles, perfect for gift giving. These candle collections include signature fragrances such as "siesta in a sunlit home" and "early morning in the orange grove." These mini candles burn for approximately 25 hours in pretty glass containers.

Whether or not a trip to Provence is in the future, this fragrant fig-scented candle, "Summer night in Provence," is almost as good as being in the South of France. The Lux candle collection sourced by French Address is handmade in France and perfumed with scents from Grasse. Made with 100% natural wax, the candles have 60 hours of burning time.

Lavender Love
Lavender has been a mainstay in Provence since the Roman era; they understood the plant's beneficial qualities. During the peak of the lavender season, you might be fortunate enough to stumble across someone handcrafting traditional lavender fuseaux. If so, make sure to stock up on this 18th-century artisan craft. They are beautiful and last forever. Shop for lavender products at Esla Lenthal.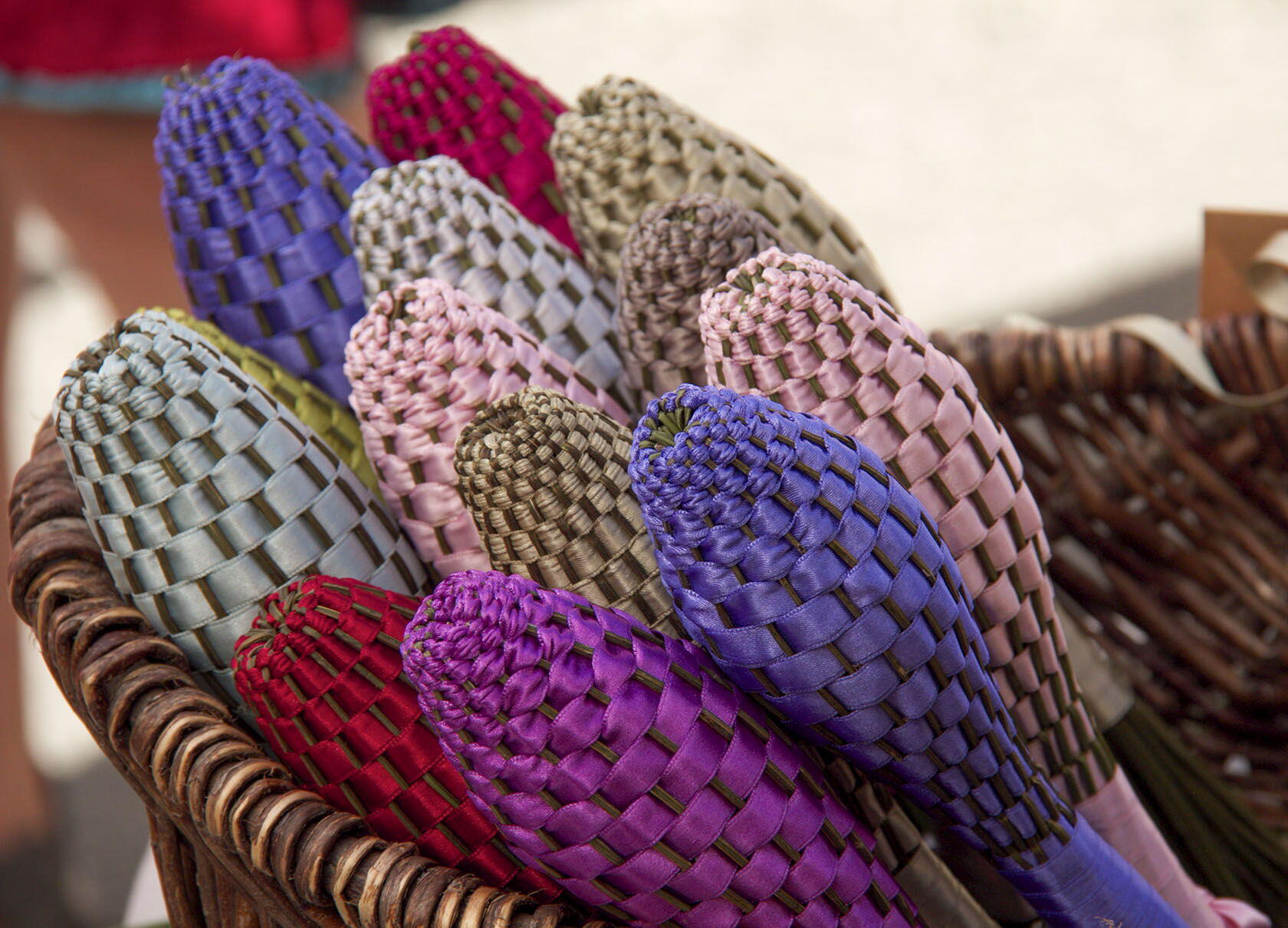 Scented Soaps
Made with olive oil from Provence and exclusive fragrances from the perfume capital of France, Grasse, all the Rose et Marius soaps (liquid and bar) are top-quality. Find these refillable liquid soaps in beautiful 5* hotels, top-quality restaurants, or your home. All Rose et Marius soaps are palm oil-free and made with 97% natural ingredients. These soaps are great for gifts and deliver a scented journey to the South of France.
All rights reserved. Perfectly Provence articles and other content may not be published, broadcast, rewritten (including translations into other languages) or redistributed without written permission. For usage information, please contact us.
Syndication Information
Affiliate Information
As an Amazon Associate, this website earns from qualifying purchases. Some recipes, posts and pages may have affiliate links. If you purchase via these links, we receive a small commission that does not impact your price. Thank you in advance for supporting our work to maintain Perfectly Provence.