Little Santons Play a Big Role in Provence's Christmas Traditions
In Provence, at Christmastime, there are many holiday traditions, including nativity scenes with Santons (little saints). Santons are little clay figurines depicting the biblical characters – baby Jesus, Mary, Joseph and the Wisemen. Anyone expecting the "typical" nativity scenario might be surprised by the Provencal version with figures representing the butcher, baker, fishmonger, sheep herder and many other village residents.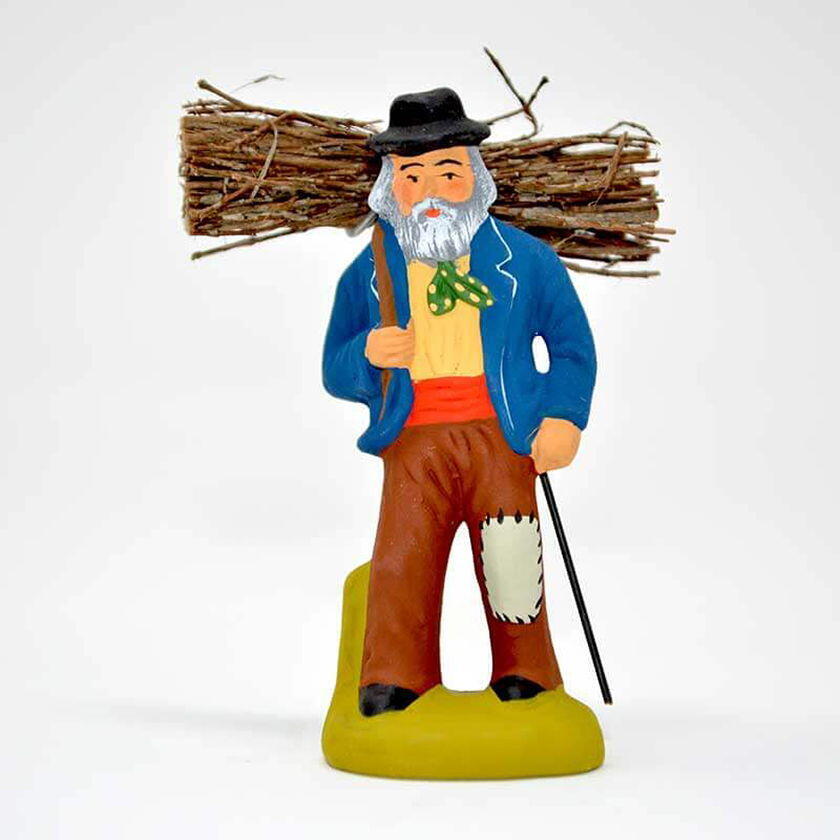 Provence's Christmas Traditions
You may know the traditional Biblical Christmas story, but there is a bit more to it in Provence. The Provence Christmas story is told in a Nativity play called a pastorale. It incorporates the main details of the traditional nativity but sets it in a nineteenth-century Provençal village.
The word pastorale means "shepherd's song" and refers to the Biblical Christmas story where the shepherds are the first to hear the good news. Early pastorales told only the Biblical narrative of the birth of Jesus, but in the mid-1800s, Antoine Maurel, a Provençal poet, added some local flavour. His pastorale was among the first to incorporate the Provence villagers and add a bit of Provençal humour.
Continue reading here to learn about the importance of the shepherd's song in Provençal Christmas traditions. Margo explains the characters in a typical creche scene and these tiny clay figures called santons (little saints).
History of the Santons
In 1223, St. Francis of Assisi staged a creche (presepio in Italian) with live animals and people during a midnight mass at Gréccio in Abruzzo, Italy. Although unrelated to the creche, it turns out that St. Francis of Assisi's mother was from Tarascon in the Bouches du Rhône. His interpretation of the manger scene was popular with the common folk but not Pontiff Honorius III. Late in the 13th century, Franciscan monks introduced the creche to Provence.
The practice grew popular, with villages and churches creating public nativity scenes. However, religious ceremonies and symbols, including midnight mass and church cribs, were banned during the French Revolution (1789 – 1799). In Marseille, the ban only served to turn public manger scenes into private ones inside homes, which remains part of the tradition today that most families have a creche at Christmas time.
Mass-market Santons
In 1797, Jean-Louis Lagnel created the first figure from a clay mould opening the door to large-scale production. The word santon was established in 1826, several years after his death. Thérèse Louis Neveu, a woman from the village of Aubagne near Marseille, improved upon the clay figurine by introducing kiln firing as a step in the process. This process significantly improved the lifecycle of the santons.
Today, although modern techniques reduce the production time for the santons, it remains an artisanal trade, and visiting artists' (santonnièrs) studios is possible. During the holidays in Provence, you will see these nativity scenes when you visit churches or private homes. Since 1803, the annual Foire des Santons has occurred in Marseille during Christmas with many artisan santonnièrs—any time of the year, head to Aubagne to see the artisans at work in their ateliers.

The Creche and Santons
Many santon fairs are organized throughout Provence from mid-November to prepare the family creche. The santons are small colourful clay figurines. The real Provencal santon "Santoun" (little saint) is created by hand and with love. Some santons in the Christmas crib represent the Nativity scene: Jesus, the Virgin Mary, and Joseph. Others describe the village's inhabitants going to the crèche: pétanque players, fish merchants, doctors, bakers, shepherds and others. Each santon brings a gift for the baby Jesus. The authentic crib represents the Provençal village.
In some villages and churches during the holidays, these nativity scenes look like real small towns with figures that include bakers, millers, shepherds and many more. This tradition is present in every department of Provence but most robust in the Bouches du Rhône. There is a museum of Santons in les Baux de Provence.
Where to find Santons
Order Online from Remember Provence
They work with a traditional santon maker with a workshop near Aix-en-Provence. His figurines are shaped and painted by hand, as tradition dictates. The essential nativity play characters in the Provencal version are available in three sets. Several sizes are available via Remember Provence to help you prepare an excellent Christmas creche.
Foire aux Santons
This event takes place throughout December in Marseille on the Vieux Port. Organized by the Union des Fabricants de Santons de Provence, you will find only qualified santoniers who follow traditional fabrication methods at this fair.
Musée du Santon et des Traditions de Provence
A collection of over 2200 figurines, some made from walnut shells.
Place de la colonne,
84800 Fontaine de Vaucluse
Musée des Santons
"The museum houses several different collections – Neapolitan figurines from the 17th and 18th centuries, 19th-century "santons" for churches and figures by famous makers such as Carbonnel, Fouque, Jouve, Peyton Campagna, Toussaint, Thérèse Neveu, Louise Berger, Simone Jouglas etc."Place Louis Jou
13520 Les Baux-de-Provence
Le Village des Santons
With 3000+ santons and 19 village scenes
16 avenue Antide Boyer
13400 Aubagne
Le Village Provençal Miniature
The display has over 1000 figures and 70 Provençal scenes.
La Petite Tuilière,
26230 Grignan
In Bonnieux, a large nativity scene is open for holiday viewing.
---
More Holiday Traditions in Provence
History of the Bûche de Noël: The yule log is generally eaten on December 24, during the Christmas meal. The cake was born around 1870. Several pastry chefs are fighting over paternity. But it seems they had the idea at the same time for a cake roll that looks like a log. Previously, Christmas desserts were rich in ingredients, such as mince pies or pudding in the UK, stollen in Germany or panettone in Italy. But beware, the star Christmas dessert has its own history spanning several millennia.
All rights reserved. Perfectly Provence articles and other content may not be published, broadcast, rewritten (including translations into other languages) or redistributed without written permission. For usage information, please contact us.
Syndication Information
Affiliate Information
As an Amazon Associate, this website earns from qualifying purchases. Some recipes, posts and pages may have affiliate links. If you purchase via these links, we receive a small commission that does not impact your price. Thank you in advance for supporting our work to maintain Perfectly Provence.