10 Summer Salads from Provence for Entertaining Outdoors
Summer is not the time of year to be behind a hot stove or pulling casseroles out of an oven. It is, however, the time to prepare simple recipes perfect for outdoor dining, whether at your table, poolside or the next picnic location. Provence is generally hot in the summer, some years approaching 40°C (100+°F), which means you do not want to travel far or cook much. These recipes work great as side dishes with grilled meat or fish. Alternatively, serve them as a main course salad with a protein of your choice.
Enjoy these ten (10) salad recipes inspired by the South of France over the summer months.
---
10 Summer Salads
A colourful salad filled with fruit and vegetables. This salad pairs perfectly with rosé.
Charred Peach, Asparagus, Mozzarella and Prosciutto Salad
Anna created this recipe to pair with the beautiful Etoile Rosé. A fresh and summery salad that's ideal as a starter or light main course, and takes just 5 minutes to prepare. Omit the prosciutto for a vegetarian option.
Check out this recipe

This summer, salad combines greens, fruits, and nuts to make a delicious salad.
Okanagan Summer Salad
This recipe is slightly adapted from a feature in Bon Appétit magazine. It is a delicious salad that uses our house blend of Herbes de Provence.
Check out this recipe

A salad that originated in Italy and is full of tomatoes, cucumber, and toasted sourdough bread.
Panzanella Salad
This salad is perfectly suited for summer meals. Serve as a side or as a main with some grilled meat or fish, and of course some rosé.
Check out this recipe

The perfect salad for a warm summer evening. A combination of baby greens, goat cheese, and pears.
Baby Greens with Fried Goat Cheese and Pears
Look no further if you're looking for a light main course for a warm summer evening. This recipe combines sweet, fresh greens with rich, creamy goat cheese for an impeccable combination that will impresses. Want to take it a step further? Pair this dish with a crisp, dry white wine and watch your guests fawn over your expertise.
Check out this recipe

A fulfilling salad with cucumbers, tuna, tomatoes, pepper, green beans, hardboiled eggs, and more.
Salade Niçoise - La Salada Nissarda
This salad is presented flat with the ingredients arranged artistically on the mesclun lettuce. The presentation of this salad is important because it is only mixed before serving.
Check out this recipe

Zucchini is a beautiful vegetable to enjoy during the summer. However, an alternate way to enjoy zucchini is with this delicious salad recipe. The salad includes squash, tomatoes, and feta cheese too!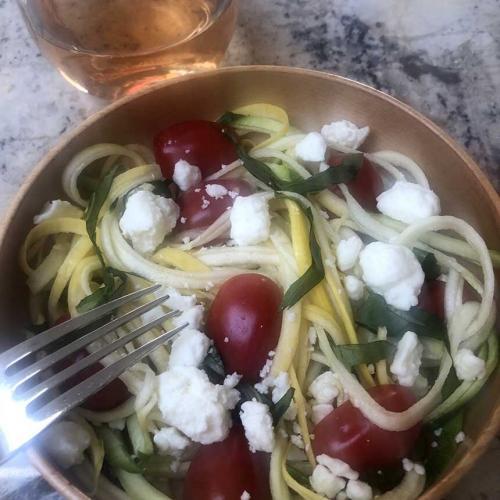 A fun addition to your summer salad is grilling octopus. The salad consists of red potatoes, avocados, arugula, cucumber, and more delicious vegetables topped with a grilled octopus!
Grilled Octopus Salad - Salade Composée aux Poulpes Grillés
This recipe is great for a large, lunch salad or you can serve smaller portions as a starter for dinner.
Check out this recipe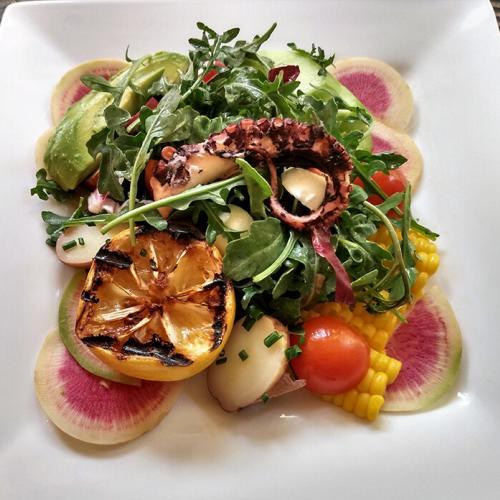 If you are in the mood for seafood, try this summer salmon salad. The salad comprises salmon, avocados, oranges, mangos, pistachios, and more flavours to create a satisfying salad.
Salmon Salad with Citrus and Mango
Prepare the pickled mustard seeds in advance, they will keep in the fridge. This salad is a perfect meal-sized salad for a hot summer day. Enjoy for lunch or a light dinner.
Check out this recipe

This recipe is a new way to enjoy eggplant in the summer. Add your eggplant, seasoning, and beans to make a spicy salad.
Zaalouk d'Aubergine Spiced Eggplant Salad from Morocco
Serve this side dish at room temperature with other salads such as the carrot salad with slow-cooked meat or a tagine.
Check out this recipe

A traditional Italian salad that is easy to prepare and involves no cooking!
White Bean and Tuna Salad
This is a perfect summer salad. It is easy to make, does not have many ingredients and there is no cooking. Enjoy!
Check out this recipe