Wine Notes from the Coteaux Varois Tasting 2019
By Elizabeth Gabay:
Tasting the wines of Provence has been a bit erratic this year. While Cotes de Provence had a stand at both WineParis (11-13 February) and Prowein (17-19 March), the 2018 vintage had often only just been bottled and were still quite young and closed. My preferred time for tasting the new vintage rosés is later in the spring, often at the generic appellation tastings, usually in April. the appellations of Côtes de Provence and Coteaux d'Aix-en-Provence, have chosen not to hold their annual tasting in 2019, leaving only Coteaux Varois to present their wines.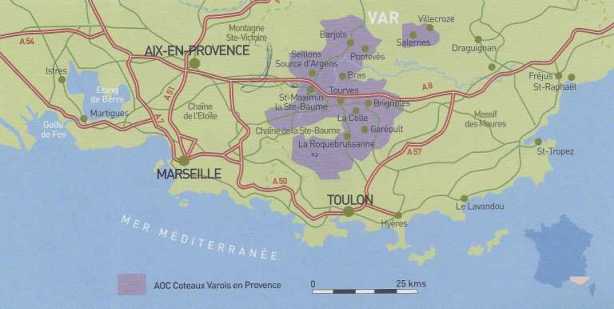 …Continue reading here for this contributor blog post by Master of Wine Elizabeth Gabay. She shares her thoughts and wine notes (and picks) from the 19th edition of this event. Professionals, local restauranteurs and wine store merchants gather each year to sample the latest releases from Coteaux Varois. The majority (90%) of the harvest in this region is dedicated to the production of rosé wines. However, Elizabeth Gaby sampled a few of the reds and was pleased with what she tasted.  Read about this well-attended wine event and her top-picks (rosé and red) from Coteaux Varois.
More on Coteaux Varois
Read her wine tasting notes from the 2014 and 2015 events.
Wines of Provence Understanding the Colours and Terminology
The vineyards of Coteaux Varois en Provence cover just shy of 50,000 acres. The territory is located inland to the north of Toulon with some 28 communes located near to Brignoles. The total annual production of rosé (90%), red (7%) and white (3%) is roughly 17 million bottles. For more facts on the vins de Provence and this appellation visit the official website.