Where to Eat in Saint-Rémy de Provence? Some Favourites
Saint Rémy de Provence has it all, shopping, galleries, a big market on Wednesday mornings and (almost) too many restaurant choices. The picturesque, lively town snuggled into the base of Les Alpilles, the miniature Alps. With a rich history—highlighted by the Romans, Nostradamus and Vincent Van Gogh—plus heritage celebrations and various cafés and boutiques, the town is a popular tourist destination.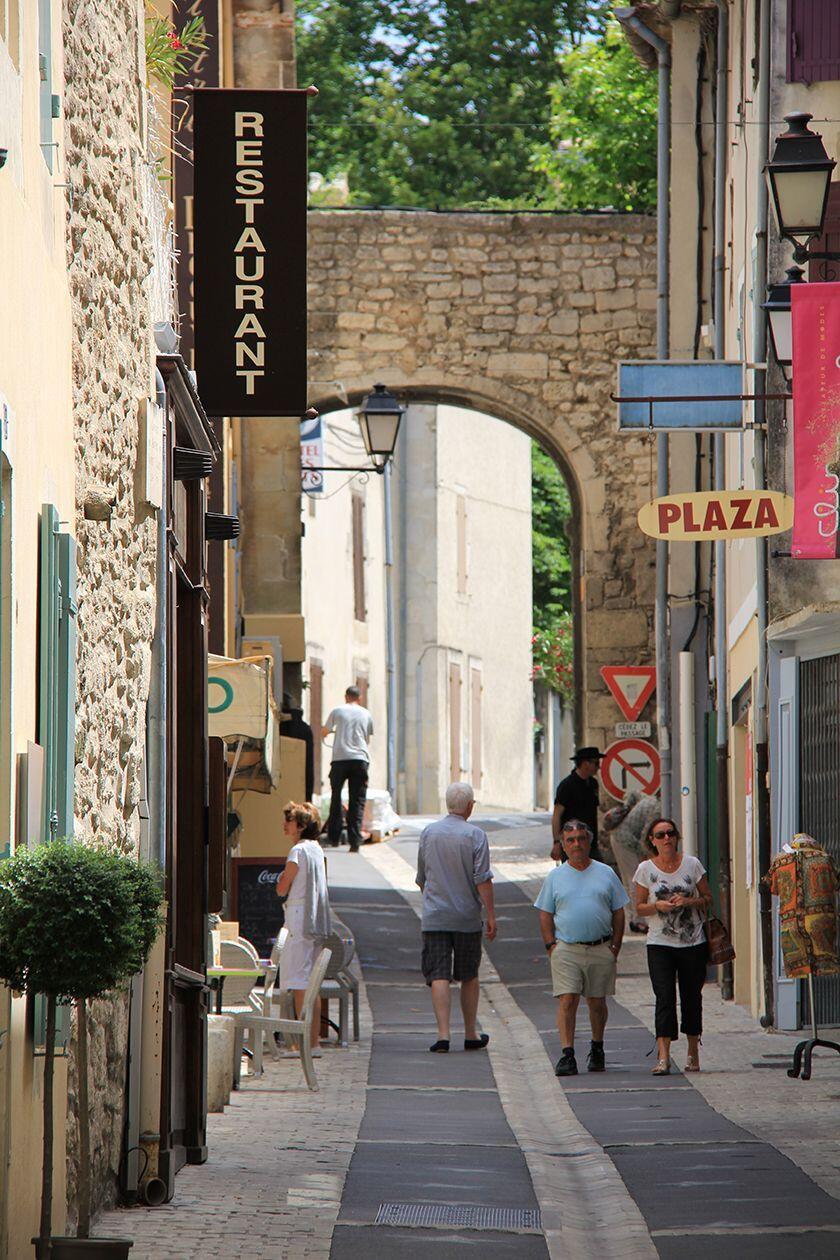 The largest town in the Alpilles, St Rémy, is the ideal size because it's large enough to have a variety of shops and restaurants, yet small enough that we can walk across it in a few minutes. And it's a town that rewards strolling—the village centre is off-limits to cars, so it's easy to wander the cobblestone streets, popping in and out of the many charming shops.
Where to Eat in (and Near) St Remy
The following list includes some cafés and restaurants in St Rémy but is far from a comprehensive guide. Listed in alphabetical order, these are some popular dining establishments in town. Please consider this as a reference guide, and you can be the critic.
---
St Remy's Restaurants
À la Table de Nicolas – Nicolas Jonette was proclaimed a Maître Restauranteur in 2014 and opened this restaurant in St-Rémy the following year. It's his second restaurant in the area after his first one was so successful that it outgrew its space.

Reservations recommended
8 boulevard Marceau
Website
Tel: +33 (0)4 32 62 03 82
Closed Mondays, Tuesdays and Sunday nights
Bar-Tabac des Alpilles – This central restaurant is a comfortable spot at any time of the day. Keith Van Sickle says he and his wife often stop by for an early coffee and croissant in the morning. Or to enjoy a glass of wine on the terrace on a warm Provençal afternoon. And there's nothing like their delicious leg of lamb, roasted on the bone and carved right in the dining room.
21 Bd Victor Hugo,
13210 Saint-Rémy-de-Provence
Open daily
Telephone: +33 (0)4 90 92 02 17
Pets are welcome too
Café de la Place – Open daily from morning to late evening, this café-restaurant is always bustling. Grab a table overlooking Place de la République and enjoy the activity.

Da Peppe – Yes, you are in Provence, but this family-friendly restaurant should be on your list since everyone loves Italian food. Dine-in or take out at 2 Avenue Fauconnet. And the pizza is delicious.

Gus – If you are looking for fresh seafood and shellfish, this restaurant is in the heart of town at 31 Boulevard Victor Hugo.
L'Aile ou la Cuisse is the place for food and dessert lovers. The dining room is comfortable, and the large shaded patio is an oasis in the town centre. The food is always good, and the best part is the dessert—your server will lead you up to a big display case and let you choose your favourite. It's like Christmas every day!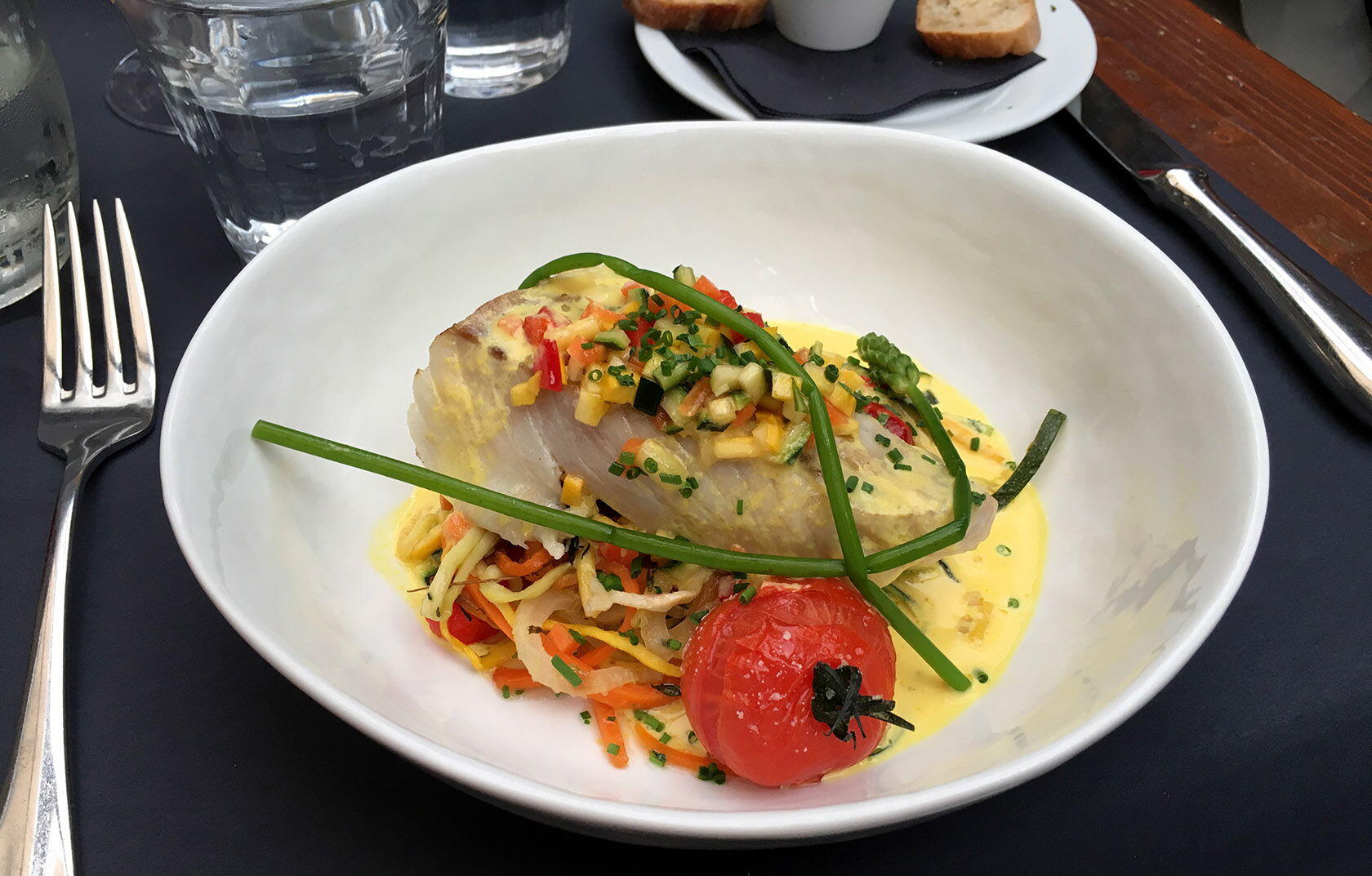 Reservations required
34 Boulevard Mirabeau
Place Mireille Moatti
Website
Tel: +33 (0)6 12 13 40 40
Open 7 days a week
Le Bistrot de Saint Rémy – You could be in Paris at this busy restaurant with terrific food. Conversations bounce around from wine and food to other topics at bistro tables scattered throughout the space. They serve a multi-course set menu, including cheese, so plan to arrive with an appetite.
Reservations required
12 boulevard Gambetta
St Rémy de Provence
Instagram
Tel: +33 (0)4 90 21 11 59
Closed on Mondays

Chapeau de Paille Bistrot Provencal serves authentic meals in a relaxed atmosphere. How about a big platter of steamed fish and vegetables plus a side of that garlicky Provençal mayonnaise called aïoli? Or some lamb shoulder that's been cooked for hours so that it practically melts in your mouth? Or perhaps you are hankering for something lighter, like a bowl of crunchy raw vegetables to dip in flavorful anchoïade?
Reservations recommended
29 Boulevard Mirabeau,
St-Rémy-de-Provence
Telephone: +33 (0)4 90 92 85 78
Closed Sunday and Wednesday
Ô Caprices de Mathias can be hard to find on the edge of town, but it's worth the effort. Chef Mathias' cooking is so good that he's earned the rare distinction of Master Restauranteur. The daily lunch special is terrific: three courses plus wine and coffee for 25 euros. If you dine on the terrace, you can look out on green fields and the Alpilles mountains—the view alone is worth the price of admission!
Domaine de Métifiot
Chemin de la Croix des vertus
13210 Saint Rémy de Provence
Website
Tel: +33 (0)4 32 62 00 00
Closed Wednesdays and Thursdays
Le Roma is a name that ice cream and gelato fans should know. Located in the centre of town at 33 Boulevard Marceau, the ice cream counter is the first thing you see. Grab a cone or stay for a meal. They serve generous large salads, different kinds of pasta, and daily specials.
---
Other Foodie Pleasures
Chocolate: Joël Durand's Alphabet of Flavours. The flavours of Provence are well-represented by chocolate with lavender, chocolate with thyme, and chocolate with rosemary, among others. However, so do Joël Durand's native Brittany essences, featuring chocolate combined with that region's famous salted butter caramel. And Durand is not afraid to try flavours from far-flung lands, so you'll find things like chocolate with jasmine and chocolate with Sichuan pepper. Whatever combination you can think of, Durand has probably tried it.

Joël Durand Maître Chocolatier (website)
3 boulevard Victor Hugo
Tel: +33 (0)4 90 92 38 25
Closed Sunday afternoon and all day on Mondays
Fruits confit or candied fruit is a methodology for saturating fruit in syrup that the Arabs brought to Europe in the 14th century. Converting fresh fruit to a crystallized version takes lots of time and even more sugar syrup. The result is also known as fruit glacé in France. Confiserie Lilamand is a family-owned business five generations after its first production. Today's owner, Pierre Lilamand, applies the exact recipes Nostradamus and Olivier de Serres used over four centuries earlier. Discover the range of syrups and jams in beautiful glass containers.
Take out! Chez le Frangins: Keith Van Sickle shares this local's find. Relatively new in St-Rémy-de-Provence, this is an artisanal rotisserie with everything you need for a delicious dinner at home or a picnic under a shady tree. Brothers Paul and Victor Granier opened their shop less than a year ago, and business is booming.
Confiserie Lilamand (website)
5 Avenue Albert Schweitzer,
13210 Saint-Rémy-de-Provence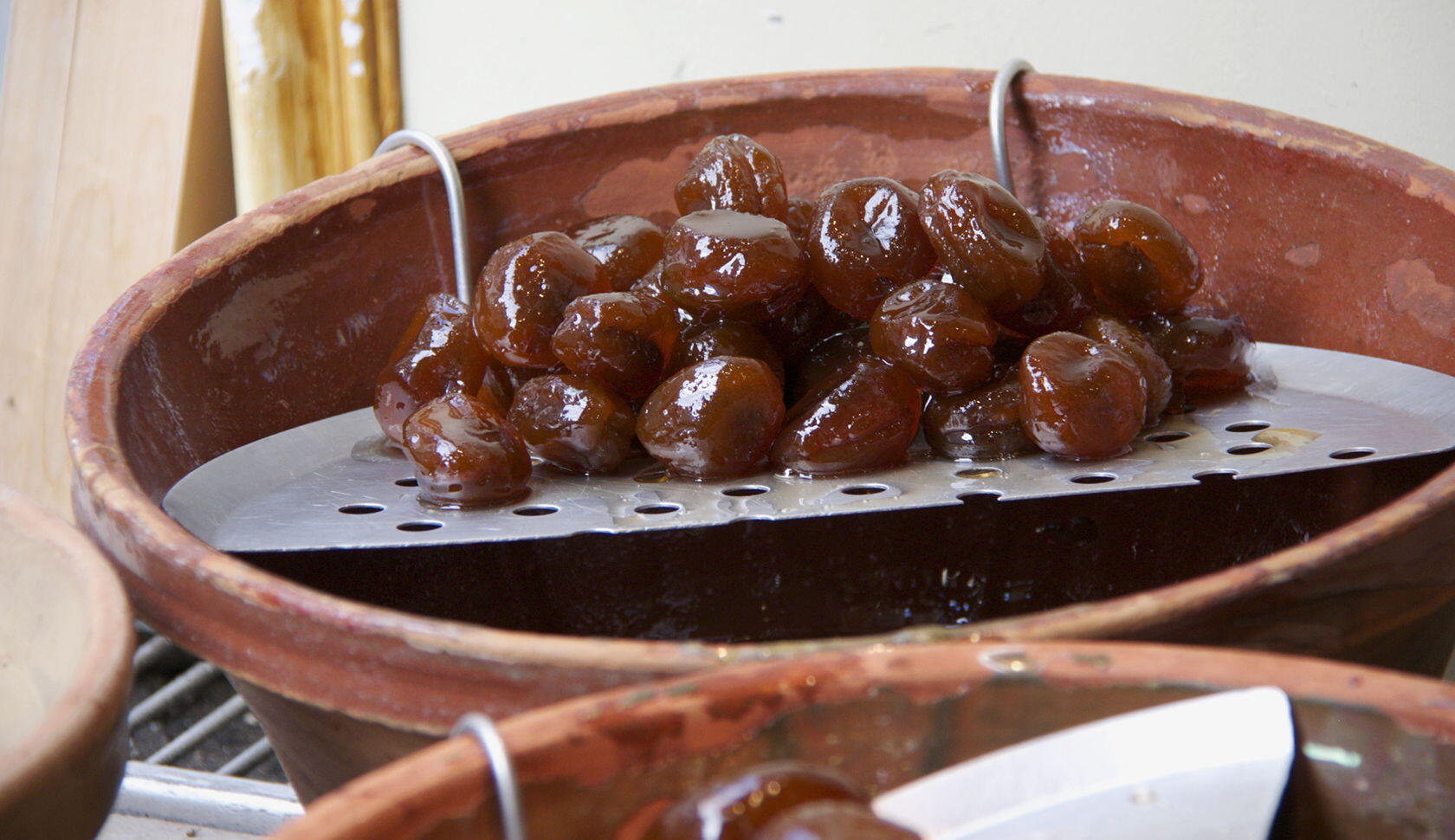 Cooking Classes: After many years in Provence, Jane Satow has realized her dream of combining her two passions – food and culture. Earlier this year, she launched La Cuisine Provençale – an interactive cooking school in Saint-Rémy-de-Provence. In the heart of charming St Remy, La Cuisine Provençale is on a quiet street with a small square. Step out of the tiny alley into a bright, ground-floor kitchen. Designed with plenty of open space, up to 12 people can participate in a hands-on cooking class.
---
Just a Short Drive
L'Oustalet Maianen (website)
16 Avenue Lamartine, Maillane
Tel: +33 (0)4 90 95 74 60
Suppose you'd like a quiet spot not far from St-Rémy, head north three miles to L'Oustalet Maianen. It's in the town of Maillaine, where the famous poet Frédéric Mistral lived (there's a small museum about him near the restaurant.) The food is always excellent, and the service is no surprise because the chef is a Master Restauranteur. He learned to cook from his father, who ran the restaurant before him and grew up in the upstairs apartment. According to author Keith Van Sickle, this restaurant is definitely worth the short drive from St Rémy.
Le Café du Soleil (Facebook page)
144 Av. Henri Barbusse,
13630 Eyragues
Tel: +33 (0)4 90 90 80 89
Located in a converted fruit and vegetable warehouse, this open-plan restaurant lives up to its promise of the spirit and flavours of the South. The creative cuisine delivers seasonally inspired dishes from the region and well beyond. There is a strong emphasis on high-quality local produce at this restaurant. The bright terrace is almost hidden from the street and is a wonderful place to enjoy a long lazy lunch or linger over dinner.