Our Favorite Restaurants Picks in the Alpilles
One of the pleasures of any trip to Provence is the food, and the region is full of wonderful restaurants. My wife and I live part of the year in St-Rémy-de-Provence and here are some of our favorite restaurant picks in the Alpilles (or close by).
St-Remy Restaurants
Brasserie les Variétés is one of those restaurants where everything is good. It's conveniently located on the ring road, near the tourist office, and has a charming outdoor terrace and cozy indoor dining room. The menu is full of local favorites like soupe de poisson (Provençal fish soup) and warm goat cheese salad as well as a wide selection of reasonably priced wines.
Brasserie les Variétés (website)
32 Boulevard Victor Hugo
13210 Saint-Rémy-de-Provence
Tel: +33 (0)4 90 90 17 36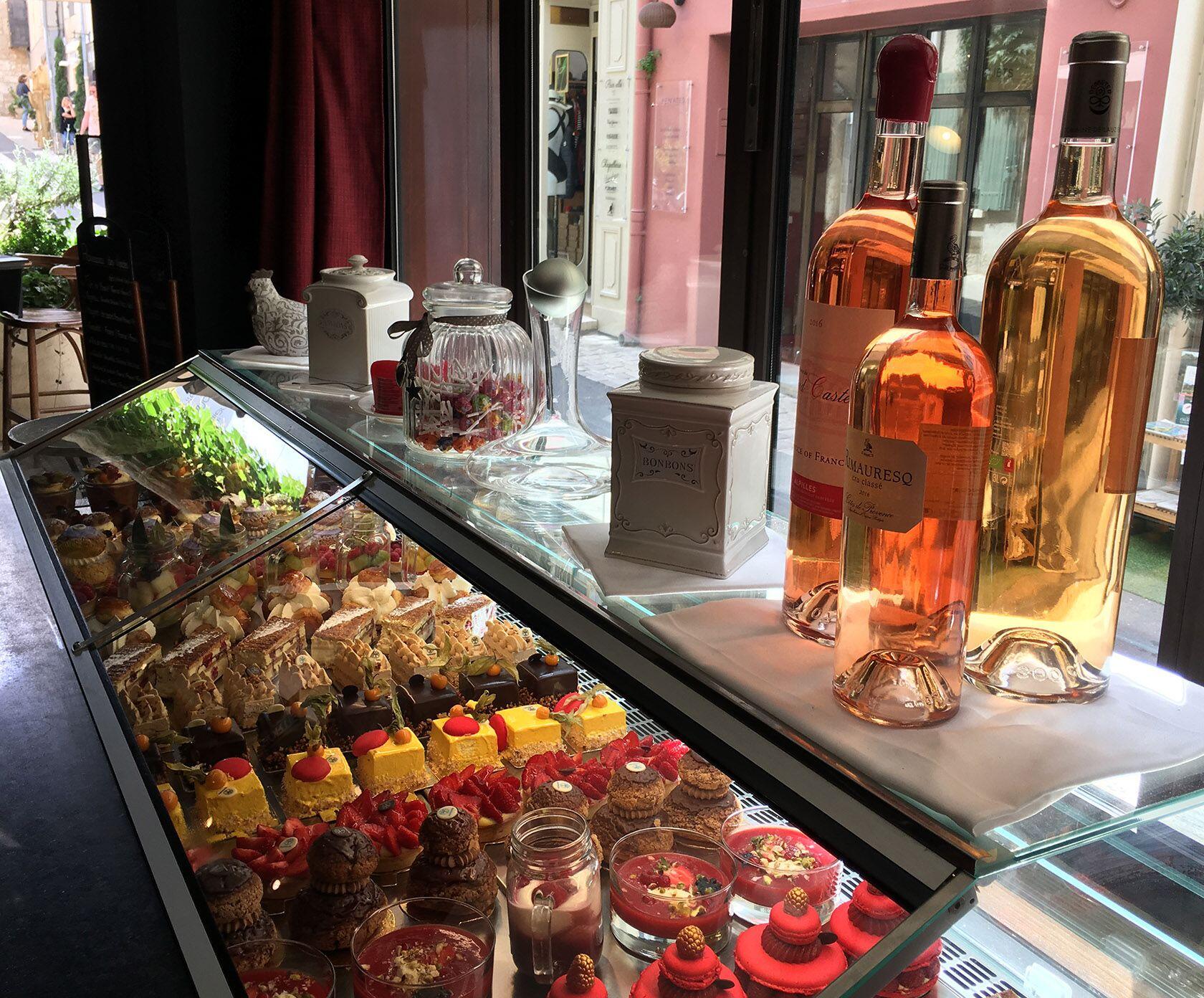 Want to pick your own dessert? Try L'Aile ou la Cuisse near the heart of old St-Rémy. The dining room is comfortable and the shady patio in back is an oasis of green in the center of town. The food is always good and the best part is dessert—your server will lead you up to a big display case and let you choose your favorite. It's like Christmas every day!
L'Aile ou la Cuisse (website)
5 Rue de la Commune
St Remy de Provence
Tel: +33 (0)6 12 13 40 40
Open 7 days a week, during peak season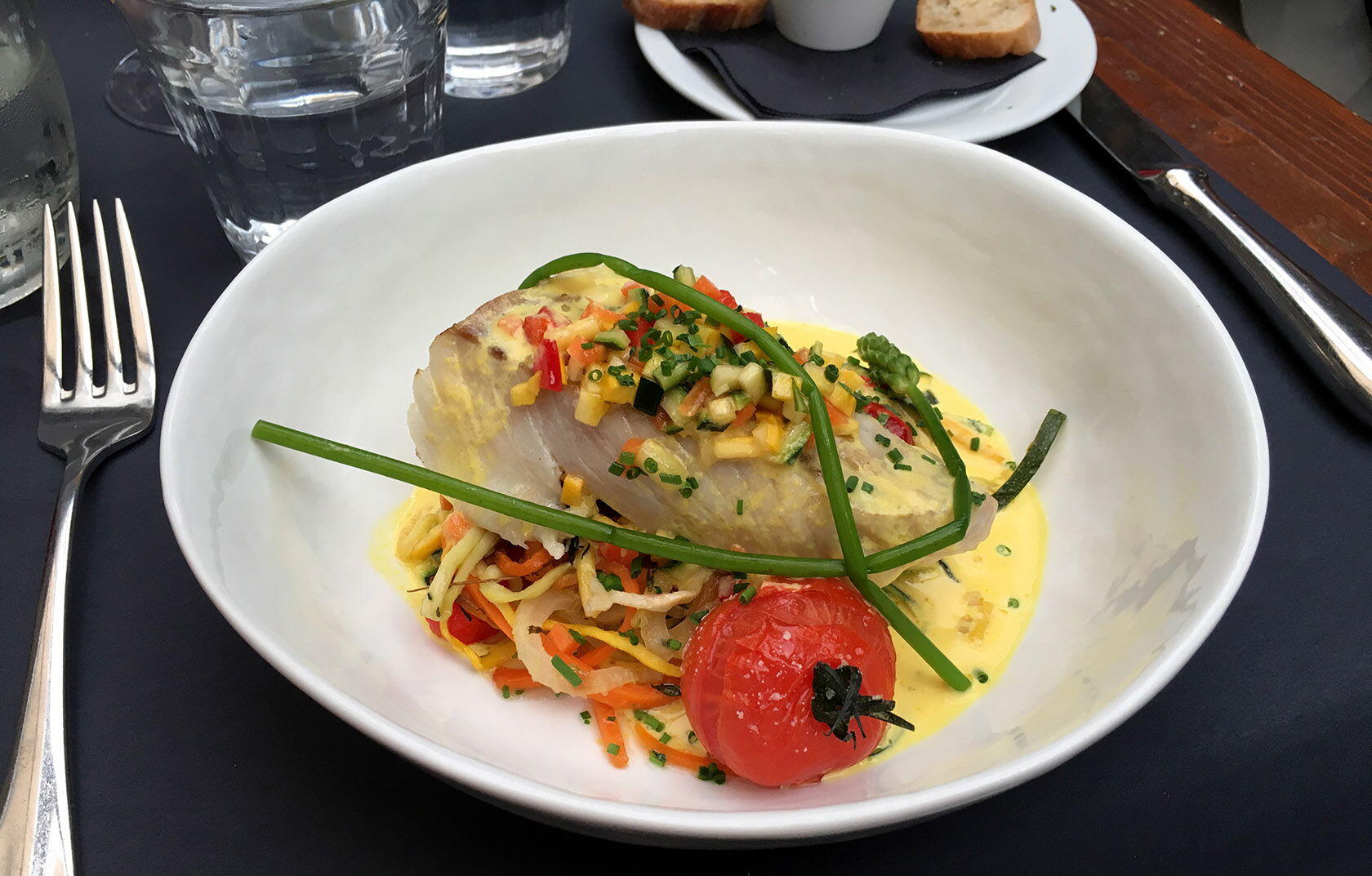 Ô Caprices de Mathias, on the edge of town, can be hard to find but it's worth the effort. Chef Mathias' cooking is so good that he's earned the rare distinction of Master Restauranteur. The daily lunch special is a terrific value: three courses plus wine and coffee for 25 euros. If you dine on the terrace, you can look out on green fields and the Alpilles mountains—the view alone is worth the price of admission!
ô Caprices de Mathias (website)
Domaine de Métifiot
Chemin de la Croix des vertus
13210 Saint Rémy de Provence
Tel: +33 (0)4 32 62 00 00
Closed Wednesdays and Thursdays
Where to Eat Maussane-les-Alpilles
Another restaurant with great value and a beautiful patio (cover photo) is Le Clos St Roch in the center of Maussane les Alpilles. Master Restauranteur Emmanuel Billaud's previous restaurant was once awarded the prize for Best Value Restaurant in Paris and he brings the same philosophy to Le Close St Roch. Billaud has a passion for food and once told me, "Every day my cooking has to be great."
Le Clos Saint Roch (website)
87 Avenue de la Vallée des Baux
13520 Maussane-les-Alpilles
Tel: +33 (0)4 90 98 77 15
Reservations accepted by email or phone
Closed: Wednesdays and Thursdays
A third Master Restauranteur plies his craft at L'Outsaloun, situated on one of the most charming squares in Provence. You can eat outside on the square or inside under the arched stone ceiling of what was once a 16th-century abbey. The menu is small but excellent, with an emphasis on Provençal favorites like lamb and fish.
L'Outsaloun (website)
4 place Joseph Laugier de Monblan
13520 Maussane-Les-Alpilles
Tel:+33 (0)4 90 54 32 19
There are seven (7) comfortable hotel rooms too.
Les Baux de Provence Fine Dining
The most charming hotel in Provence might well be Benvengudo, which means "welcome" in the ancient language of the region. It's a luxury hotel with a restaurant to match, first created by a Michelin-starred chef and now run by his daughter. The grounds are delightful, with little gardens here and there and rocky crags all around. Come for a meal or just a drink on the outdoor terrace—it's a wonderful way to while away a few hours.
Benvengudo hotel and gourmet restaurant (website)
Vallon de l'Arcoule
13520 Les Baux de Provence
Tel:+33 (0)4 90 54 32 54
Eygalières Resto Pick
Eygalières has some fancy restaurants but my pick is a down-to-earth place called Chez Paulette. It's on the town's main road, where the weekly market is held. Plan to visit the Friday morning market and stay for lunch! It's a great way to start the day.
Chez Paulette (Facebook Page)
Rue de la République, 13810 Eygalières
Tel: +33  (0)4 32 62 18 19
Reservations highly recommended
Worth the Drive to Maillane
Most people who visit Maillane come to see the museum (details below) that commemorates Frédéric Mistral, the Provençal poet who won the Nobel Prize. But another good reason is L'Oustalet Maianen, run by Master Restauranteur Christian Garino. The restaurant is a bit plain looking on the outside but don't be fooled—the interior is charming and you always get a warm welcome. Be sure to try the twice-cooked lamb or the octopus carpaccio!
L'Oustalet Maianen
16, avenue Lamartine, 13910 Maillane
Tel: +33 (0)4 90 95 74 60
Open Tuesday – Sunday
closed Saturday lunch, Sunday night and all day Monday
Musée Frédéric-Mistral (website)
12 Avenue Lamartine, 13910 Maillane
Tel: +33 (0)4 90 95 84 19
Open Mid-March to Mid-October Tuesday to Sunday
The rest of the year by appointment.
Arles for That Special Occasion…
For my money, the best restaurant in Provence is L'Atelier de Jean-Luc Rabenel. The prestigious Gault Millau restaurant guide once named Rabenel Chef of the Year and his restaurant has two Michelin stars. He calls his approach "Greenstronomie"—light on the meat and heavy on the abundance of Provence. As he puts it, "At the center of my cuisine is emotion and taste, a philosophy based on the vegetable. Vegetables, roots, plants, leaves, flowers and wild herbs thus become the main actors of my creations."
While not cheap, a meal here is much less expensive than at a comparable restaurant. For a more modest but still delicious meal, consider Rabanel's A Côté bistro next door.
L'Atelier – Jean-Luc Rabanel (website)
7 rue des Carmes
13200 Arles
Tel: +33 (0)4 90 91 07 69
There are cooking classes on Saturday mornings