Experience Luxury in the Alpilles with Domaine de Manville Golf or Spa Packages
Patience, vision and exquisite taste converted a run-down 250-acre agricultural property, outside of Maussane des Alpilles, into a luxury resort — Domaine de Manville. Edith and Patrick Saut purchased the land and associated ragtag collection of farm buildings in 2007. Seven years later and a multi-million Euro budget this 5-star hotel opened its doors to visitors. On-site amenities include an 18-hole golf course, indulgent spa, conference facilities, and a gastronomic restaurant. The Sauts successfully created a luxury escape in the Alpilles at Domaine de Manville (Read the background story here).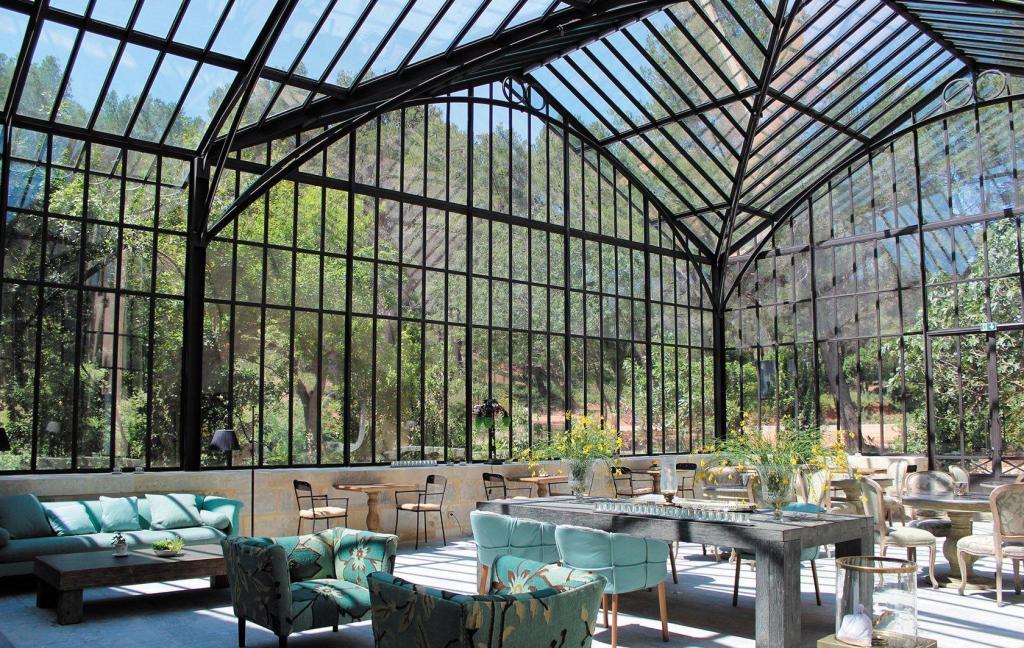 Let's do Lunch
However, more than just a short-term home for foreign visitors Domaine de Manville is a place that tempts locals to visit. After blazing temperatures, all summer, the forecast for Friday was 15c, with rain and wind. My girlfriend suggested an afternoon at the spa. Brilliant! In the end, the weather was not quite as bad as anticipated, but that was not going to stop two ladies from taking advantage of a lunch and spa package.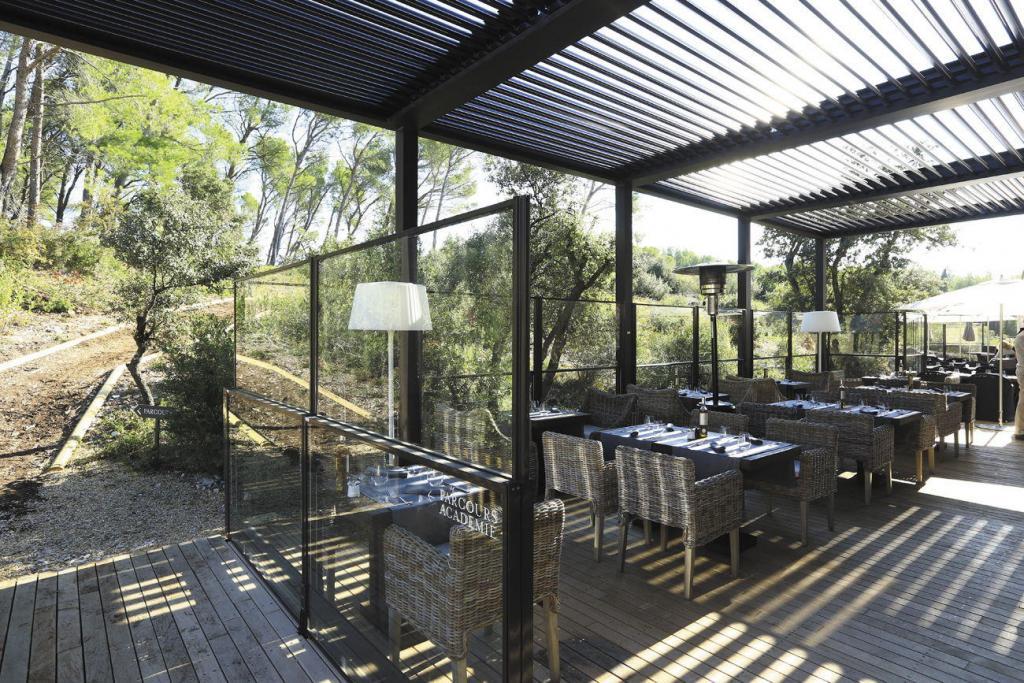 Domaine de Manville's massive wooden entry doors are not quite as tall as the plane tree nearby, but give off the same "we are here for the long term" message. The doors swing open to a contemporary hotel reception area, where we were greeted warmly and provided the details for our afternoon at Domaine de Manville. With our spa passes in hand, we headed up to the Bistro for lunch. This open kitchen serves meals all-day breakfast through dinner, and daily menu specials oscillate between healthy and hearty. Golfers filled many of the Bistro tables.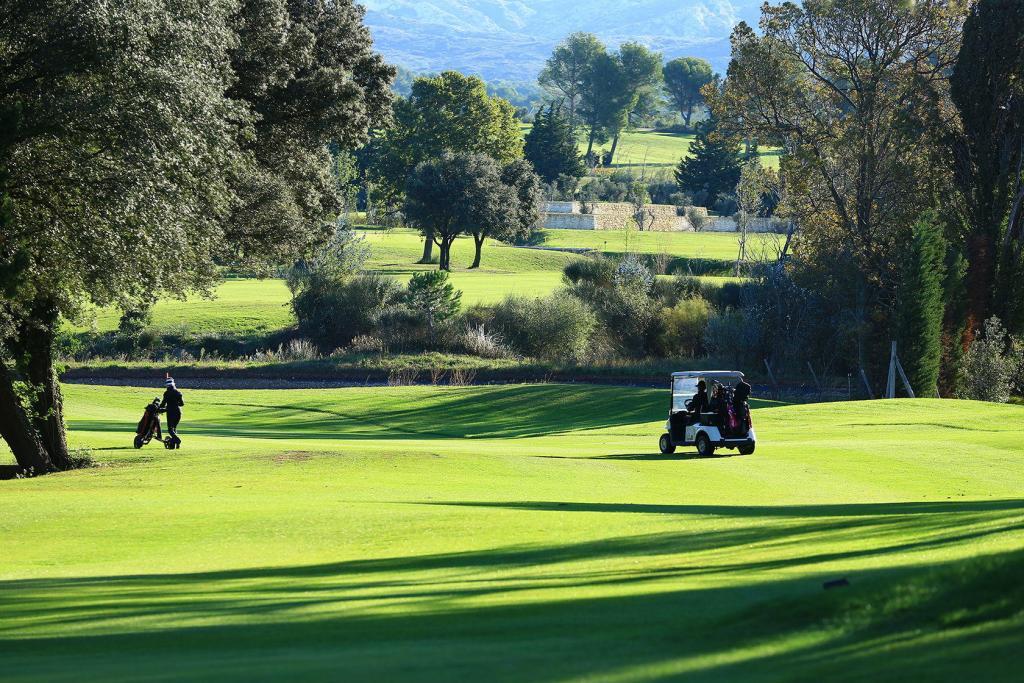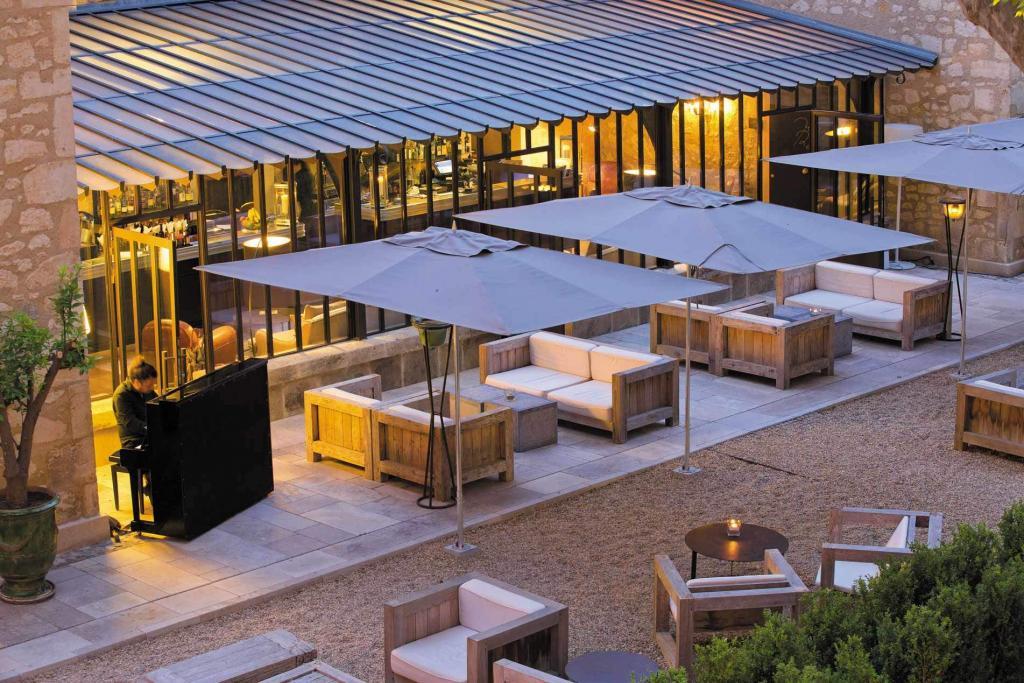 We chose a light lunch of salad and fresh fruit juice; it was a wise choice before a massage. However, the roasted lamb shank was tempting on a grey, cool day. After our diet-friendly lunch, we headed to the Spa for two-hours of self-indulgence. The Spa at Domaine de Manville is as described 530 square meters of well-being and pleasure. The architect Mireille Pellen and interior designer Annie Zeau managed to strike a balance between a space that is both functional and intimate. The change rooms are well-appointed, but not designed as the place you want to spend your time. Walk down a short hallway in your plush terry robe to a world of warm options including; a jacuzzi, sensory pool, a sauna, and steam bath (hammam).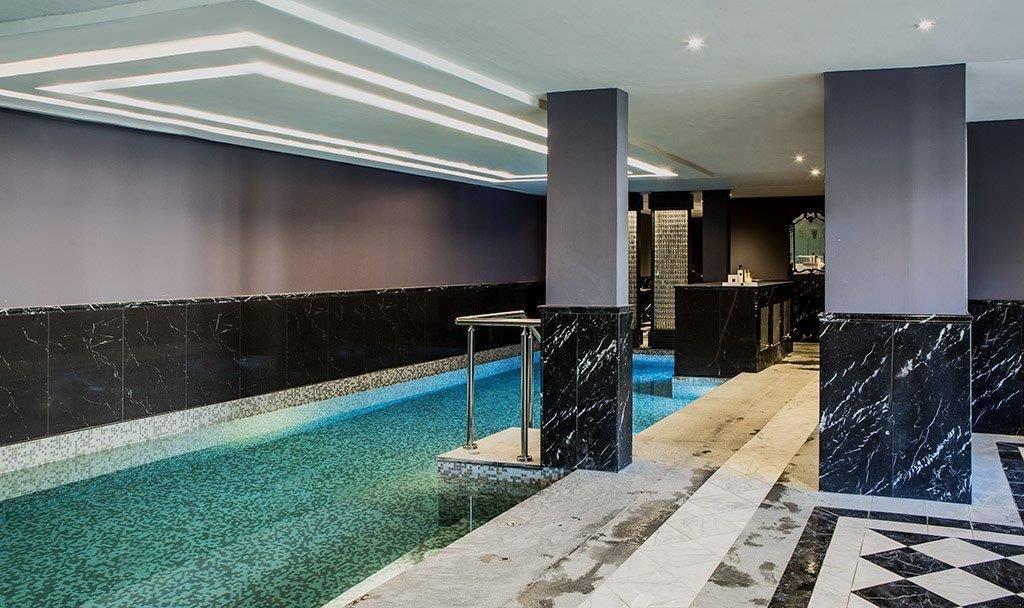 Don't Let the Pampering Stop
It was time for our treatments, massage for me and reflexology for my girlfriend. We both fell asleep cocooned in high-thread-count linens. Our lavish afternoon was over, although we vowed to return soon as these Domaine de Manville spa packages are created with locals in mind. Perfect as a gift for a friend or yourself.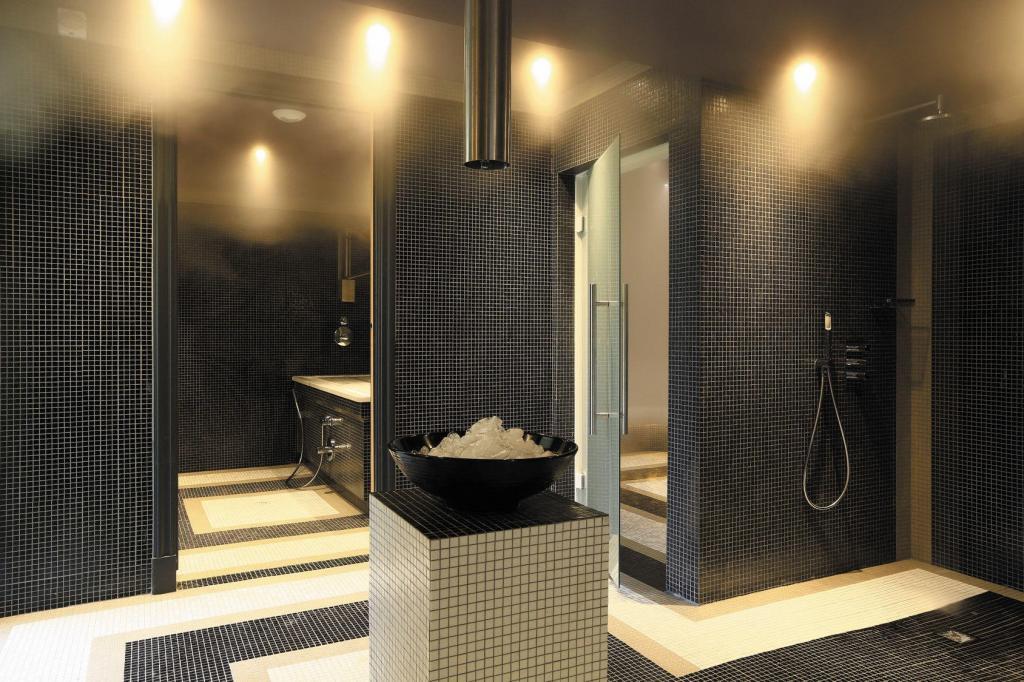 The weather on the day of our visit was not favourable to lounging by the pool, but you could certainly imagine spending the day shaded by the enormous plane trees and soaking up the best of the Mediterranean lifestyle. Next time we might just stay longer and taste the gourmet creations by Chef Matthieu Dupuis-Baumal.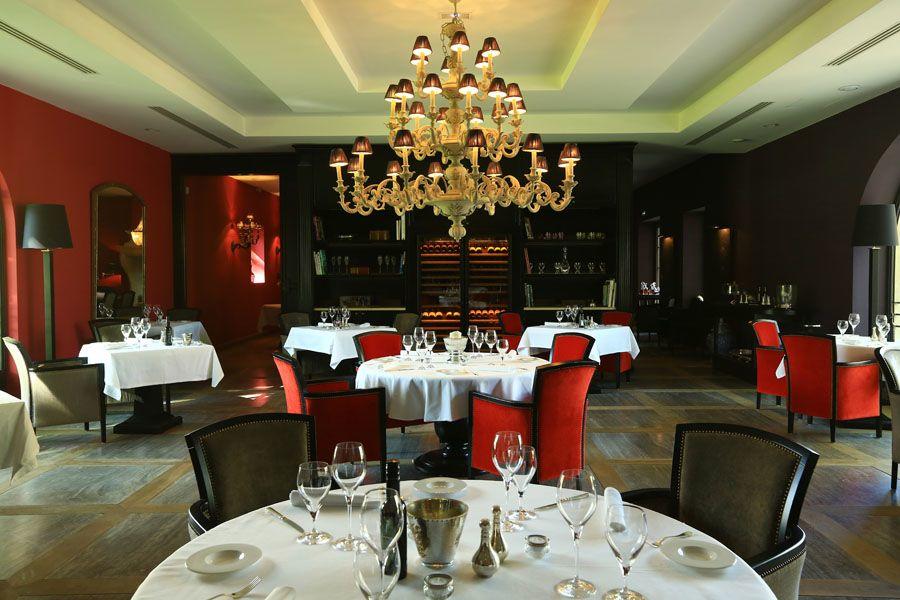 Book Your Domaine de Manville Experience
Domaine de Manville
13520, les Baux de Provence, France
Tel: + 33 (0)4 90 54 40 20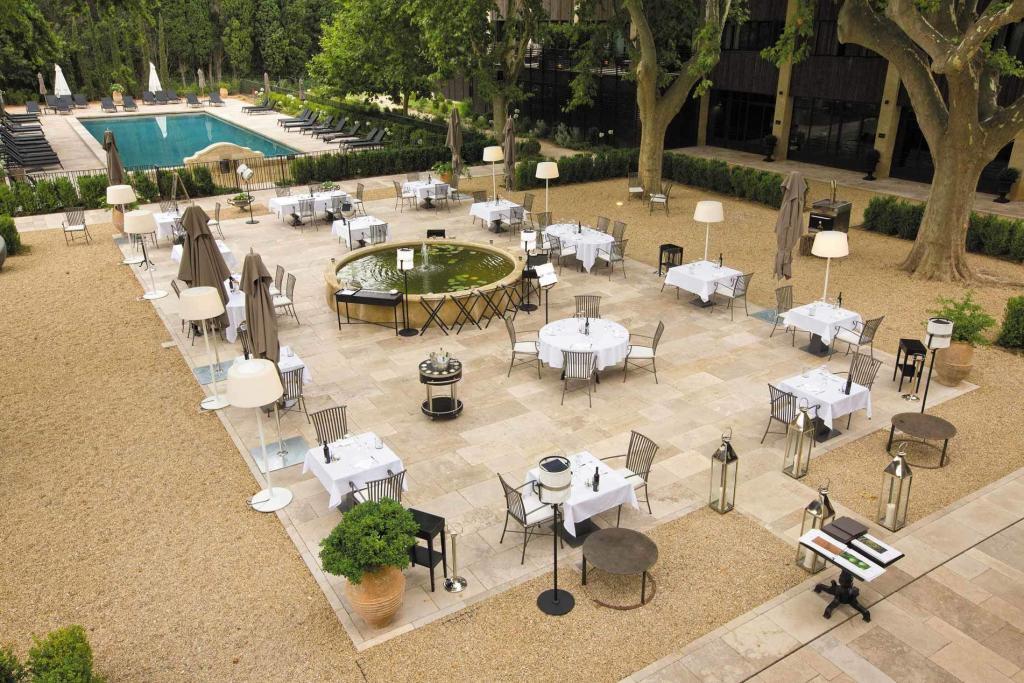 Image Credits: All photos provided by and published with the permission of Domaine de Manville