Sweet Recipe Chocolate Lavender Truffles
Generally speaking, candy can be tricky to make, but truffles are not that complicated. The recipe below for chocolate lavender truffles comes from the Okanagan Lavender & Herb Farm. It is easy to follow and the results are delicious. Serve the truffles for dessert or wrap them in an attractive container to offer as holiday gifts.
The Okanagan Lavender & Herb Farm is a family operation with multiple generations helping with all the phases from planting to the final products. Leveraging the hot, dry summers in British Columbia, Canada they grow lavender, herbes de Provence (rosemary, thyme, oregano), spearmint, lemon verbena and other botanicals at the farm.
The McFadden family is dedicated to environmental stewardship, supporting local businesses and quality production. They create over 50 products, which include bath & beauty, culinary items, and aromatherapy. All the products from the Okanagan Lavender & Herb Farm are packaged in eco-friendly containers. Order online for shipping across Canada (flat rate shipping $11.95 | free shipping over $75). Alternatively, if you are in the area, stop by as they offer curbside pickup on select days.

Chocolate-Lavender Truffles
A tasteful dessert that comes from Okanagan Lavender & Herb Farm. A high-quality product that tastes amazing and is easy to make!
Ingredients
½

cup

Cream

2

tbsp

Dried Lavender Buds (chopped)

or 3-4 drops culinary grade lavender essential oil

½

lb

Bittersweet

chopped into ½" chunks

½

lb

Semi-sweet Chocolate

chopped into ½" chunks

4

tbsp

Butter

softened

¼

cup

Unsweetened Cocoa Powder

¼

cup

Icing Sugar
Instructions
Bring the cream and lavender buds (or essential oil) to a boil. Turn the stove off and remove the pot from the hot element. Allow the mixture to steep for 15 minutes, and then strain out the lavender.

Reheat the cream to a boil. Pour the hot cream over the chocolate and stir until smooth and melted. Stir in the softened butter.

Chill in the fridge until solid.

Combine cocoa powder and icing sugar in a bowl and mix well with a fork.

Scoop out the truffle mixture with a melon baller or a spoon and form the truffles by rolling them between your hands. Drop each one into the bowl with the cocoa powder & icing sugar mixture, then toss until completely covered.

Remove and store covered in a cool dry place.
Additional Chocolate Desserts:
Double Chocolate Chip Cookies
These cookies are undoubtedly English. But they are particularly appreciated by the French and often found among the tempting sweets in some bakeries. In Paris, they can be found almost everywhere, from local bakeries to fine patisseries. There are even have addresses selling only cookies now (Scoop Me a Cookie, Laura Todd Cookies, La Fabrique Cookies,..). In order to delight you during cold autumn/winter nights, here is an unbeatable recipe for these sweet treats!
Check out this recipe

Chocolate and Pear Tarts
These tarts are easy to make and a delicious finish to a fall menu. Make sure to leave enough time to prepare and rest the dough.
Check out this recipe

Croissants and Pain aux Chocolate
Ok it's not easy to make croissants and pain aux chocolate, but it's a fun and rewarding weekend project.
Check out this recipe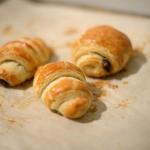 Warm Chocolate Tart
Learn how to make the perfect warm chocolate tart. It is a simple and decadent dessert with the most amazing creamy texture. It is best served 30 minutes after it comes out of the oven and is still warm.
Check out this recipe

Chocolate Sea Salt Shortbread
Chocolate Sablés with Fleur de Sel. Shortbread is called sablé because the texture is a little crumbly like sand. Warning! This delicious cookie a combination of dark chocolate and sea salt might be hard to keep around your kitchen for very long.
Check out this recipe