Chocolate Sea Salt Shortbread Cookies
Cooking Classes and Cookies
Anne Challier and her twin sister Vero are a dynamic culinary pair in Provence. They work with clients to create Provencal gourmet experiences including cooking classes, market tours, and catering  – Un air de famille, cuisine et service à domicile. Anne is the chef in the family having attended cooking school at École Hôtelière d'Avignon. After this, she trained in a well-known restaurant in the Alpilles. The two sisters launched Un air de famille in 2009, combining Anne's culinary talent with Vero's wine knowledge. Trust me they create magic in the kitchen.
This recipe for Chocolate Sea Salt Shortbread (Chocolate Sablés with Fleur de Sel) is just the perfect sweet treat with a coffee or cup of tea.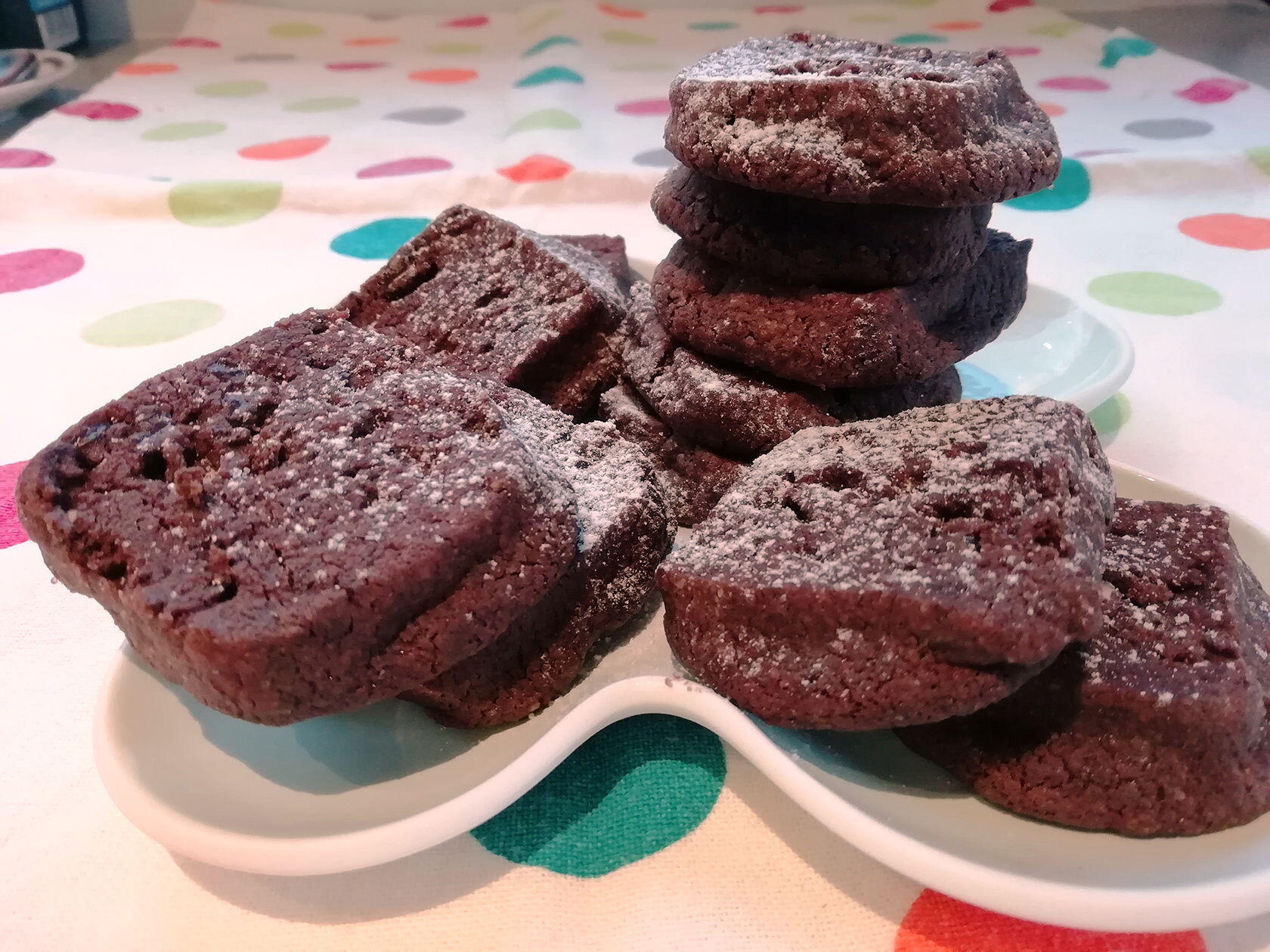 Chocolate Sea Salt Shortbread
Chocolate Sablés with Fleur de Sel. Shortbread is called sablé because the texture is a little crumbly like sand. Warning! This delicious cookie a combination of dark chocolate and sea salt might be hard to keep around your kitchen for very long.
Ingredients
180

g (6 oz)

All Purpose Flour

30

g (1 oz)

Natural Unsweetened Cocoa Powder

5

g (1 tsp)

Baking Soda

155

g (5 oz)

Salted butter

at room temperature

120

g (4 oz)

Sugar

1/5

tsp

fleur de sel

3/4

tsp

Vanilla extract

155

g (5 oz)

Dark chocolate

100g 70% and 55g 55%
Instructions
Sift together the flour, cocoa powder, and baking soda into a bowl and set aside.

In the bowl of stand mixer fitted with a paddle attachment, beat together the butter, sugar, salt and vanilla until lightened, about 4 minutes.

Add the dry ingredients.

Add grated chocolate and mix to combine.

Roll into logs (see note)* If the dough is not too soft, place it between two pieces of saran wrap, and roll the dough 1/2 inch thick on a lightly floured work surface into a 6-by-7 inch rectangle.

Using a sharp knife or pizza cutter, cut the dough into 1-inch squares. Place them 2 inches apart on a parchment-lined baking sheet.

Preheat the oven to 350 degrees.

Bake the cookies until they are firm, 10 minutes. Using a spatula, carefully transfer cookies to a wire rack when they are cold.

Store in airtight container for up to 2 weeks. (If they are not eaten before that!)
Notes
* If the dough is soft, wrap it tightly in plastic wrap and refrigerate for 30 minutes. (The dough will keep, wrapped in plastic, for up to 1 week in the refrigerator for 1 week in the refrigerator or 3 months in the freezer).
Culinary Services:
Chef at home (chef à domicile)
Catering (traiteur)
Cooking classes (on location in Nimes or at your location)
Market tours
Wine tasting