Mont Ventoux a Protected Biosphere for Cyclists and Wine Lovers
Between the intense month-plus-long heatwave and lack of rain this past summer, our planet is obviously not happy. There was a moment during the pandemic when the planet was given a chance to take a big breath of fresh air. But that didn't last long, and we are back to our usual ways. It's not looking good.
Thankfully there are places tackling climate change, and the Mont Ventoux Biosphere Reserve is one of them. In 1990 UNESCO officially recognized the giant of Provence for the quality of its natural environments, biological diversity, and the many links forged between man and nature over the centuries that have shaped its landscapes. The reserve covers 90,000 hectares with 38,000 inhabitants and has more than 1,500 plant species and nearly 150 species of birds. Continue reading here for Paula's "A Table en Provence" article on the Biosphere and her photos.
Mont Ventoux Wines
Harvest or vendanges for wineries in the Ventoux usually occurs between the end of August and the last part of September. For those who don't know this wine region, AOC Ventoux (Appellation d'Origine Contrôlée) is a vast area in the southern Rhône with over 150 wineries. And it's a bit of a sleeper.

Côtes du Ventoux vineyards achieved AOC status in 1973 for their winemaking expertise. Thus, an excellent place to start your education about these wines is at the cooperative.
In 2010, Côtes du Ventoux was rebranded as AOC Ventoux. There are 6,700 hectares of vines cultivated in this area of the Southern Rhône Valley. The region is divided into three distinct parts from north to south: the Malaucène basin, the Carpentras amphitheatre and the southern section closest to the Luberon vineyards.
Cave TerraVentoux is a cooperative winery focusing on biodynamic wines. They offer a selection of local wines from both the cooperative and participating vineyards.
Caveau de Villes-sur-Auzon
253 route de Carpentras
84570 Villes-sur-Auzon
Telephone: +33 (0)4 90 61 79 47
Open daily (closed at lunchtime)
Here is the list of Mont Ventoux AOC Vineyards.
Cycling Mont Ventoux
I've been cycling most of my life. Like everyone else, I started on training wheels, moved on to a hand-me-down single-speed with coaster brakes, and then upgraded to an awesome 10-speed. After that, mountain bikes were all the rage, so at 15, I bought my first bike—a Peugeot mountain bike—with my own money. And I loved it.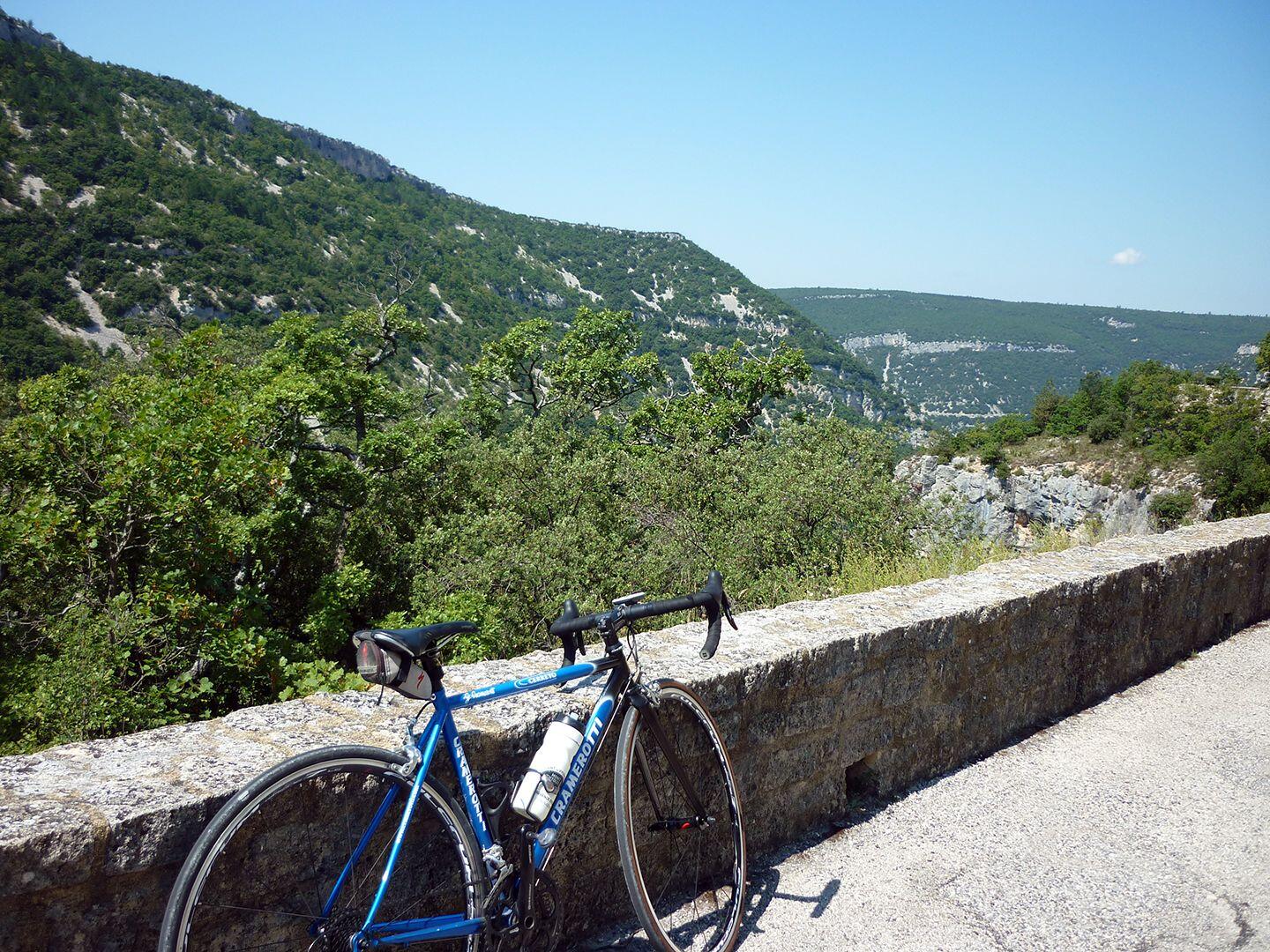 Even for professionals, and accomplished cyclists, Mont Ventoux is a cycling challenge for every biker, regardless of your time in the saddle. I've had a long history with the famous Mont Ventoux; I've been up and down it so many times I've lost count, and at this point, I have some pointers. So here are ten cycling tips for tackling the beast.
Don't start too fast. All three routes (Bédoin, Malaucène and Sault) include over 20km of climbing. It's best to set a pace you can live with and ride.
Carry lots of water and snacks. It's a considerable effort; you will need the fuel.
To stop or not. This is a personal choice, but getting restarted on a hill is tough. Just sayin'.
Chalet Reynard is 6km from the top, where many who ride from either Bédoin or Sault stop to regroup, buy a snack or use the washroom. There is also a large parking area for buses or support vehicles.
Click here for the rest of our suggestions for your cycle to the summit.
Villages near Mont Ventoux
The Biosphere Reserve covers 51 villages and a population of some 38,000 people. Here are a few of the towns surrounding the "Giant of Provence," worth visiting as time permits.
Beaumes-de-Venise
North of Carpentras is the ancient wine village of Beaumes-de-Venise nestling below the limestone slabs of the Dentelles de Montmirail. It was named after its caves (*balmas* in Provençal), which protect the town from the Mistral wind, creating an ideal microclimate for grape growing.
The produce here was enjoyed by the Romans, who knew a thing or two about wine, and its delicious Muscat wine was supplied to St Louis in 1248 to fortify him during the long journey to the Crusades. Popes during the Middle Ages also rather liked this beverage. The village is famed for its robust Côtes-du-Rhône red wines, which were upgraded to AOC status in 2005.
Gigondas
Previously known for white wines, Gigondas now has a reputation for excellent red wines. Many consider this perched village with the rugged Dentelles de Montmirail as a backdrop, one of the prettiest of all Côtes du Rhône wine villages. It is one that you should visit, especially if you love red wine. The town feels like a hamlet, home to 549 people (2016), with the ruins of an old château above the town centre and the soaring mountain peaks above. However, the small town packs a punch for its wine production reputation with an AOC designation. The wines from Gigondas are often compared to Châteauneuf-du-Papes but are more affordable.
When you turn off for Gigondas, follow the road up through the lower village, passing a succession of cafés and tasting rooms (caves) before arriving at Place Gabriel Andéol. The Mairie (town hall) and Caveau du Gigondas (winegrowers cooperative) are located in this plaza. If you like red wine, plan to stop at the Caveau du Gigondas, where you can taste more than 100 wines from 80 local vineyards.
Le Barroux
Le Barroux is perched on a limestone outcrop in the Vaucluse, between Carpentras and Vaison-le-Romaine. The town is striking, with a 12th-century castle situated at the top of the hilltop. A panoramic view stretches from Le Barroux over the vineyards of the southern Rhône towards Mont Ventoux and the jagged peaks of the Dentelles de Montmirail.
The Château du Barroux once belonged to the feudal lords of Les Baux de Provence, with ownership changing over centuries. The French Revolution and WWII inflicted significant damage to the structure. Today, the castle is privately owned by the Vayson de Pradenne family. However, there are tours, a tea room and even a whisky distillery to visit inside the walls. Here are several reasons why you should visit Le Barroux.

Sèguret
Like its neighbour Beaumes-de-Venise, beautiful Sèguret is at the foot of a steep hill. Also, like its neighbour, it is a wine village and part of the Comtat Venaisson. However, it has the additional cachet of being one of the Plus Beaux Villages de France, and it certainly deserves to be so-called. Laid out below the ruins of a feudal château, you enter the village by the Porte Reynier. The charming old streets, like the rue des Poternes, are lined with ancient stone houses sporting splendid facades. In the main square, you will find the 17th-century Fontaine des Mascarons and a charming bell tower. Discover charming Sèguret in the Côtes du Rhône.
Vacqueyras
Renowned wine and a famous troubadour are among the many reasons to visit the walled village of Vacqueras. This wine-producing commune in the Côtes-du-Rhône region where they have made wine since the 15th century. The town is circular with an old gateway, a 12th-century bell tower and a ruined Medieval Château. This area rewards both the outdoor enthusiast and wine lover with fabulous hiking in the Dentelles de Montmirail and the potential to sample famous "cru" wines from the heart of the Southern Rhone Valley and nearby Châteauneuf du Pape.
Mont Ventoux Biosphere Fast Facts
Mont Ventoux Biosphere Reserve (La Réserve de Biosphère du Mont Ventoux)
90,000 hectares
UNESCO recognition (1990)
Three distinct altitude levels (summits, medium level and the plains)
1,500 plant species have been recorded (including white oak, boxwood and mountain orchids), and nearly 150 species of birds
Office de Tourisme Intercommunal Ventoux-Provence
374 Avenue Jean Jaurès
84200 Carpentras
Telephone: +33 (0)4 90 63 00 78