Spring Recipe Asparagus with Orange Maltaise Sauce
Asparagus is one of those fresh vegetables that is often associated with spring. However, cooking asparagus requires a bit of attention, it is horrible when it is overcooked, and far too chewy when it is undercooked (see cooking tips below). This recipe for Asparagus with Orange Maltaise Sauce is a perfect starter course for a springtime dinner, or serve it for lunch.
Here, are a few cooking notes, from the chef:
Green Asparagus: If not too thick, there is no need to peel the stems, just cut the bottom to keep the tip with about 15 centimetres of asparagus. Wash the vegetables in cold water. Bring salted water to a boil, add the asparagus and cook (at a boil) until tender but still crunchy. Remove the stems delicately, and shock them in ice water until completely cold, this will keep the green colour. 
White Asparagus: Peel the asparagus, twice if thick and cut off the bottoms. Wash the stems under cold water. Cook the asparagus in boiling salted water until fully cooked. Remove and reserve them on a tray, allowing the stems to cool down naturally. Note: do not put white asparagus in an ice bath or the stems will absorb the water. 
Wine pairing for asparagus: Asparagus and other bitter vegetables or herbs are a sommelier's nightmare, but one tip for wine pairing with asparagus is to match bitterness with bitterness. A good example would be the Domaine de Malaga, Cuvée Charme: It is a blend of chardonnay, muscat, and roussanne. Roussanne brings bitterness, while chardonnay holds the acidity, and muscat, adds the fruity notes to the wine. 
Cook'n with Class Uzès offers French cooking lessons in English (and French) with market visits as well as French dessert classes and multi-day workshops. For a food and wine pairing class and pick up excellent tips for your next dinner party. Use this link to book a cooking class or culinary holiday week and get 10% off if you use this code PERFPROV10.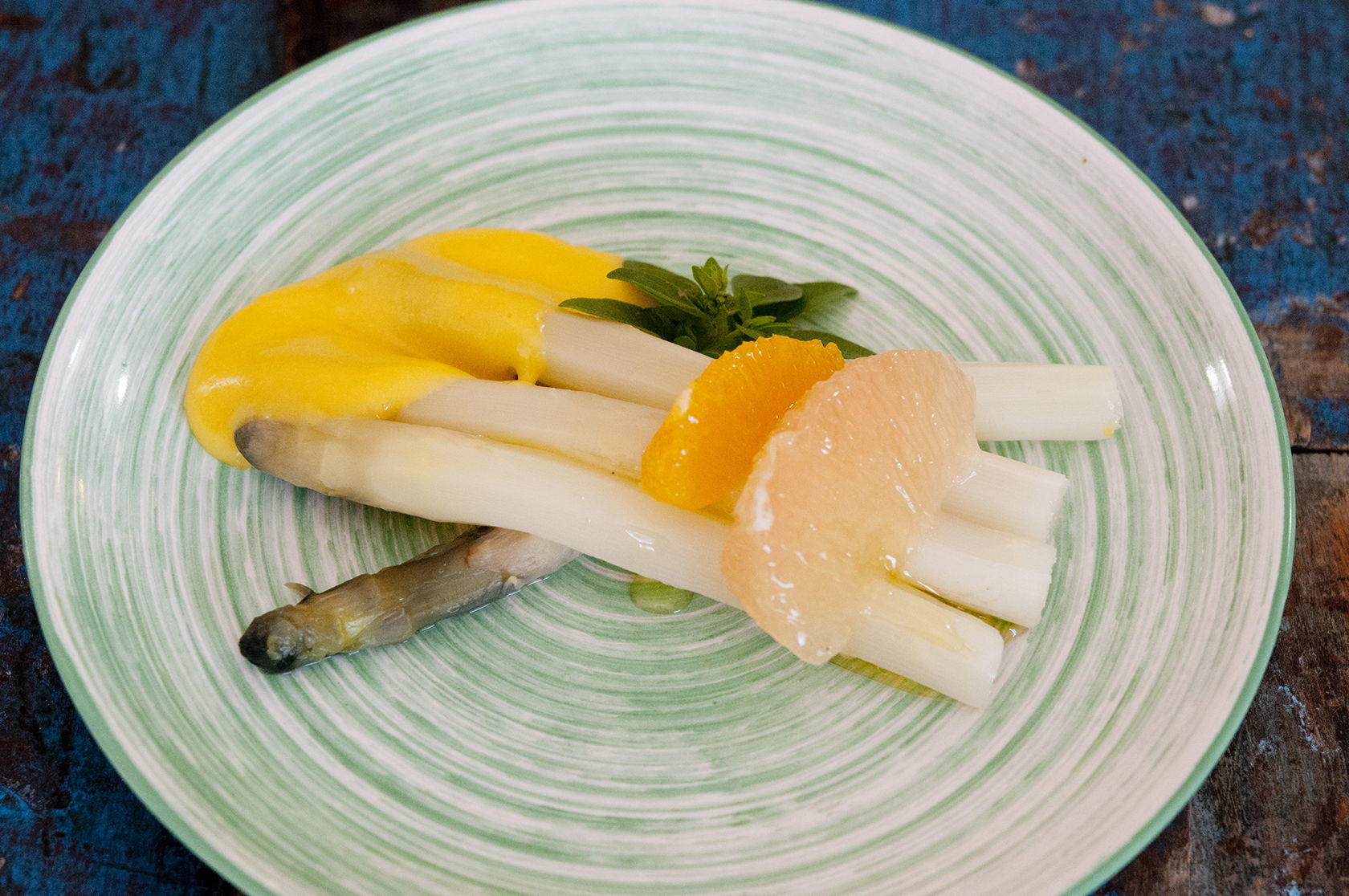 Asparagus with Orange Maltaise Sauce
Easy and seasonal this asparagus dish shouts "Spring is in the air." The photo shows white asparagus only, but we recommend the two varieties for visual effect and delicious texture.
Ingredients
36

Green and White Asparagus Stems

3

oranges

3

Egg Yolks

200

g (6 oz)

Clarified Butter

Salt and Pepper

to taste

Fresh herbs

for garnish
Instructions
Cut all the asparagus, green and white to have them roughly all the same size.

Peel the white asparagus (remember we peel the white asparagus twice so no more fibers) and cook them in salted boiling water. Cook until tender.

In the same water cook the green asparagus, keep them crunchy. Cool them down in ice water then drain and keep dry in paper towel.

Squeeze one orange for its juice.

Peel and remove the segments from the (two) 2 other oranges and keep aside.

Prepare a double boiler on a simmer, start whisking the egg yolks with a tablespoon of cold water on top of the double boiler, add the clarified butter slowly, spoon after spoon while whisking.

Add the orange juice, salt and pepper.

Serve the asparagus with some orange segments and sauce.

Add a few sprigs of herbs for colour and freshness.