The Rosé Revelation a New Book on Wine
Writing a book about rosé taught Elizabeth Gabay MW that pink is defined by more than Provence.
In case you haven't noticed, the world is in the midst of a rosé revolution. The young and flirty alternative to red and white wine, the pink drink is the toast of summer fun from the Riviera to the Hamptons to the Gold Coast. But, there's more to rosé than the easy-drinking and rather generic "swimming pool rosé," as local Master of Wine Elizabeth Gabay refers to it: from the premium Provence rosés being made to intriguing drops coming out of countries least expected. She tells me that writing a book on the rosé revolution quickly turned revelatory.
Chrissie's review of this pink wine-focused book. Even a Master of Wine never imagined tasting over 1,500 wines in 8 months and writing a book about this "misunderstood" category of wine.
Rosé and Food
Provençal Pairings: Rosé and Peaches for Dessert
Pairing Arizona Rune Rosé with Provencal Braised Chicken
Bandol Rosé and Goat Cheese Provençal Pairing
Château Léoube Rosé with Chicken
Lentil Salad with Rosemary and Garlic Salmon
A hearty dish of lentils, herbs and salmon brightly infused with lemon and lime leaves.
Check out this recipe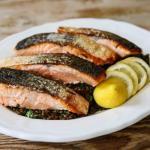 Cod with Tapenade Crust and Rosé Braised Fennel
There are a few steps to this recipe. However, as long as you prepare the fennel and black olive tapenade in advance the cod takes no time to cook.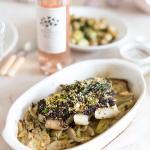 Roast Chicken with Rosé Cranberry Sauce
While the chicken is roasting, enjoy some cocktail and nibbles with your guests. Make sure to leave enough time to rest the bird after it comes out of the oven. Make the cranberry sauce in advance; it goes well with chicken.
Check out this recipe

Rosé Poached Pears
This dessert is delicious either served warm or chilled. Once cooked the pears will keep covered in the fridge for three days.
Check out this recipe