Pork Chops Gratinée Recipe Inspired by Cabbage Soup
Several years ago I posted one of my favorite recipes for a Baked Cabbage Soup; it is an addictive combination of pancetta, bread, cabbage, and cheese. More recently, Susan (from the Provence WineZine) shared a recipe for Pork Chops Gratinée, which really reminded me of the soup. I was eager to make it. The recipe follows below. Read the original post (here) to discover the wine pairing with a wine from California inspired by a white wine from Châteauneuf-du-Pape. It's a small world after all.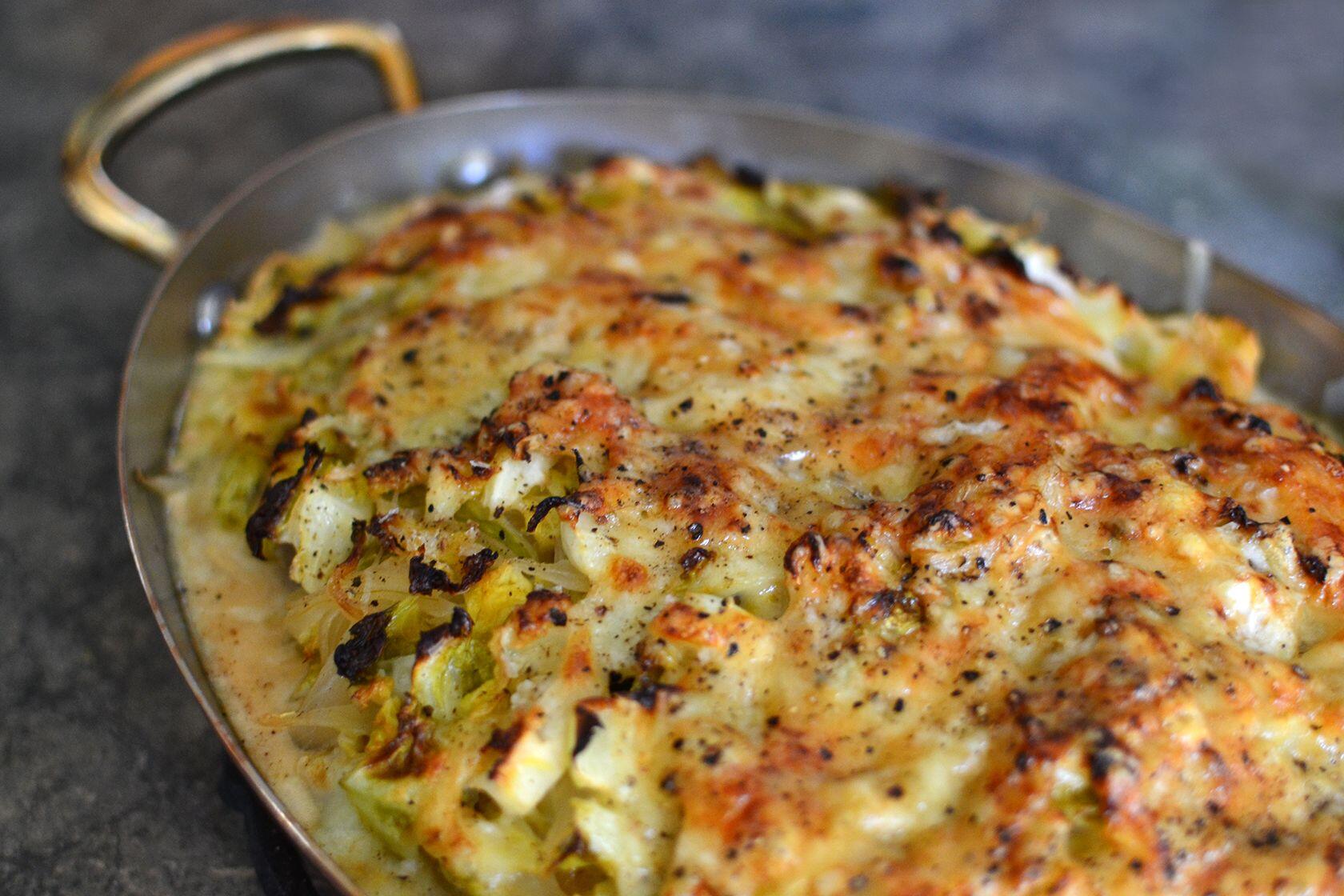 Pork Chops Gratinée
This main dish is easy to make. It may quickly become your "go-to" comfort food.
Ingredients
2

thick cut

Pork Chops

with bone (about 1 1/2 inches thick)

Sea Salt

Freshly ground black pepper

2

tbsp

Lemon Olive Oil

or regular olive oil

1

medium

Onion

thinly sliced

1/2

cup

White Wine

more as needed

1

small head

Savoy cabbage

thinly sliced

1/2

cup

Cream

4

oz

Gruyère cheese

grated
Instructions
Preheat oven to 400°F.

Pat the pork chops dry using paper towels; season with salt and pepper.

Heat oil in a large skillet over medium-high heat and brown chops well on both sides, don't worry about not cooking them all the way through, as they will finish cooking later.

Remove chops and put them in a baking dish; set aside.

Sauté onions in same olive oil as chops, so that it gets some of the pork fat in addition to the lemon oil.

Once they are soft and slightly browned from the drippings, add white wine ** and bring to a simmer.

Add the sliced cabbage. Don't let the pan burn dry; if you need a tablespoon or more of wine, add it.

Once cabbage is wilted, reduce temperature to low and add the cream. Reduce the liquid until it is thickened.

Spoon the mixture over pork chops. Sprinkle with grated Gruyère and season with salt and pepper to taste.

Bake until cheese is bubbling and golden brown – about 20 minutes. Let sit 5 minutes, allowing juices in the pork to settle.
Notes
My notes:
* I will used crème fraîche instead of cream in the future. It is my guess that this is what is used in France.
** At this point, I might add a teaspoon of Dijon mustard to round out the flavors.