Explore Provencal Cuisine Top Books for Food Lovers
Joy of Cooking in Provence
True confession: I am a committed foodie (although the grammar checker doesn't seem to like the word). Maybe that admission will get me off the hook for being unable to delete thousands of photos of markets objectively. Over the years, we have taken many (did I say many?) cooking classes. We have rolled up our sleeves and rolled out pastry dough. Dressed in chef's whites in a Michelin-star kitchen, we watched the action with utter amazement while trying to stay out of the fray. Binge watched every episode of "Chef's Table" on Netflix. However, there is something refreshingly simple about cooking in Provence.
Fresh + Seasonal = Delicious
The following list of books is far from exhaustive, but rather a few of the ones in our collection. Some are cookbooks, some are culinary guides to the Provencal lifestyle, and others are invaluable resources for navigating the tantalizing markets.
The books are listed alphabetically (by author's last name).
---
Affiliate Statement:
Please click on the book cover or title to order a copy of this book. As an Amazon Associate, this website earns from qualifying purchases. Therefore, if you purchase a book via these links, we receive a small commission that does not impact your price. Thank you in advance for supporting our work to maintain Perfectly Provence.
---
François de Mélogue
Cuisine of the Sun: A Ray of Sunshine on Your Plate is the first book by Chef François de Mélogue. Growing up in the United States Midwest, Chicago might not seem like the springboard for a lifelong culinary journey, but perhaps it was his French family roots. Chef François studied culinary at the revered New England Culinary Institute, where he graduated at the top of his class. Since then, he has worn his chef's whites in esteemed kitchens that include Chef Louis Szathmary's restaurant, The Bakery in Chicago, Old Drovers Inn, a Relais and Chateaux property in New York and Joel Robuchon's Gastronomie restaurant in Paris. Today, Chef François lives in the Pacific Northwest with his family, where they all dream of spending time in France.
"Cuisine of the Sun is a savory collection of over 60 classic and reimagined Provençal recipes peppered with anecdotes that will cast a ray of sunshine onto your plate. It's a beautifully photographed, edible love letter to the South of France. Savor rustic dishes like Olive Tapenade, Marseille Fish Soup and a Rosé scented Daube of Lamb that will transport you back to the French countryside."
US Residents, click here for a FREE copy shipped to your door. 
---
Richard Olney
Lulu's Provençal Table: The Exuberant Food and Wine from Domaine Tempier Vineyard, published in 1994, is a collection of recipe favourites from the kitchen of Lucie Tempier.
"Simply put, Lulu's food embodies the best of French home cooking, marked by Provençal simplicity and elegant restraint." David Tanis wrote for Saveur Magazine.
This petite woman turned 100 years old in 2017 and is the grand dame of the wine estate Domaine Tempier in the Bandol. At first glance, Olney and Tempier – Iowa meets Marseille – appear odd friends, but a shared interest in quality ingredients and simple cooking brings them together.
Writer, painter, cook and influencer Olney, who passed away in August 1999, left a legacy of French food lovers in his wake.
"In this one, a gay artist from Iowa named Richard Olney moves to Paris in 1951 to paint, but fails, in the end, to elude his true calling. He eventually settles on a scrubby, herb-scented hillside in Provence, digs a wine cave by hand out of solid rock, builds a traditional brick cooking hearth in his kitchen, lives in bohemian solitude regularly broken by sumptuous entertaining on a stone terrace under a grape arbor, and accumulates perhaps the most complete and dexterous body of knowledge about French cooking and French wine of any American of the 20th century." Source: The Washington Post.
Richard Olney spent so much time cooking with Lulu Peyraud that his philosophy around food and eating appears to mirror her own. The recipes in this book include her versions of pissaladière (onion tart), fenouil au four (baked fennel), Provencal vegetable tian (baked vegetable layers), and a walnut cake. Celebrated chef Alice Waters of Berkley, California, wrote the book's forward. She first met Peyraud in the 1970s after Olney made the connection. Waters' farm-to-table philosophy that has made Chez Panisse so popular owes much credit to Tempier and Olney.
---
Jill Paider and Tasha Powell
"Cuisine Libre: A Gluten-Free Journey with Reine & Nadia Sammut at La Fenière" is the title of a photographic journey through the front door and around the menu at Auberge La Fenière. The hotel/restaurant is located just outside of Lourmarin in Provence. This hotel, bistro and Michelin-starred kitchen is a story of a family dedicated to showcasing the best of Provencal lifestyle and cuisine.
Paider and Powell packed their bags full of camera equipment and flew from Los Angeles to the South of France. In four days, they captured the essence of this Michelin one-star gourmet experience in stunning images. They also portrayed the dedication to excellence and passion for cooking that the mother and daughter culinary team brings to their locale.
Please read our book review in this article, Cuisine Libre at Auberge La Fenière, a Book You are Going to Want to Eat.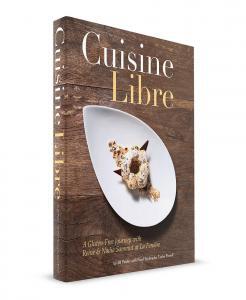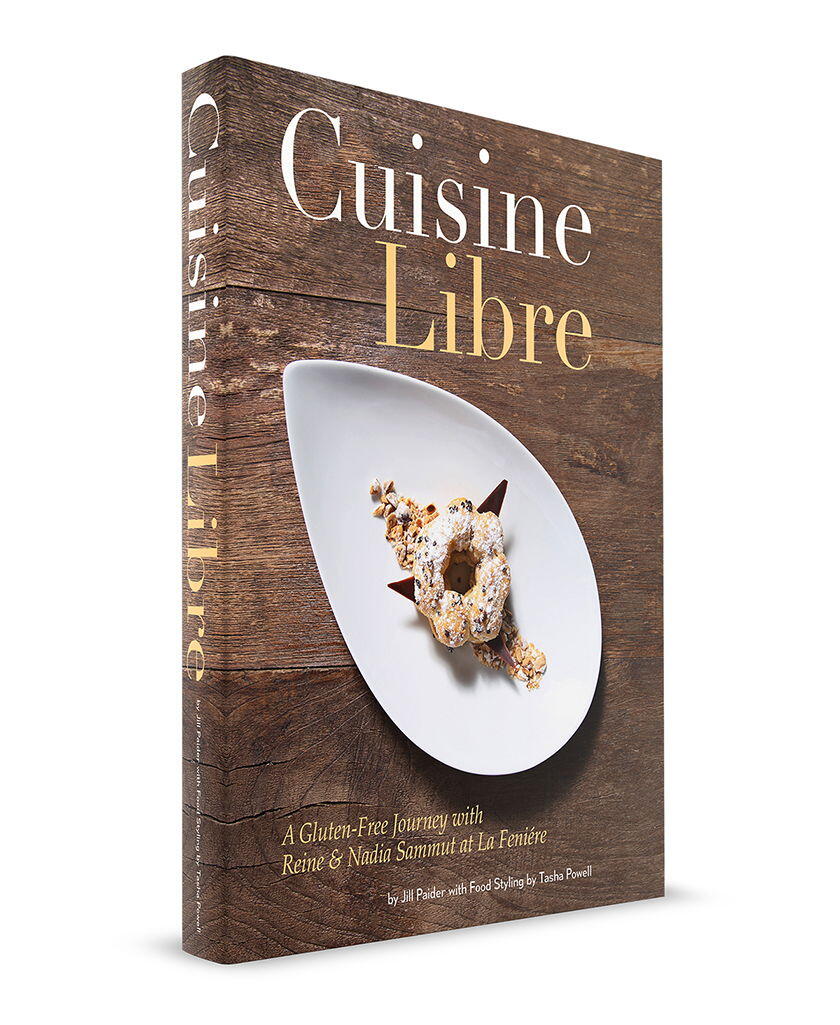 ---
Viktorija Todorovska
This talented lady has published several culinary books. She spent her formative years in her birthplace of Macedonia, where life revolved around seasonal crops and associated activities like winemaking. Todorovska is multi-lingual and multi-talented. She is a cookbook author, college instructor, sommelier, and occasional tour guide. The Mediterranean lifestyle called to her soul and lured Todorovska from the harsh climate in Chicago to Nice, France, where she immersed herself in the art of Provencal living.
"Provence Food and Wine: The Art of Living" explores food, wine, and the region's culinary traditions. The book includes 47 Provencal recipes, from some that are classics, such as aioli, to others that are more contemporary. The text also suggests wine pairings for all the recipes. Essentially, it is an overview of the region's food and wines. Read more about wine and olives here.


Nice Cuisine and the Art of Living is an e-book on iBooks. Inside the 115 pages, Todorovska and photographer Francois Millo invite you to explore the typical culinary treats associated with Niçoise cuisine. Discover local tips on where to have coffee or a glass of rosé, explore Nice's markets, and learn how to make traditional recipes such as socca at home. The book even includes a few videos, so you can travel (virtually) to the French Riviera while enjoying this book.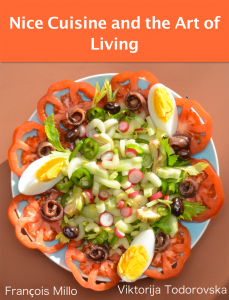 ---
Patricia Wells
This lady is an icon for food lovers. Patricia Wells has lived in France with her husband, Walter, since 1980. Media jobs paved their path from New York City to Paris at the International Herald Tribune. They envisioned two glorious years in the French capital, filled with food and romance, before returning to the United States. Still in France many years later, they split their time between Paris and Chanteduc, their home in Provence near historic Vaison la Romaine.
This couple is far from idle in their semi-retirement years. They run several culinary weeks yearly in Paris and Provence, and Patricia Wells has published 16 books. She has written about French bistro cuisine, Italian trattoria style, truffles, salads, and a food guide to Paris.
However, Patricia Wells at Home in Provence (1999) and The Provence Cookbook (2004) invite you on a culinary journey through her favourite Provencal recipes, which students can prepare in her cooking classes. Please read our review of "The Provence Cookbook" here.
Read: Patricia Wells, a Provence Kitchen, for more background on her lifestyle in Provence.
---
Marjorie Williams
Markets of Provence is the second book by author Marjorie Williams. She credits growing up in York, Pennsylvania, to her appreciation for and fascination with farmers' markets. The book is small enough to slip in your purse or market bag, but its 300 pages are filled with essential details you do not want to leave at home.
The book is organized by day of the week, starting with Sunday. Williams covers the larger daily markets, tips for visiting, ideas on where to eat, and what makes a venue unique. Each chapter begins with a map of the markets for that day and critical information to make your visit more enjoyable. In addition to food markets, Williams covers brocantes (flea markets), book fairs, and more. You will also find information on local vendors' traditional food and "meet" some of the author's favourite vendors.
Please read Exploring the Markets of Provence with Marjorie Williams for more details on this must-have guide.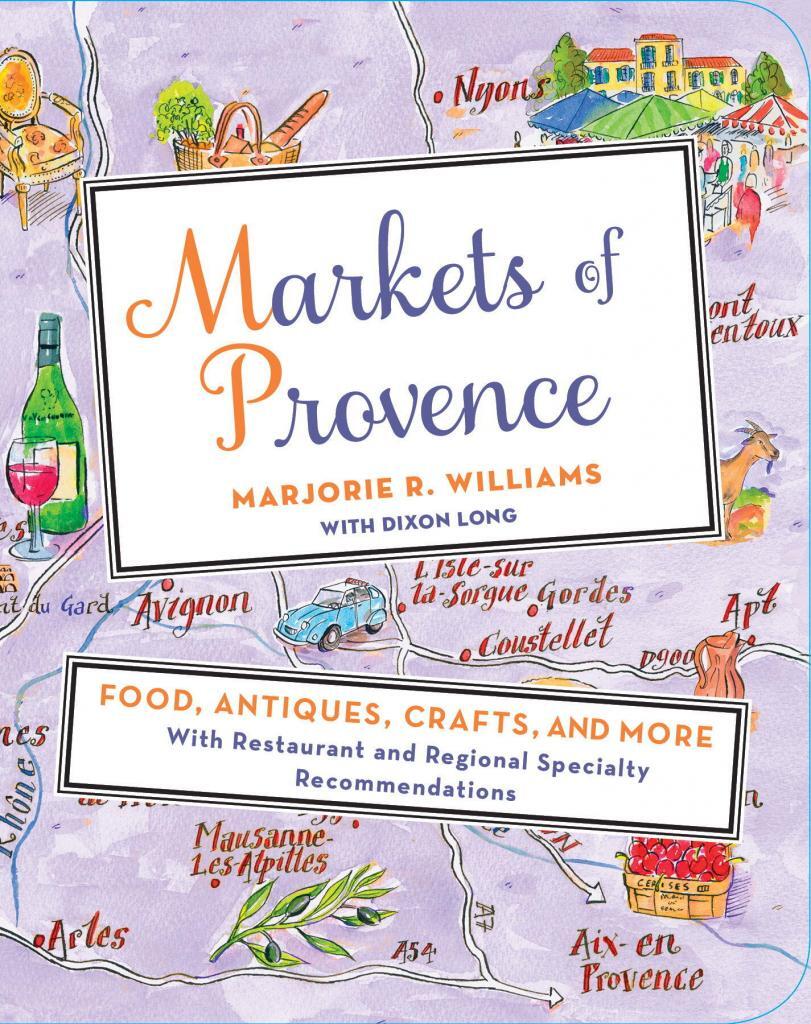 All rights reserved. Perfectly Provence articles and other content may not be published, broadcast, rewritten (including translations into other languages) or redistributed without written permission. For usage information, please contact us.
Syndication Information
Affiliate Information
As an Amazon Associate, this website earns from qualifying purchases. Some recipes, posts and pages may have affiliate links. If you purchase via these links, we receive a small commission that does not impact your price. Thank you in advance for supporting our work to maintain Perfectly Provence.