Herb-Roasted Turkey in an Hour. Why Wait for the Holidays?
The funny thing in North America is that turkey gets relegated to the big holidays, Thanksgiving and Christmas. The large (some extra large) birds arrive frozen to the grocery stores, weeks before the holidays and in some cases take days to thaw. Many families have favourite or less favourite side dishes (think turnip purée, sweet potato pie) to accompany the turkey that may take hours to roast. The whole process takes culinary coordination and many helping hands.
This recipe for Herb-Roasted Turkey Thighs is a quick recipe that allows you and your dinner guests to enjoy this bird in an hour. Now you can be grateful all year no need to wait for the holidays.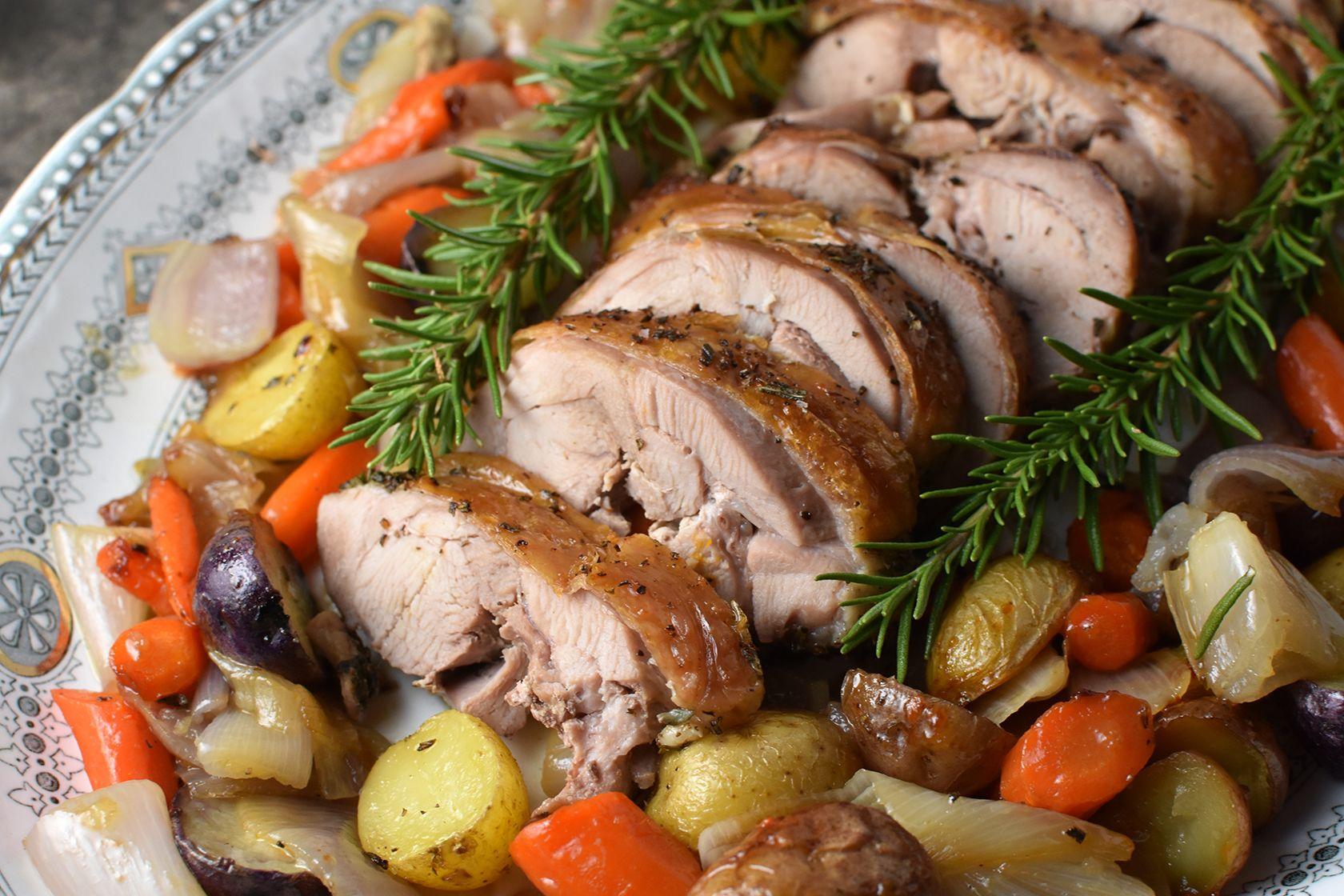 Herb-Roasted Turkey Thighs
Create your own mini turkey roasts using deboned thigh meat and carrots. Roast the turkey with your favourite root vegetables - potatoes, carrots, turnip, parsnip, and onions.
Ingredients
2

Turkey Thighs

boneless with skin

24

small

Shallots

peeled

20

Fingerling Potatoes

cut in half

5

large

Carrots

divided, peeled – 3 cut into 2-inch pieces

1

tbsp

Fresh Sage

chopped

1

tbsp

Fresh rosemary

chopped

1

tbsp

Fresh Thyme

chopped

4

fresh bay leaves

3

sprigs

rosemary

olive oil

Salt and Pepper

to taste
Instructions
Preheat oven to 400°F.

Place a large skillet in the preheated oven for 10 minutes.

Place thigh pieces, skin-side down, onto your work surface.

Cut one of the thick ends of the carrots the same length as the width of the thigh; this carrot will replace the bone.

Reconstruct the thigh around the carrot and tie well, as shown.

Cut the rest of those two carrots into 2-inch pieces and add to the others.

Lightly rub the skin with olive oil.

Mix the chopped herbs and rub onto both sides of the turkey thighs; season with salt and pepper. When the skillet is well heated, place thighs skin side down in the skillet; they will sizzle. Roast for 20 minutes.

Add the potatoes, shallots, carrot pieces, bay leaves, and the rosemary branches sprigs.

Sprinkle all with a little more salt and pepper, then drizzle some olive oil on top. Roast for another 30-40 minutes, stirring the potatoes and shallots once during roasting, until thighs are done and potatoes are tender.

Remove pan from oven, cover with foil, and let rest 10 minutes.

Place turkey – in slices – and vegetables on a serving platter.

Use pan drippings to make gravy with flour and chicken stock (about 2 cups), if desired.