Persian-spiced Lamb Shanks
Great lamb is easy to find in Provence, most of which is organic, and grass-fed. This recipe, for Persian-spiced Lamb Shanks, brings together the best of this complex middle-eastern cuisine. The flavours of Persia combine sweet, sour, savoury, hot, floral, and earthy into a subtle taste explosion. Spice is tricky for wine pairing, but I served this lamb dish with a Côtes du Rhône (2014) red called Vinsobres, and it worked very well.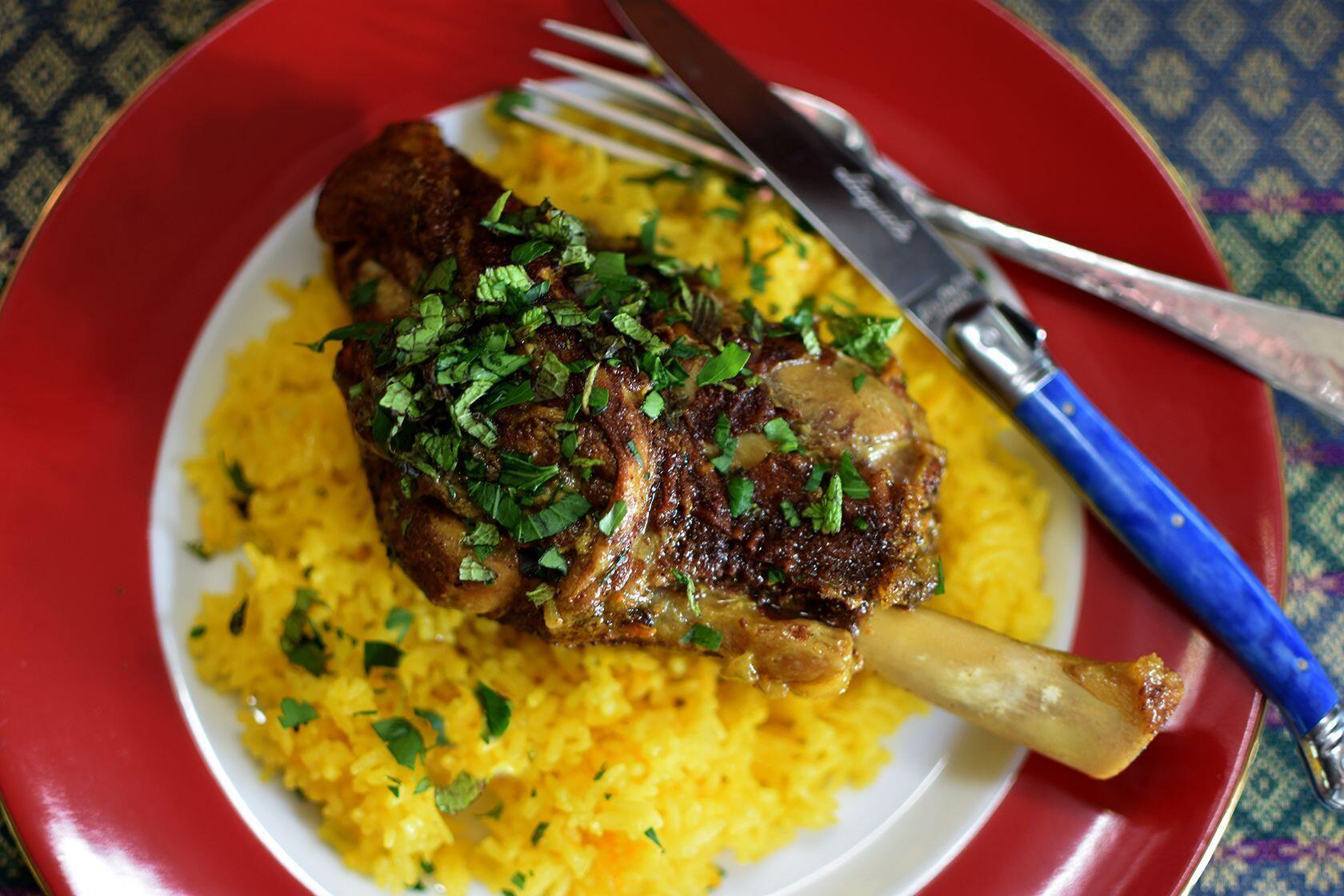 Persian-spiced Lamb Shanks
This recipe comes from David Tanis of The New York Times. Enjoy the delicious and complex flavours of Persia. I served the dish with saffron basmati rice.
Ingredients
4

lbs

Meaty Lamb Shanks

about 4

Salt

2

tsp

ground cinnamon

1

tsp

Grated Nutmeg

1

tsp

Ground Cardamom

1

tsp

Ground Black Pepper

1

tsp

Turmeric

vegetable oil

for frying

1/2

tsp

Saffron threads

Juice of 2

Limes

about 4 tbsp (zest before juicing!)

3

tsp

Rosewater *

1

large

Onion

roughly chopped

zest of 1

zest of Fresh Lime

zest of 1

zest of Orange

plus 1 tbsp more for garnish

3

Thyme sprigs

2

fresh bay leaves

6

cups

Hot Chicken Broth or Water

2

tbsp

Chopped parsley

roughly chopped

2

tbsp

Chopped Mint

roughly chopped
Instructions
Trim any excess fat from lamb shanks and season generously with salt.

Mix together the cinnamon, nutmeg, cardamom, black pepper and turmeric. Sprinkle evenly over shanks and rub into meat. Let sit at room temperature at least an hour, or wrap and refrigerate overnight, then bring to room temperature.

Place a deep, heavy pot over medium-high heat and add oil to a depth of 1/2 inch. When oil is hot, add 2 lamb shanks and fry until nicely browned on all sides, about 5 minutes. Remove and set aside, then brown the 2 remaining shanks.

Meanwhile, put saffron in a small bowl with lime juice, 2 teaspoons rosewater and 1/2 cup warm water. Let steep for 10 minutes. Heat oven to 350°F/180°C.

Carefully remove all but 2 tablespoons oil from Dutch oven. Add chopped onion and cook over medium heat until softened and lightly colored, 8 to 10 minutes.

Season onion with salt, then add lime zest, orange zest, thyme sprigs and bay leaves. Stir in saffron mixture. Lay in the lamb shanks and add the broth. Bring to a boil, then turn off heat and cover pot.

Transfer pot to oven and bake for about 1 1/2 hours, covered, until meat is tender and beginning to fall from the bone.

Remove lamb shanks to a deep serving dish and keep warm. Strain braising juices through a fine-mesh sieve into a bowl, pressing with a wooden spoon to obtain all the liquid (discard thyme, bay leaves and onions).

Skim fat, then taste and add salt if necessary. Add 1 more teaspoon rosewater, if desired. Reheat strained juices and pour over lamb shanks. Combine parsley, mint and reserved orange zest and sprinkle over top.

Accompany with saffron basmati rice.
Notes
* make sure you use rosewater and not rose extract