Lemon-Frosted Pistachio Cake for Dessert
Over the years, we have hosted and attended many dinner parties. Usually, it's a delightful occasion to visit with friends over a meal. Occasionally there is a theme like a milestone birthday or anniversary or a holiday. However, a dinner party based around the song "I never promised you a rose garden" well, that was a first. The task? To bringing a course for the meal that related to our interpretation of the song.
My contribution was this delicious Lemon-Frosted Pistachio Cake, a recipe by food writer and chef Nigel Slater.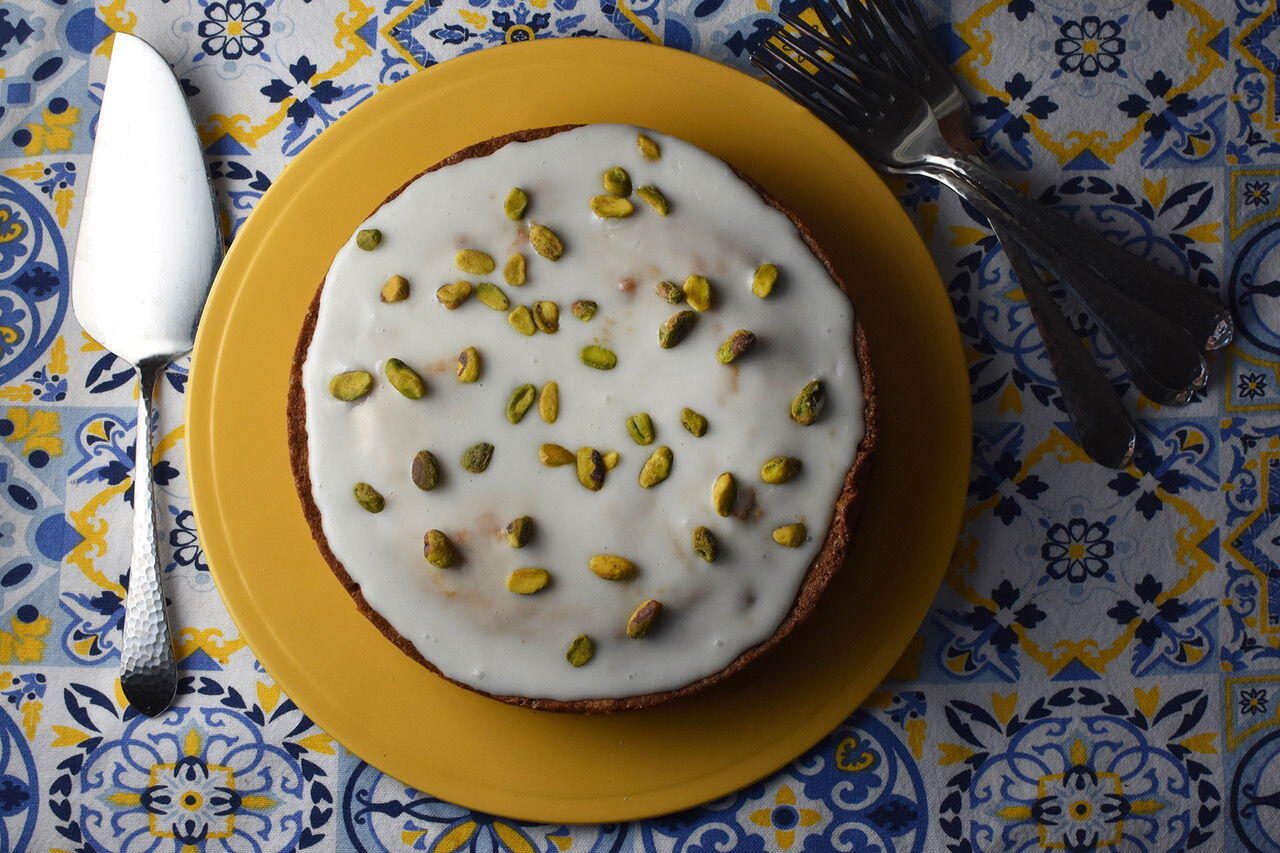 Lemon-Frosted Pistachio Cake
The recipe for this delicious dessert is from The New York Times and is the creation of British chef Nigel Slater.
Ingredients
8

oz

Butter

1

cup (125 g) + 1 tbsp

Superfine Sugar

3

large

Eggs

1

cup (125 g)

Unsalted Pistachios

finely ground

1

cup (125 g)

Blanched Almonds

finely ground

1

Orange

for juice and finely grated zest

1

tsp

Rosewater *

1/2

cup (62 g) + 1 tbsp

All Purpose Flour

1

cup (125 g)

confectioners' sugar

2

tbsp

Lemon juice

Whole Shelled Unsalted Pistachios

for garnish
Instructions
Preheat oven to 350°F.

Line the bottom of an 8-inch nonstick cake pan with parchment paper.

In a mixer fitted with a paddle, cream together the butter and superfine sugar until light and fluffy.

Add the eggs one at a time, then add the ground pistachios and almonds.

Add the orange juice, orange zest and rosewater, and mix well. Using a rubber spatula, fold in the flour; do not overmix.

Scoop the mixture into the cake pan, and bake until the top is firm and a light golden brown, about 40 minutes.

Lightly cover the top of the cake with foil and continue baking until a toothpick inserted into the center comes out dry, about 10 minutes more.

Allow the cake to cool in the pan for several minutes, then remove and cool on a rack.

When the cake is cool, mix the confectioners' sugar and lemon juice together in a small bowl, and pour over the cake.

While the frosting is still soft, sprinkle with the whole shelled pistachios. Allow the icing to set for 30 minutes before serving.