Artichokes Barigoule a Provencal Bistro Classic
Provencal Bistro Classic
We stumbled across the Bistrot du Paradou quite by hazard, on one of our drives around the Alpilles villages. It turns out that we were quite naive with regards to this restaurant's gastronomic reputation and its loyal fan base. We now understand just how lucky we were to get a seat at the bar on our first visit (sans reservations) to this little bistro in paradise! The menu is straightforward traditional Provencal bistro favourites such as escargots in garlic butter, local lamb chops and artichokes barigoule.
Fait Maison (Made in House)
Some may erroneously proclaim this sort of bistro cooking to be dated or that French food, in general, is passé. Or perhaps that even the chef did not cook with the same clean purity found in the hallowed halls of overly fussy food. Let them continue to believe their fallacies and leave the good simple restaurants to those that truly love food.
Bistrot du Paradou was so good that in fact, we returned two more times that week to enjoy good solid Provencal food. On the third visit, the entire staff made us feel part of the local colour; almost habitues ready to join the good ole boys for a pastis at the bar.
Enjoy my recipe for artichokes barigoule (baby artichokes simmered in white wine, thyme, and basil) inspired by our visit to the Bistrot du Paradou.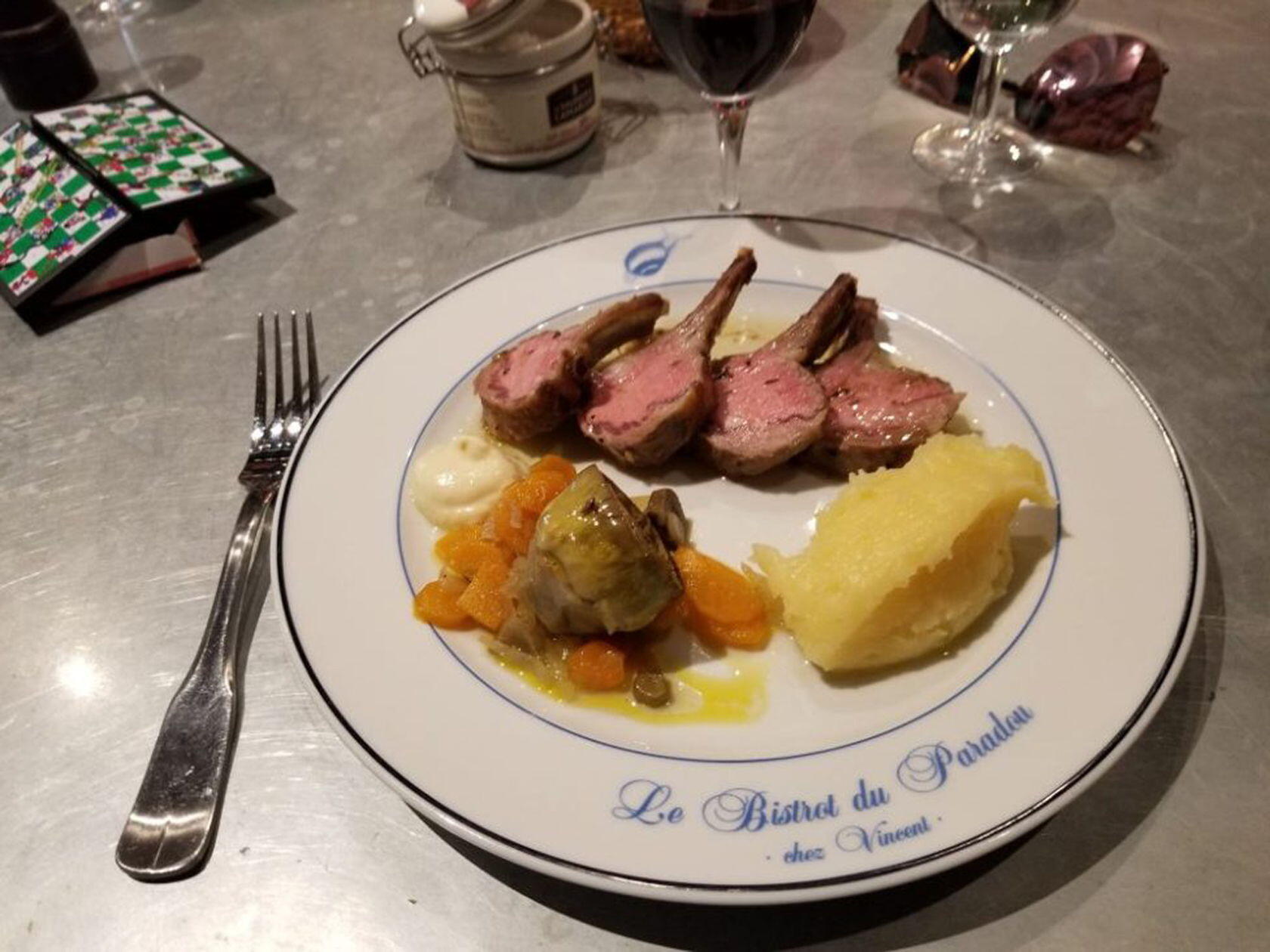 Artichokes Barigoule Provencal Recipe
In honor of the Bistrot du Paradou, I offer my recipe for artichokes barigoule. It is a mainstay dish on my table from the very early artichokes in spring that my friend Patreece grows at her organic farm near Tillamook.
Ingredients
Cooking Artichokes:
1

lb (.45 Kg)

Baby Artichokes

about 10 to 12

1

Lemon

cut into four slices

1

tbsp

Sea Salt

2

quarts (1.89 L)

Water
To Finish:
1

cup (235 ml)

Artichoke cooking liquid

1

cup (235 ml)

White Wine

1/4

cup (60 ml)

Fruity Olive Oil

3

oz (85 g)

Smoked Lamb Bacon

diced

2

each

Young Carrots

peeled and sliced

3

Garlic Cloves

mashed

2

sprigs

Thyme

1

Bay Leaf

1

Lemon for zest and juice

1/4

cup (56 g)

Fresh Basil

sliced

2

oz (56 g)

Unsalted Butter

optional

Sea salt and black pepper
Instructions
Cooking Artichokes:
Trim the top and bottom 1/4 inch off of the baby artichokes. Use a sharp paring knife and trim the outer leaves off. Peel the stem if there is one attached.

Cut the artichoke in half lengthwise and drop into a pot with the emon, sea salt and water.

Bring to a boil, then simmer till tender, about 20 minutes. The tip of a knife should easily pierce the artichoke.
To Finish:
Put one cup of the artichoke cooking liquid, white wine and olive oil in a pan and bring to a boil.

Add lamb bacon, carrots, garlic, thyme, and bay leaf. Simmer until the carrots are tender, about 15 minutes.

Add artichokes, lemon zest, and some lemon juice. I say some lemon juice because I want you to taste it. Add just enough to taste the lemon juice's acidity slightly.*

Add basil and whisk in the butter.

Adjust with salt and pepper then serve.
Notes
* The purpose is to add just enough bright acidity to cut the fattiness of the olive oil and butter. The lemon flavour should not overpower the barigoule.
Like any recipe, this one loves modifications. Use bacon, don't use bacon; use pork bacon, use pancetta, use guanciale. Add more carrots if you like. I sometimes chop fennel bulbs and add them as well. Wild mushrooms like chanterelles are great in here, so are regular white buttons. Go crazy add black truffles if you have some. The point is, the recipe is a starting point. The finish line is where you take it.
Book Ahead!
Bistrot du Paradou
57 Avenue de la Vallée des Baux
Maussane-les-Alpilles
They don't have (or need) a website so give them a call at +33 (0)4 90 54 32 70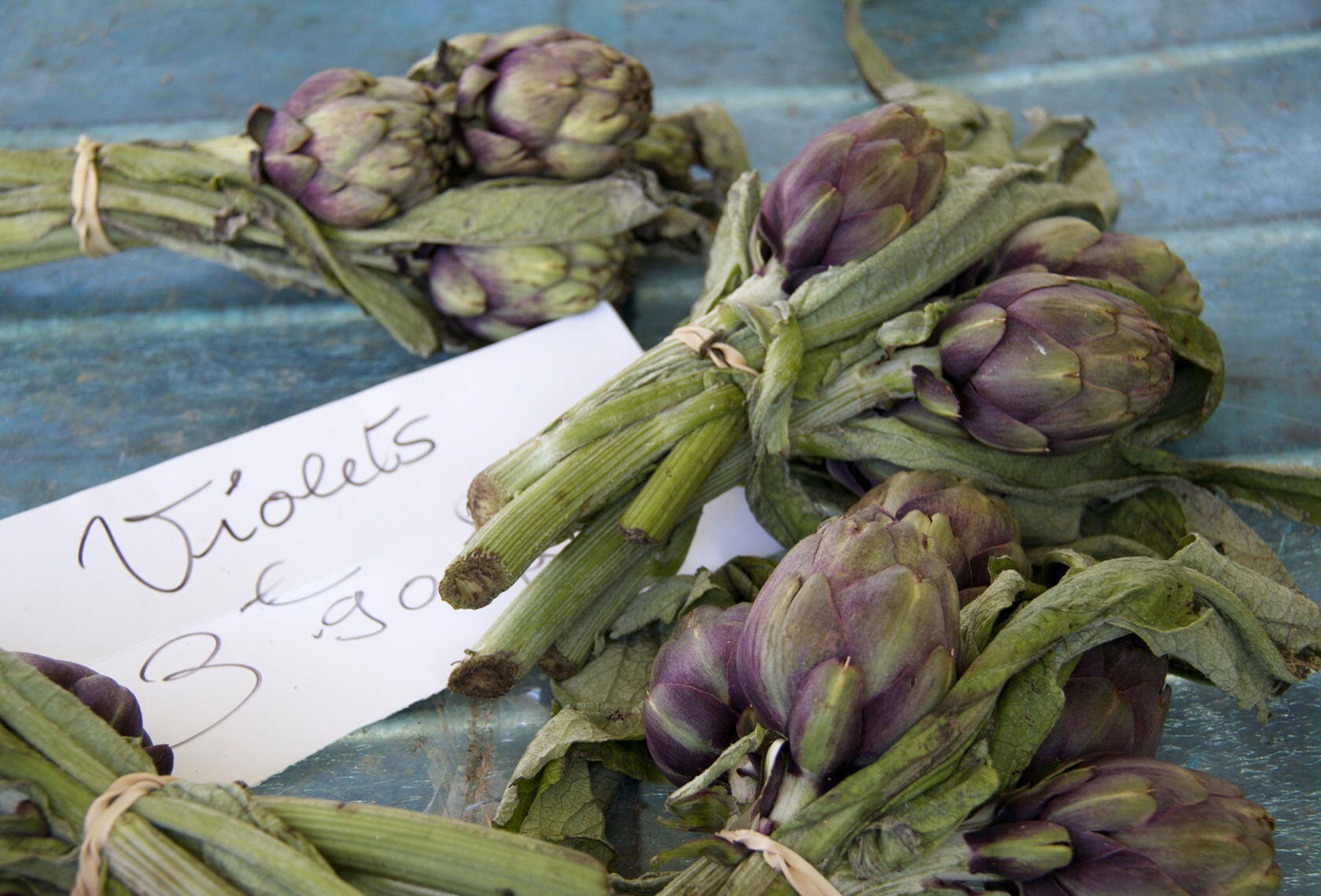 More Recipes with Artichokes
Zucchini Flowers Stuffed with Artichokes and Goat Cheese
Artichokes à la Barigoule a Classic Provencal Recipe
Apero Hour Recipe: Hot Artichoke Dip