Gâteau Saint-Honoré a Cake for Bakers
Somehow, to call this gâteau a cake does not seem quite right. It is a masterpiece of layers; buttery puff pastry, sweet vanilla cream and thick clouds of heavy whipped cream. David explains in his Cocoa & Lavender post that Saint Honoré was the patron saint of bakers and pastry chefs.
To make Gâteau Saint-Honoré requires time and patience, it is a perfect "Sunday Project" or rainy day work of art. Each layer of the cake requires careful preparation resulting in a cake fit to honour a saint. David's recipe is below, but make sure to pop over to Cocoa & Lavender for the step by step photos.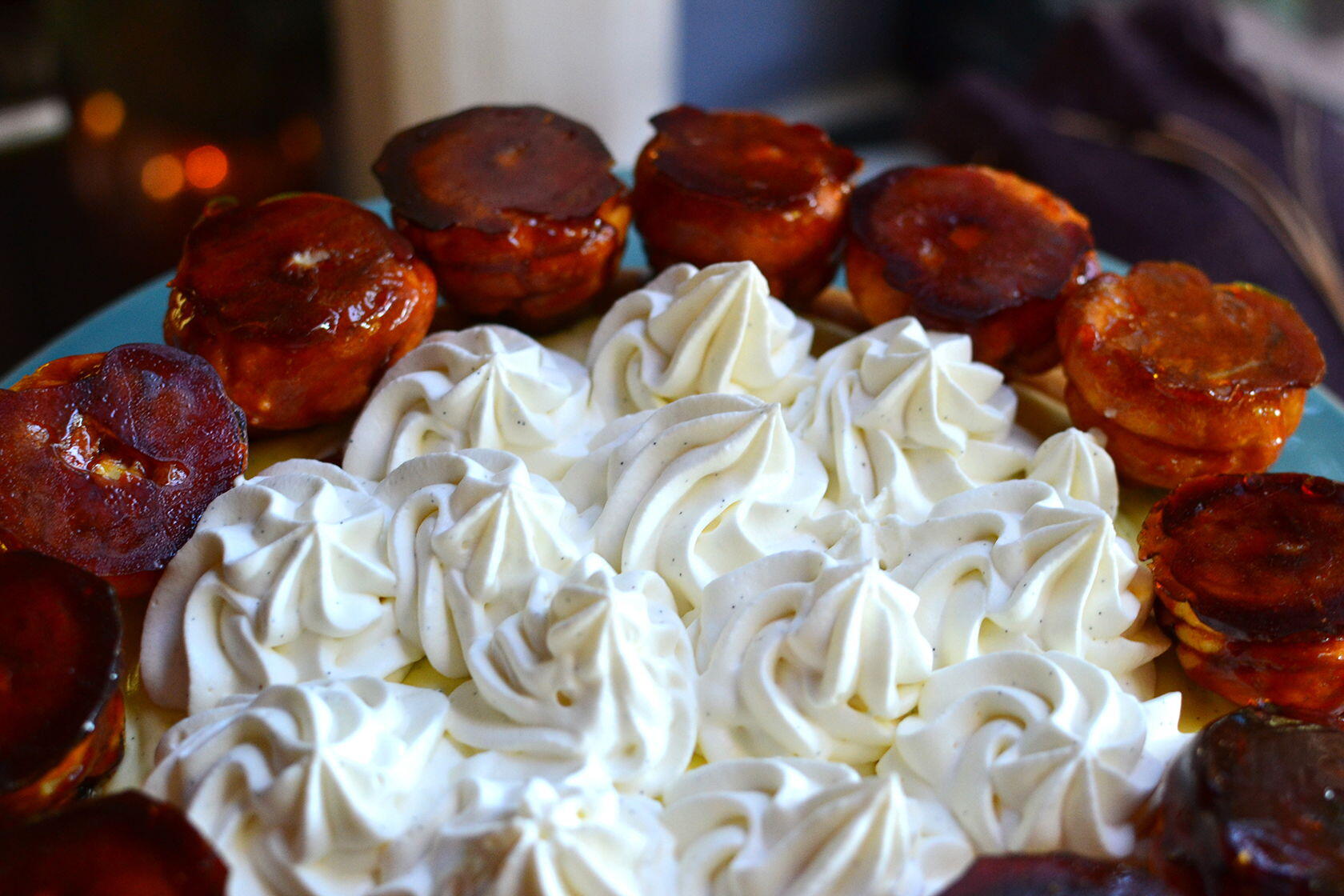 Gâteau Saint-Honoré
A decadent and delicious torte style puff pastry filled with rich pastry cream, topped with light fluffy whipped cream and adorned with a halo of profiteroles glazed in caramel.
Ingredients
8

oz

chilled all-butter puff pastry

3

cups

sugar, plus 4 tbsp, plus 1/2 tbsp

divided

1 1/4

cups

whole milk, plus 2 tbsp

divided

3 1/2

tbsp

Unsalted Butter

pinch

Salt

1/2

cup

flour, plus 1 tbsp

divided

2

eggs

eggs plus 3 egg yolks

1

seeds from 1 vanilla bean

divided

1 1/2

tbsp

Cornstarch

1 1/2

cups

well-chilled heavy cream

2

tbsp

confectioners' sugar

heaping tablespoons

1/2

tbsp

Canola Oil
Instructions
Pastry Base & Profiteroles
Roll out pastry to 1/8-inch thick.

Cut out an 8-inch pastry circle; transfer to a parchment paper-lined sheet pan, and prick all over with a fork.

Cover and refrigerate.

Heat oven to 425°F.

Bring 1/2 tablespoon sugar, 1/4 cup milk, butter, salt, and 1/4 cup water to a boil in a small pot.

Add 1/2 cup flour and cook, stirring, until it forms into a dough ball, about 20 seconds.

Transfer dough to a bowl.

Add whole eggs, one at time, while beating with an electric mixer; continue beating until dough is smooth and holds a soft peak.

Transfer dough to a pastry bag fitted with a 3/8-inch round tip and pipe 3 circles onto the chilled pastry circle: one along the outer edge, one around the middle, and one in the center.

On the same baking sheet, arranged around the pastry circle, pipe remaining dough into thirteen 1-inch-wide puffs.

Press down the pointy tops with a moist fingertip.

Bake pastry circle and puffs until beginning to brown, about 12 minutes.

Reduce heat to 325°F; bake until dry and golden – 6 minutes for puffs and 10 minutes for pastry.

Let the pastry circle and puffs cool.
Pastry Cream
Heat remaining milk, half the vanilla bean seeds, and 4 tablespoons sugar in a small pot over medium heat until it starts to bubble around the edges.

Meanwhile, beat together egg yolks and 2 tablespoons sugar in a medium bowl until pale and thick; sift in remaining flour and cornstarch and whisk to combine.

Slowly drizzle in hot milk mixture while whisking constantly.

Cook 8 to 10 minutes over medium-low heat until very thick; this is the pastry cream.

Place a circle of parchment directly on the surface of the pastry cream and chill.
Whipped Cream
Beat remaining vanilla bean and heavy cream to soft peaks in a large bowl.

Add confectioner's sugar; beat to stiff peaks.

Transfer 2 cups whipped cream to a bowl, cover, and reserve in the refrigerator.

Fold remaining whipped cream into the chilled pastry cream in two batches.

Transfer the cream mixture to a pastry bag fitted with a very small, round tip.

Poke bottom of each pastry puff once with a toothpick to make a small hole; pipe cream mixture into each puff to fill.

Pipe the remaining cream onto the pastry, leaving the outer ring exposed, and chill.
Profiteroles Caramel Glaze
Grease a sheet pan with the canola oil.

Bring remaining sugar and ½ cup water to a boil in a small pot over medium heat.

Cook, without stirring, until golden brown.

Plunge the pot into cold water to stop the cooking, being careful not to get water in the pot.

Working with metal tongs, quickly dip each puff into the caramel to coat all over; allow caramel to drip off the puff, then transfer to the sheet pan, puffed side up.

Let harden.

Reheat caramel, then dip the end of each puff, puffed side down, briefly into the caramel and adhere them to the outer ring of the pastry circle, pressing them down to ensure that they stick.

Transfer reserved whipped cream to a pastry bag fitted with a large star tip; pipe cream onto center of pastry in stars.

Chill until ready to serve.