Galettes des Rois and the Nabatean Spice Route
In a month's time, I shall be visiting vineyards in the Negev desert and the archaeological remains of the ancient Nabatean kingdom. Splendid remains of buildings and extensive evidence of large scale agriculture and winemaking indicate the richness of this area in ancient times. The 1st century BCE historian Strabo described the Nabateans as being 'temperate and industrious,' Continue reading here as our Master of Wine Elizabeth Gabay shares historical information on the spice route, traditions that surround Christmas holidays in Provence, and best of all the Galettes des Rois.
In the 16th century Paris, the galette des rois was at the centre of a conflict between the patisseries (cake shops) and the boulangeries (bakeries). This led to the tradition of two very different cakes; one made with flaky pastry with an almond frangipane filling (popular in the north of France) and another, a circular bready brioche, flavoured with orange flower water, decorated with glacé fruit (popular in the south of France).
Cakes fit for kings which you can and should eat liberally on this day of the Epiphany for good luck.
Holiday Recipes from France:
Bûche de Noël (Yule Log) Cake
Bûche de Noël (Yule Log) is a thin layer of sponge cake rolled with a creamy mocha filling and covered with chocolate frosting. The Yule log is traditionally French but is popular throughout Europe, Canada, and the United States. Use this beautiful cake as the centrepiece for your table. Display it on a gold tray along with pine cones, pine branches and red ribbon.
Check out this recipe

Galette Provençale - Christmas Cake
Shaped like a wreath and decorated with dried fruit, the galette Provençale is a seasonal favourite. This recipe takes a bit of time, but like all holiday baking, the result is delicious and well worth the wait.
Check out this recipe

3 Quick Appetizers for Holiday Entertaining
Amuse bouche roughly translates into tempt your taste buds. These three appetizers are easy to make and can be prepared in advance of your guests' arrival. Enjoy Smoked Salmon Rolls with Horseradish and Granny Smith Apple, Crab and Avocado Spoons and Chicken Satays with your favourite cocktail.
Check out this recipe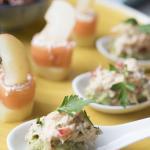 Mendiant Tart
A flaky sweet pastry tart filled with decadent chocolate ganache and topped with candied fruits, flowers and fleur de sel,
Check out this recipe