Discover January Events in Provence – What's On
Sea Urchins, Truffles, and Long Walks
The villages of Provence become quiet after the holidays. People tend to stay in, stoke their living room fires, and leave a pot au feu (stew) on the stove for many hours.
Pot au Feu
Traditionally the stew is served in 2 services. Meat and vegetables first, then the broth and the bread...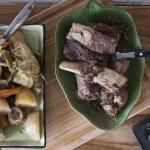 Chicken with morels and asparagus (Poulet aux morilles et asperges)
Wild mushrooms are best in the autumn and morels in the spring. Asparagus is one of my favourite ingredients in the springtime. This recipe makes the most of both using a fricassee method, which is (roughly) a combination of a sauté and a stew. You can use white or green asparagus, but make sure that they are not the thin varieties (including wild asparagus) as they will be lost in the dish. As an option, you can add potatoes as well.
Check out this recipe

There are fewer festivals that celebrate one particular type of local produce that I so much love. However, that doesn't mean there still isn't quality produce to be eaten. Rabbit, truffles, seafood and all manner of fresh root veggies and beautiful enormous cabbages fill the markets. I must admit I quite enjoy seeking out a sunny café and overlooking the quiet landscape dotted with stems of chimney smoke. This is a great time of year for foraging, visiting the sites of Provence that are otherwise crowded (Roman ruins, museums) and hiking.
Continue reading here for the original contributor blog post by Curious Provence. Les Baux de Provence – Carrières de Lumieres (photo) reopens on March 1st with the 2019 show featuring work by Vincent Van Gogh.
Provence What's On in January
Sea urchins are a bit of an acquired taste, and definitely more of a light bite. However, it's well worth a trip to Sausset les Pins one Sunday in January (13th, 20th or 27th) to experience the festival – Fêtes de la Mer. Entry is free.
Christmas is not the only time to eat truffles. The black truffle season typically runs until the end of February or early March. Every third Sunday in January, the village of Richerenches, in the Vaucluse, honours the "black diamond" with a mass in l'Église Saint Denis. During the communion, truffles are collected instead of money and following the service a live auction (of the truffles) takes place. This year la Messe des Truffes takes place on Sunday, January 20th, the festivities start at 10 am.
Watch this video of the truffle auction.
At this time of year, you can find truffles around the region at speciality markets. Here, is a list of truffle markets.
Here, is another pot au feu ("pot on the fire") recipe. This is a very traditional French main meal. As a stew, it is easy to make and you can vary the ingredients depending on what you have in the fridge.