A Special Dessert White Chocolate Mousse with Strawberry Sauce
Sometimes in life, a person uniquely touches you. My friend Elsa Gerst "Bunny" deBeer was one of those people. Although, I know that I first met her during the period when I was the principal bassist at Albany Symphony Orchestra. It feels like this lovely, gentle lady was always part of my life, despite the long distance between her home on the Hudson River and mine in Tuscon. Bunny opened my eyes to books, art, travel and slightly exotic (for me, at the time) flavours.
Sadly, I had to say goodbye to this beautiful friend in December as a tribute I created this sweet dessert an elegant White Chocolate Mousse with a Strawberry Sauce in her honour.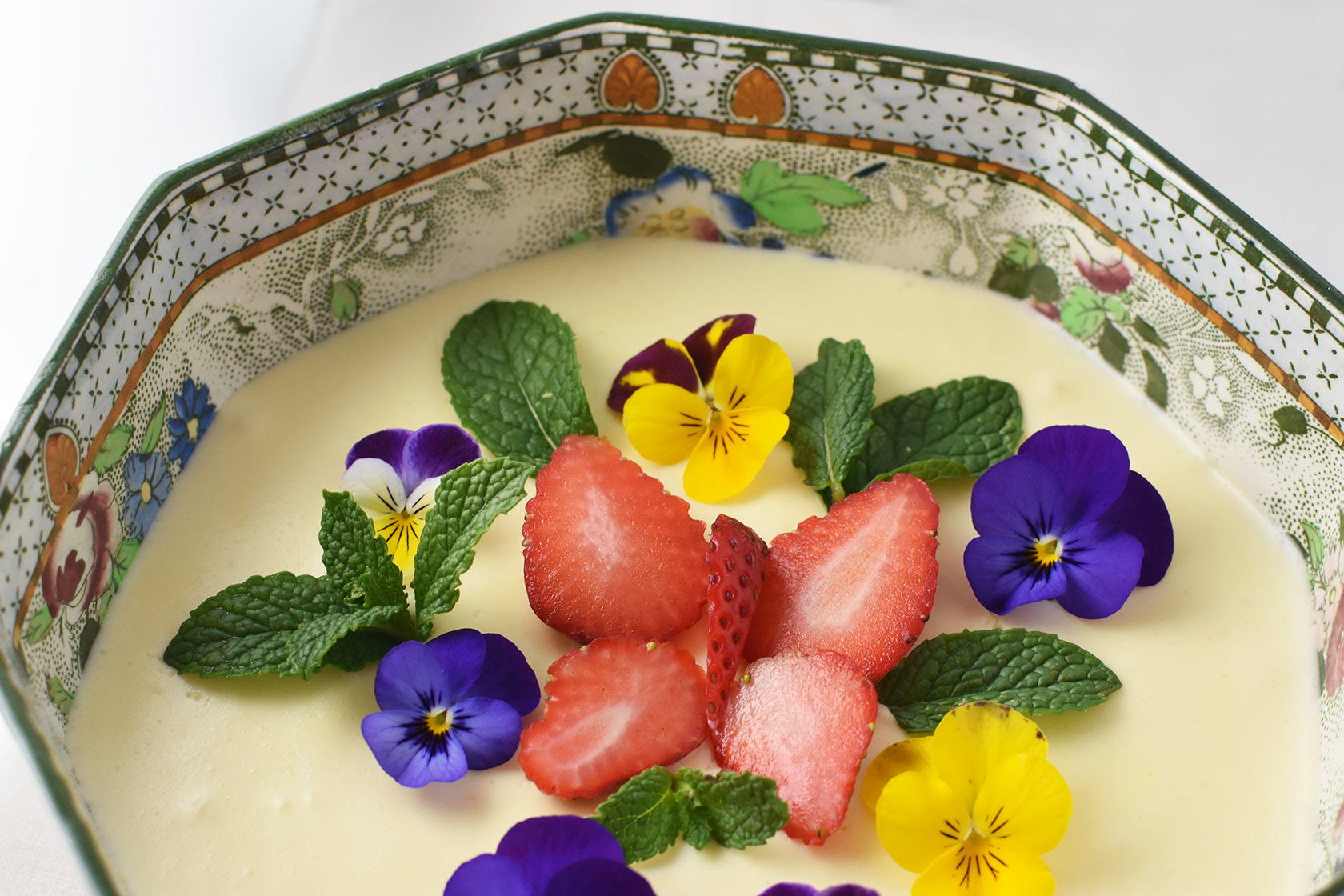 White Chocolate Mousse with Strawberry Sauce
This mousse is simple to make, all you need good quality white chocolate and fresh eggs. The decoration is personal, but I chose to use strawberries, edible flowers and mint leaves.
Ingredients
12

ounces

White Chocolate

broken into pieces

4

Eggs

separated

1

envelope

Gelatin

roughly 1 1/2 teaspoons

3

cups

Heavy Cream

1

tsp

Vanilla extract

1/4

cup

Sugar

1/2

tsp

Salt

2

pints

strawberries

to taste

Sugar

to taste

Grand Mariner or Chambord

Assorted edible flowers

for decoration

Mint Leaves

for decoration
Instructions
Place 1 1/2 cups of the cream in a saucepan; sprinkle with the gelatin and let stand 10 minutes.

Place the saucepan on medium heat and add the chocolate.

Cook, stirring with a whisk, until the chocolate is melted.

Add egg yolks and beat well. Remove from the heat and refrigerate for 10 minutes, stirring once or twice.

Beat remaining 1 1/2 cups cream with vanilla until stiff peaks form. Fold into the cooled custard.

Using clean beaters, beat egg whites and salt until soft peaks form.

Gradually add sugar, while beating, until stiff peaks form.

Fold the whites into the custard and stir until fully incorporated. (You may use a whisk for this step.)

Place mousse in a large, decorative dish and refrigerate for at least 1 hour, or overnight.

During that time clean the strawberries, and remove the tops. Place in a food processor and purée the strawberries, sugar, and liqueur to make the sauce.

Before serving decorate with fresh strawberries, mint leaves, violas, or Johnny Jump-ups, if in season.

To plate, spoon several tablespoons strawberry sauce onto the plates, and top with a dollop of mousse.
Notes
Note: this can also be served in individual goblets or small dishes.