Cuers and Cuisine
Cuers  is a pretty little town in the Var just a stone's throw from Toulon (where IKEA seems to be the main draw!) so not everyone's first choice for a weekend away.  However, there's plenty to see and do away from Provence's more touristy towns – and more rosé wine than you could possibly dream of.
Don't drive on by as you can stock up your cellar in Pierrefeu (just to the South East of Cuers) and eat very well.
Your roving reporters from the Mercantour had more on their minds than a retail splash-out in Scandanavia's finest.  Chateauvallon and ballet, situated in a woodland location – an outside amphitheatre overlooking Toulon's harbour.  Check it out – it is a special place!  Culturally refreshed, we were certainly after some culinary refreshment – and a personal recommendation – a restaurant near Cuers run by Greek brothers – and not all about retsina and dolmades!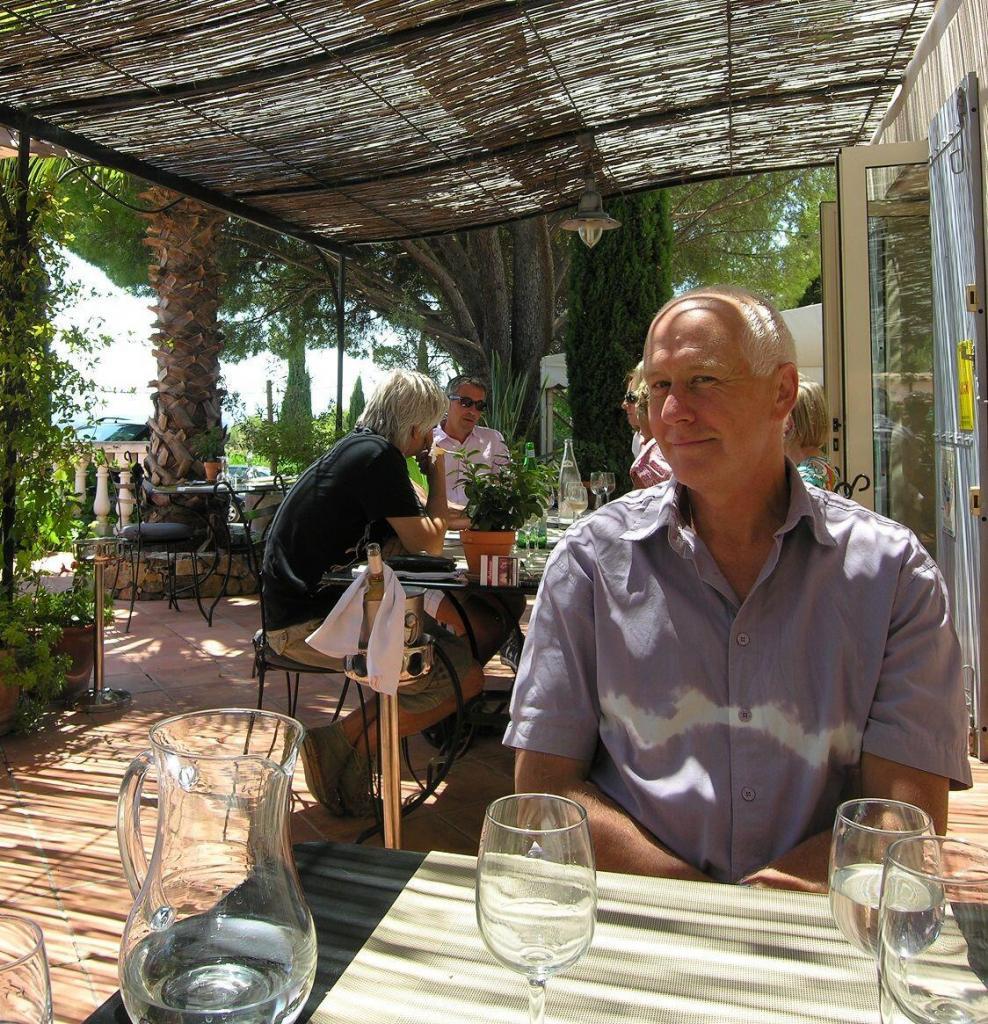 The Verger des Kouros is a charming restaurant and beautifully laid out dining area, whose only drawback is the proximity of the motorway.  Frankly though the hum of cicadas, the chat of your fellow diners and the quality of the food on offer diverts your attention from the highway sounds.
There is a lunchtime menu for €22 that last Saturday included:
Amuse bouche – tapenade  (wonderfully formed with that two spoon method that most of us make a hash of!), toasts, a savoury cake, and artichoke dip.
First course – a verrine of chilled gazpacho soup
Second course – seasonal vegetable terrine
Main – glorious looking beef
Dessert – yummy squiggly meringue mousse with strawberries.
Portion sizes are not nouvelle cuisine.
One of the main attractions here was a willingness to provide a veggie menu, which was almost 90% successful (well aside from the ham).  I did miss out on the truffle course that my other half was "forced" to share, so it wasn't all bad!   He chose the €45 menu including another course.  Wines come in at a not too unreasonable, c. €30 a bottle for top-flight local wines.
Service was excellent from brother number one who has more than a passing resemblance to Rowan Atkinson, and a young lad who had some rough edges to lose but was willing and smiley.
Being a nosey devil, and on the hunt for a picture to send to the son of a friend who did his pâtissier apprenticeship at the restaurant, I sneaked into the kitchen for the chef shot, and to marvel at the pristine state of the kitchen – immaculate just after a 50-head service!
Great food  – full of locals  – not at all snobby – nor scary for the wallet – lunch bill €100 for the two of us as above including apéros and a bottle of wine.
Information:
Le Verger des Kouros
Les Cauvets – 83390 – CUERS
Telephone : 04 94 28 50 17
Open every day from 11.45 to 13.30 and from 19.45 to 22.00.
The family also have another place in Cuers Hotellerie Kouros – which offers rooms and is more of a venue for events.
All rights reserved. Perfectly Provence articles and other content may not be published, broadcast, rewritten (including translations into other languages) or redistributed without written permission. For usage information, please contact us.
Syndication Information
Affiliate Information
As an Amazon Associate, this website earns from qualifying purchases. Some recipes, posts and pages may have affiliate links. If you purchase via these links, we receive a small commission that does not impact your price. Thank you in advance for supporting our work to maintain Perfectly Provence.