Croquants – Croquets a Provencal Christmas Dessert Recipe
I started by looking at my friend Susan's blog, The Modern Trobadors. I recall her sharing a story about the traditional Treize Désserts de Noël (thirteen Christmas desserts) served in Provence during the holiday season. The list from which to choose is much longer than thirteen, and begins with the "four beggars" (les quatre mendiants), representing the four mendicant monastic orders: Dominicans (raisins), Franciscans (figs), Augustinian (hazelnuts), and Carmelites (almonds). You may recall that my Mendiant Tart was based on the four beggars. Basically, you can make anything using any one these four and it counts towards your thirteen… read more on David's seasonal inspiration for croquants.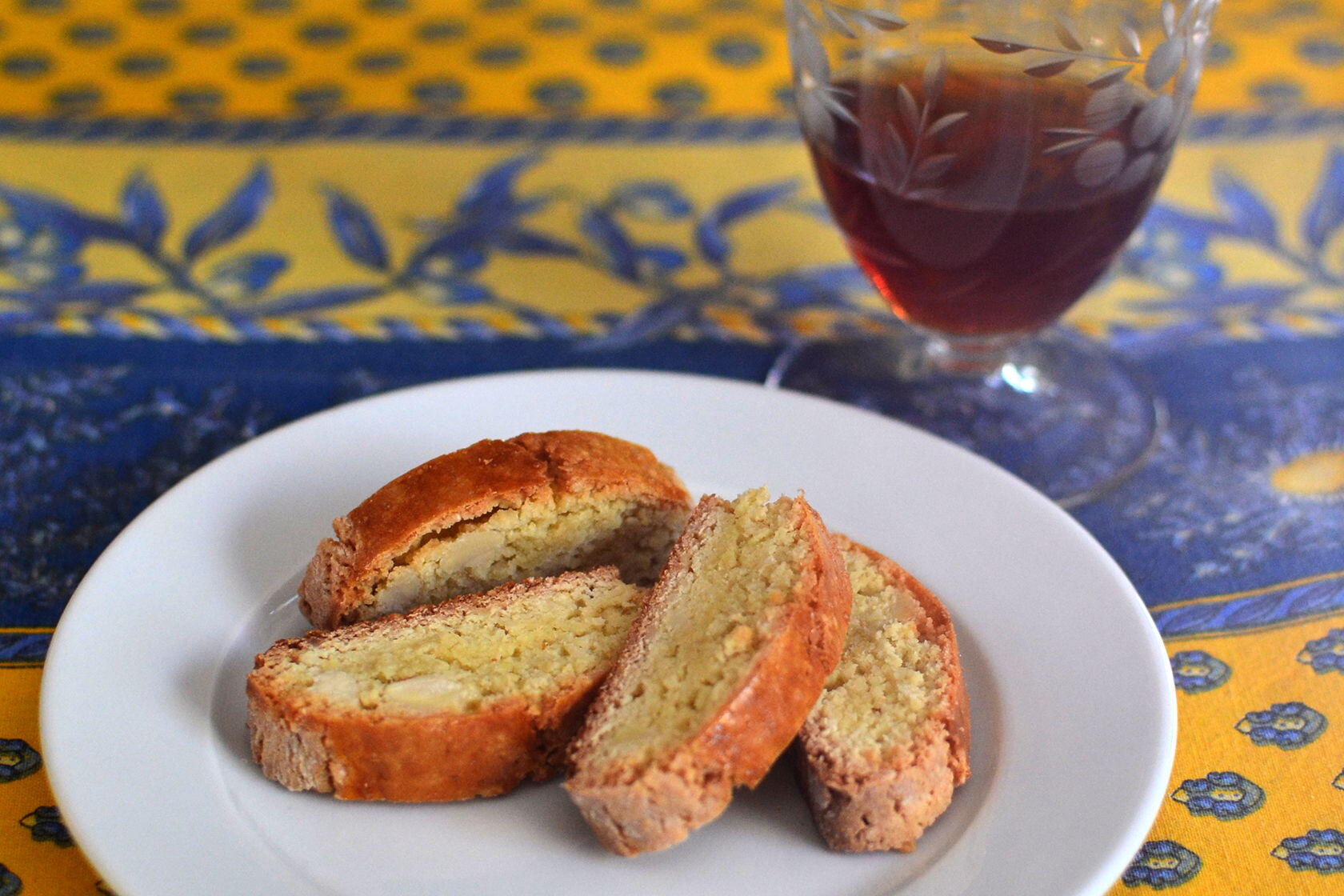 Croquants - Croquets
This crunchy little cookie biscuit is the French version of the Italian Biscotti or Biscotto. Delightfully good served with your favourite tea or coffee or let's be honest completely on their own.
Ingredients
8 3/4

oz (250 gr)

Almonds

blanched and peeled

8 3/4

oz (250 gr)

Sugar

8 3/4

oz (250 gr)

Flour

plus extra

3

Large Eggs

2

tsp

orange blossom water

2

oz (50 gr)

Almonds

blanched and peeled

1

tsp

Egg Yolk

mixed with 1 tsp water
Instructions
Preheat oven to 350°F (180°C).

Place the whole blanched almonds (*) in the bowl of a food processor. (You can also use the same weight in pre-blanched slivered almonds, or - even easier - pre-ground almond flour/meal.)

Pulse the nuts until they are uniformly cut into small pieces, then process until they have the texture of sand.

If you use pre-ground flour/meal, it already has this consistency.

Add the sugar to the processor and continue to pulse until very fine in texture.

The sugar will help in grinding the almonds even finer. Pour the almonds and sugar into a large mixing bowl.

Add flour and whisk to blend.

Make a well in the center and add the eggs and orange blossom water.

Whisk the eggs and orange blossom water into a paste - as you whisk, the liquids will gather some of the dry ingredients to make a thick paste.

Then, using a large wooden spoon, continue to mix all the dry ingredients into the wet ingredients.

Eventually, you will need to give up the spoon and use your hands.

Pour the dough out onto a floured board and knead it to create a homogeneous dough – just a minute or two.

Flatten the dough into a long oval.

Coarsely chop the remaining 50 grams whole almonds, and sprinkle the nuts on the dough.

Fold or roll the dough to encase the nuts (it doesn't matter how you do this!) and knead the dough a few more items to distribute the nuts.

Depending on the size of your eggs, the dough may be a little sticky.

Pull dough into a ball, flatten, then divide equally into six pieces.

If the dough is sticky, dust each piece liberally with flour.

Then roll the pieces of dough into 6-inch (15 centimeters) long, 1 1/4-inch (4 centimeters) thick cylinders.

Add more flour, if necessary.

Line two baking sheets with parchment and place 3 cylinders on each sheet of parchment.

Flatten each cylinder gently with the palm of your hand.

You want the end view to be an oval.

Brush the tops of the cylinders with the egg yolk and water mixture.

Bake in the preheated oven for 38 minutes - they should be quite golden - and remove them to a cutting board.

While they are still warm, cut them into 3/8-inch (1 centimeter) slices and return them to the baking sheet standing up with space between each cookie.

Place them in the oven for 5 minutes to crisp the cut sides.

Makes about 8 dozen.
Notes
* Blanching almonds is easy: bring a large pot of water to a boil, then add raw almonds and return to a boil. Cook them for 60 seconds and drain. As soon as they are cool enough to handle, take each almond between your fingers and squeeze; the skins will slip right off.
All rights reserved. Perfectly Provence articles and other content may not be published, broadcast, rewritten (including translations into other languages) or redistributed without written permission. For usage information, please contact us.
Syndication Information
Affiliate Information
As an Amazon Associate, this website earns from qualifying purchases. Some recipes, posts and pages may have affiliate links. If you purchase via these links, we receive a small commission that does not impact your price. Thank you in advance for supporting our work to maintain Perfectly Provence.