Colourful Curried Vegetable Terrine
This Cocoa & Lavender is perfect for vegetarians, but we are pretty sure even your carnivore friends will be begging for seconds. David combines bright colours, fresh vegetable (in season) and a zesty curry flavour into an all-star dish. This terrine can be served as an appetizer with drinks, as a starter course or as a light meal with a salad.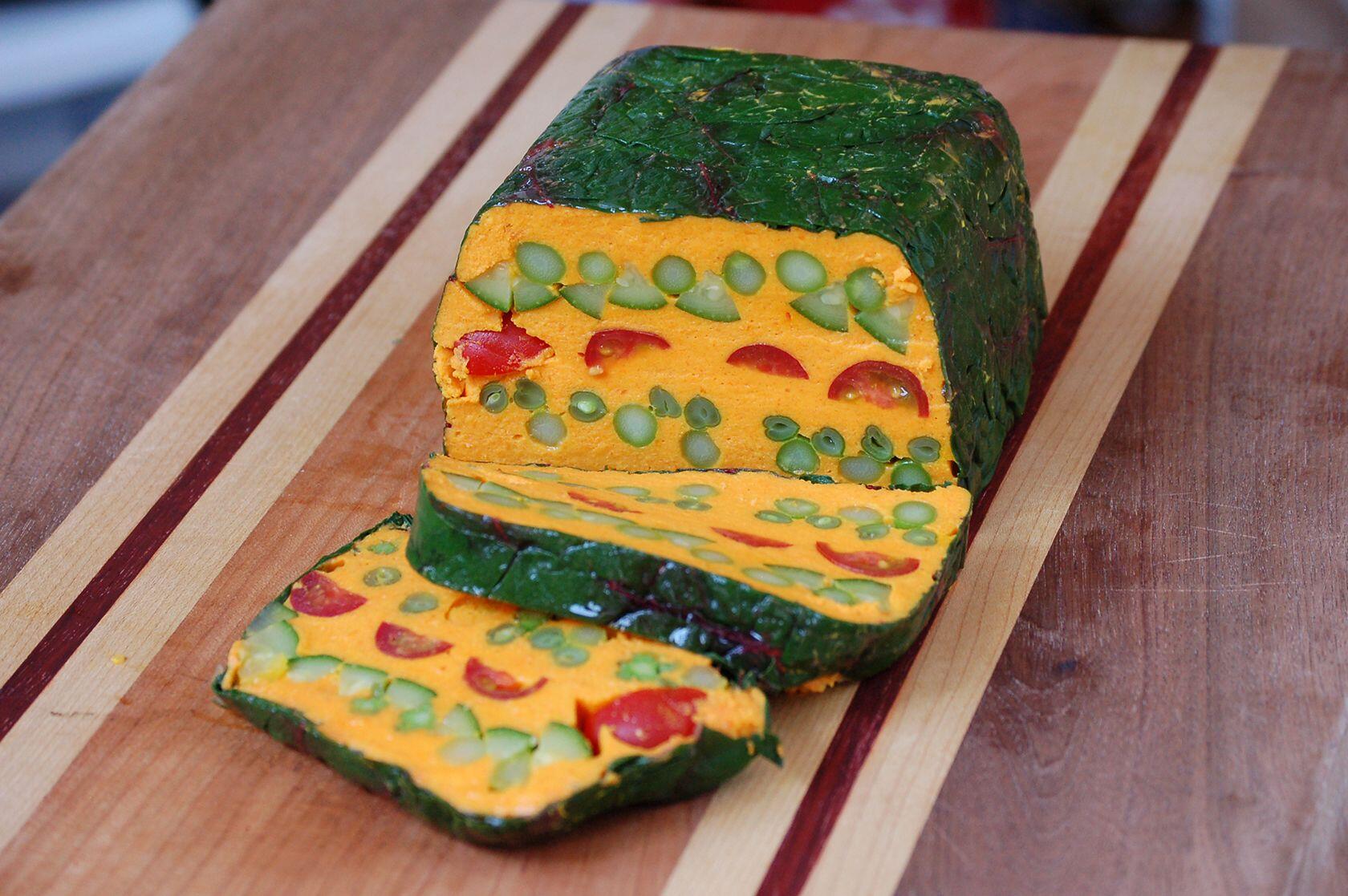 Terrine de Légumes au Curry – Curried Vegetable Terrine
This curried vegetable terrine was inspired by our trip to Provence with the Susan and Towny (Modern Trobadors) in 2008. As always, the original recipe "needed" some tinkering and I think my version will delight you.It can be served plain, as seen here, or with a sauce; in this case our next course is sauced so I opted to forgo the sauce for this fête.
Ingredients
2

lbs

Carrots

trimmed, peeled and cut into slices

8

large

Swiss chard leaves

cut in half lengthwise, tough central stems removed

12

Asparagus spears

trimmed to 8-inches and bottom parts of stalk peeled

16

Green Beans

trimmed at the ends

2

small

Zucchini

halved lengthwise and then each half cut into 4 spears

1

cup + 2 tbsp

Crème fraiche

1

tsp

Curry powder

use good quality curry

to taste

Kosher salt

to taste

Freshly ground white pepper

2

tbsp

Powdered gelatin

1/4

cup

Water

16

Grape tomatoes

cut in halves
Instructions
Fill a large soup pot with water and boil. 

Cook the carrots for 25 minutes and remove with a slotted spoon; put them in the bowl of a food processor. 

Using the same water, blanch the chard leaves for 10 seconds each, remove carefully with a slotted spoon and drain flat on paper towels. 

In the same water, separately cook the asparagus spears, zucchini, and beans until tender – about 3-5 minutes for each, depending on their size. 

Refresh the vegetables in iced water to keep their color.

Oil the interior of a terrine mold (8-inch x 3-inch x 3½-inch) and line with plastic wrap, leaving enough hanging over the edge to fold back over and cover the mold. 

Line the mold with the chard leaves, leaving no gaps in bottom or sides, and leave excess hanging over to cover the top.

Purée the carrots with the crème fraîche in the processor. 

Season well with curry powder, salt and pepper.  Put ¼ cup cold water in a small bowl and sprinkle with the gelatin. 

Leave for 5 minutes until spongy, then put the bowl over a pan of simmering water until melted and clear. 

You may need to add another tablespoon or so of water to get the gelatin to the correct consistency. 

Add to the carrot purée and mix well.

Spoon a quarter of the purée into the mold, then arrange six asparagus spears on top, followed by the zucchini in one flat layer. 

Add another quarter of the purée and arrange the tomatoes, cut side up.  Spoon another quarter of the purée arrange the green beans followed by the remaining asparagus. 

Finish up the carrot purée and then fold in the chard leaves and plastic wrap to cover. 

Refrigerate overnight. 

Unmold, remove plastic and cut into ½-inch to ¾-inch slices and serve with sauce, if desired.