Rouget and Ratatouille the Provencal Cooking Rhythm
A couple of years ago, we spent a transformative week in the historic hill town of Cagnes sur Mer, widely considered the 'Montmartre' of the South and long favoured by impressionistic painters for its alluring beauty. Within five (5) days we went from our hurried, busy lives to a more relaxed, slowed-down Provencal pace, hopelessly seduced by incredibly fresh seafood, perfect vegetables, and daily rounds of pastis and rosé.
Marseille's Bouillabaisse
Our visit to Provence included an obligatory stop at Chez FonFon for traditional bouillabaisse in Marseille. Bouillabaisse is Marseille's signature dish. However, a bit like the city that proclaims to be its birthplace, bouillabaisse is a riddle. Is it a stew or a soup? Is it a noble dish or peasant food? Was it created by the invading Greeks or by hungry fishermen? Is it even from Marseille?
"Eating bouillabaisse is a carefully choreographed religious ceremony, requiring 24 hours' notice and preparation, whose consumption is performed in two sacred rites ending with genuflexion to the sacred cauldron."
Destination Haut Cagnes Sur Mer
Our rental was in Haut Cagnes Sur Mer with views of the Grimaldi Castle and easy access to Vieux Nice. We spent our days exploring the area, shopping in local markets and cooking a la Provencal. One day, after following the seagulls, we bought some fresh Rouget (Red Mullet) from a local fish stand and I created this recipe for Rouget stuffed with Ratatouille. The recipe combines Provencal classics black tapenade, an olive and caper spread and ratatouille a mixture of stewed vegetables with fresh fish. For my presentation, I was lucky to find fresh zucchini blossoms, and as you can see from the photo the result is dramatic

Rouget stuffed with Ratatouille
This recipe is a three-in-one combination of my mother's ratatouille and tapenade for a delicious stuffed rouget.
Ingredients
Tapenade Recipe
2

cups

Kalamata Olives

4

tbsp

Capers

1

tin

Anchovies

8

Fresh Basil Leaves

1/4

cup

Olive Oil
Ratatouille Recipe
2

Japanese Eggplants

diced

1/2

cup

Olive Oil

1

Sweet Onion

diced

2

Greens Pepper

diced

3

Zucchini

diced

4

Garlic cloves

mashed

4

Tomatoes

skinned and chopped

1

cup

Fresh Basil

chopped

Salt and Pepper
Additional Ingredients
4

Rouget or Small Red Snapper

remove head and bones

4

Zucchini Blossoms

3

tbsp

Quality Olive Oil
Instructions
Make the Ratatouille
Submerge the eggplant in ice-cold water and let it sit for 10 minutes to remove any bitterness. After reading a cookbook on Japanese cuisine, I started soaking eggplant rather than salting, which I found works better.

Heat olive oil in a large heavy-bottomed stockpan and sauté onions and peppers together over low to medium heat till softened and translucent, about 10 minutes.

Drain eggplants well and add to onions and peppers. Continue cooking for another ten to fifteen minutes. The eggplant won't be fully cooked but will be on the way.

Add zucchini, garlic, and tomatoes and continue cooking on low heat till tender, about thirty minutes. Add basil, salt, and pepper and cook for 5 more minutes.

If you want, drizzle with a really fruity flavoured olive oil and sprinkle on finely grated Parmesan. Even a poached egg served on top is incredible.
Make the Tapenade
Drain your olives well. Put everything in your food processor and pulse to the texture you like. Yes, it is as simple as that. Tapenade has a long shelf life, although my tapenade never lasts more than a meal or two.
Rouget stuffed with Ratatouille
Put 1 tablespoon of tapenade between the 2 fish fillets. Stuff one tablespoon of cold ratatouille into the bottom of a zucchini blossom. Put the fish into the zucchini blossom.

Drizzle with olive and bake in a 450°F (235°C) oven for about 10 minutes.
Notes
This may seem a long and complicated recipe to some. To me, this is a quick and easy dish utilizing components I usually have already made. Both tapenade and ratatouille are great dishes to have laying around at all times. If friends stop by unexpectedly you can put a spoonful of tapenade on a cucumber slice or tartine and have a quick snack. Ratatouille makes a great light dinner or omelette mixed with goat cheese.
Additional Ratatouille Recipes:
Provencal Ratatouille Recipe
The traditional ratatouille recipe calls for vegetables to be browned in olive oil in a frying pan, each one separately and do not peel them at all. All the vegetables are cooked with their skin to preserve a maximum of taste. Then, they will be mixed and will confit together in an earthenware casserole.
Check out this recipe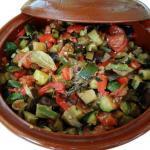 Mama Régine's Ratatouille from Cassis Bistro
Ratatouille is a delightful aromatic casserole. This bright and chunky summer vegetable blend will compliment any roasted or barbecued meat dish.
Check out this recipe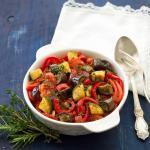 Ratatouille Tian Estival
This tian is easy to prepare. It can be served hot from the oven or at room temperature. This baked ratatouille casserole is a variation on the traditional Provencal recipe.
Check out this recipe

Remy's Ratatouille
This Cocoa & Lavender recipe was adapted from Thomas Keller's French Laundry cookbook.
Check out this recipe