Arles or Nîmes Where Best to Visit Roman Provence?
Roman Provence
Way back around 50 B.C., Julius Caesar conquered Gaul (now France), and the area remained part of the Roman Empire for centuries. As a result, Roman ruins are all over France, but the best ones are in and around Provence. In fact, 'Provence' comes from the Latin 'Provincia Romana,' the name of the large Roman province along the Mediterranean coast.
For history buffs or anyone who would like to see some amazing sights, Provence is a wonderland. It has Roman arenas and amphitheatres, aqueducts and bridges, and ruins galore.
With all this to visit, where do you start?
Arles vs Nîmes
If you have a limited appetite for Roman history, you might want to visit just Nîmes or Arles, as they each have plenty of Roman highlights. But don't visit both, as their major sights are similar.
Each town has a large, well-preserved arena and an excellent Roman history museum. Nîmes gets extra points for its magnificent temple and imposing guard tower, while Arles scores for its theatre and ancient burial grounds. Nîmes might get the nod because it is near the magnificent Pont du Gard aqueduct, but Arles has many Van Gogh sights to see and who doesn't love ol' Vincent?
The choice is yours, but if you have limited time, you might want to pick just one of these fascinating cities.
Amazing Arles
Arles sits on the banks of the mighty Rhône River, making it the perfect hub for the Roman sea and river trade. Large ships that plied the waters of the Mediterranean Sea would come to Arles to exchange cargo with the smaller vessels that could navigate the Rhône or would unpack their loads for overland travel to other cities in the empire.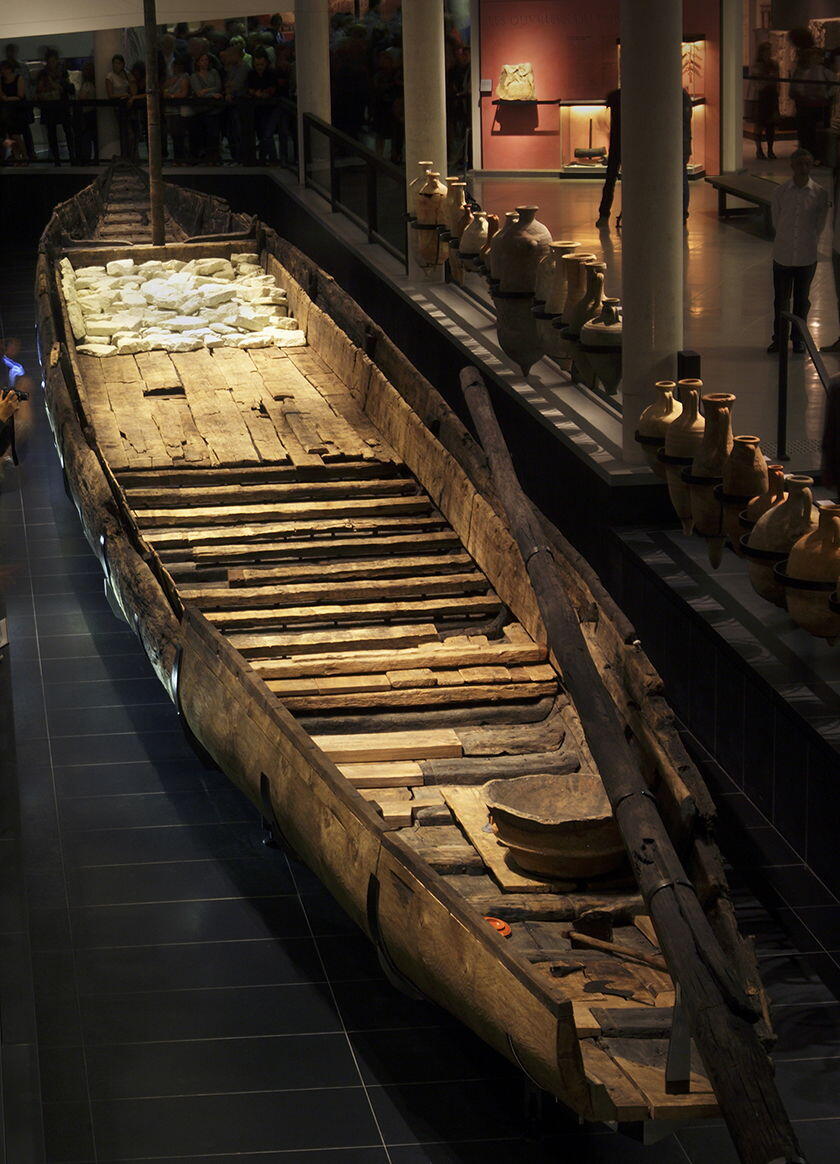 With all of this coming and going, it was inevitable that some of the cargo would slip overboard, presumably lost forever. But in recent years, scientists have been able to explore the river's murky depths and have made some remarkable discoveries. First was the bust of Julius Caesar, considered the best ever found. Then came an actual Roman barge over 100 feet long. Both are now in the Museum of Ancient Arles, along with mosaics, coins, and other artefacts from the glory days of the empire.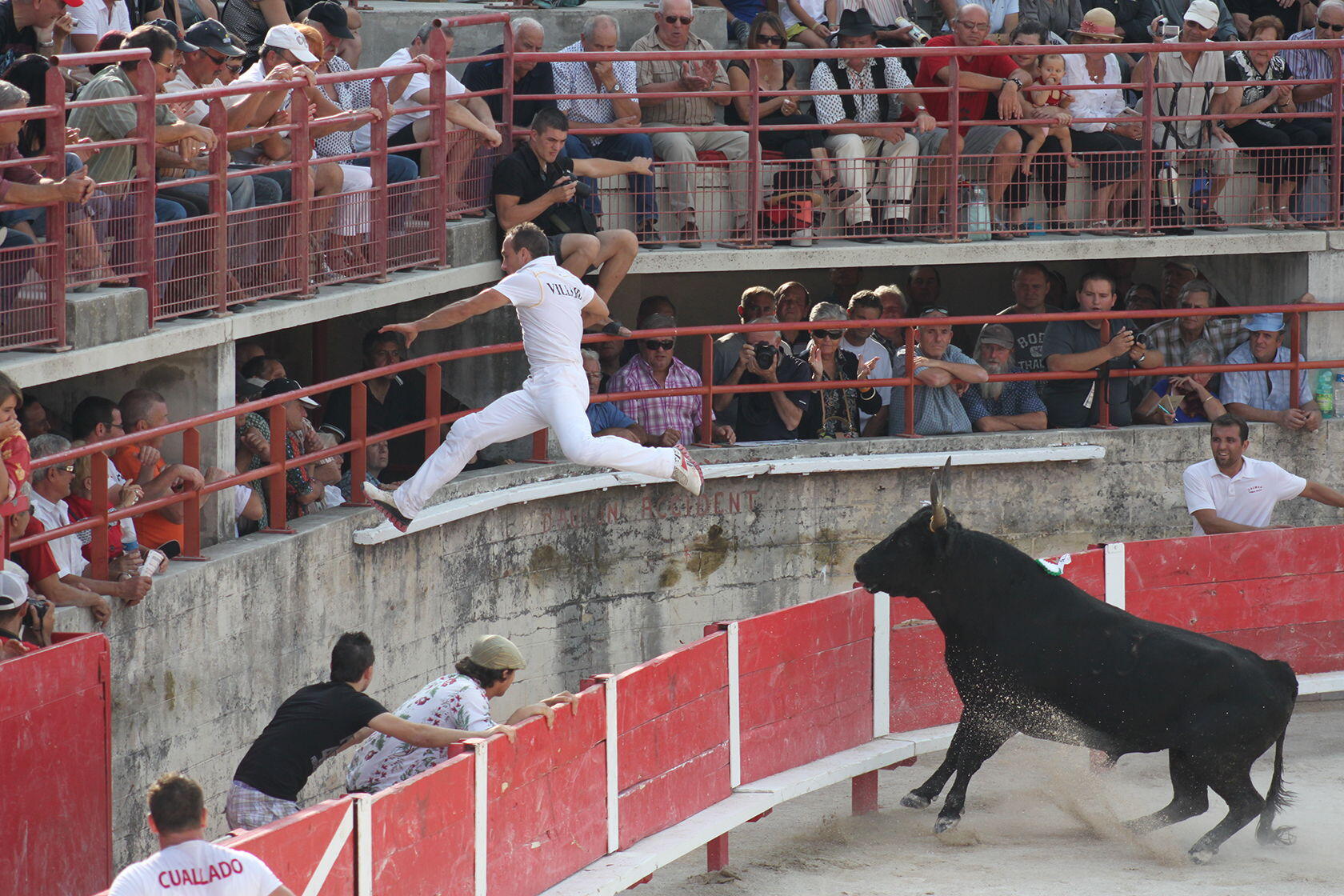 The centrepiece of Roman Arles is its 15,000-seat arena, recently cleaned and still used for concerts and the popular local sport of course camarguaise. Nearby is a Roman theatre that was buried for centuries and only rediscovered in the 19th century. There is also a sprawling Roman burial ground called the Alyscamps that you can explore for hours.
Van Gogh in Arles
Vincent van Gogh spent over a year in Arles before that unfortunate business with his ear sent him to a mental asylum. You can take a walking tour through Arles to see many places he painted.
Also in Arles
Stop by the Romanesque St-Trophime church and admire the fabulous carvings over the main entrance. Next door is the entrance to the beautiful cloisters.
LUMA Arles is an art centre housed in a building designed by the famous architect Frank Gehry. He's best known for the striking Guggenheim Museum in Bilbao, and the LUMA building's crazy tower takes things to another level.
For another dramatic building, check out the Villa Benkemoun, which epitomizes groovy 1970s architecture. Designed by a disciple of Le Corbusier, it's a curvy, swirling masterpiece, complete with distinctive 70s furniture, that's been recognized as a national treasure of France.
Addresses in Arles
Arles Tourist Office
Website
9 Boulevard des Lices
LUMA Arles
Parc des Ateliers
45 Chemin des Minimes
33 Avenue Victor Hugo
Closed Tuesdays
Guided tours are available
Musée départemental Arles antique
presqu'île du cirque romain
BP 205
13 635 Arles cedex.
Tel : +33 (0)4 13 31 51 03
Closed on Tuesdays
Free entry the 1st Sunday of each month
Nîmes
Nîmes was the capital of Provincia Romana, though it is not in present-day Provence. Once known as "the most Roman city outside of Italy," at its heart is a 24,000-seat Roman arena. It is one of the largest and best-preserved globally and is still in use today for events ranging from concerts to mock gladiator battles.

Nearby is the Maison Carrée, perhaps the world's most perfect Roman temple. It has been cleaned in recent years and is sparkling white, like in Roman times. Further on is the Tour Magne, a massive tower once part of the city's fortifications.

Tying it all together is the recently-opened Roman history museum across the street from the arena. It has some of the best Roman mosaics outside of Pompeii, as well as many interactive displays that bring the ancient city to life—be sure to check out the one that lets you "dress like a Roman."
Nîmes Addresses
Nîmes tourist office
Website
6 Boulevard des Arènes
Musée de la Romanité
16 Boulevard des Arènes
Closed on Tuesdays
Near Nîmes
The Stunning Pont du Gard Aqueduct was critical for the inhabitants of Nîmes. Ancient Nîmes had an elaborate system of fountains and public baths requiring a steady water supply. The closest major spring was many miles away, so Roman engineers built a gigantic system of canals and pipes to bring its waters to town. One of the challenges was crossing the Gardon River Valley, which cut right across their path. No problem! The Romans built an aqueduct to cross the valley, the Pont du Gard, and it's enormous: as tall as the Statue of Liberty's torch and long enough to park three jumbo jets.
The engineers came up with an elegant three-tier design to make it so tall: massive base arches are topped by progressively smaller ones. Gazing up at it is awe-inspiring! Next to the Pont du Gard is an excellent museum that explains the whole water system and how the Romans built it.
Image Credits
Arena: Nîmes tourist office
Roman Barge: Courtesy of Rémi Bénali – Musée départemental Arles antique – CD13
Course camarguaise: Perfectly Provence
Maison Carrée: Nîmes tourist office
Mosaic: Nîmes Roman History musuem
Pont du Gard: Wikipedia, Creative Commons License, attribution Benh Lieu