Chateau La Coste New Discoveries at the Vineyard
It has been almost two decades since Anne-Marie Simons and her husband Oscar decided to uproot their Washington, D.C. lifestyle and spend their retirement years in the South of France. They eliminated other alternatives (continents, countries and cities) and chose Aix-en-Provence for its "quality of life." The city's attractive combination of culture, history, climate and cuisine continues to deliver what they hoped for in their retirement years.
Anne-Marie's education in French language and journalism led to an impressive career as a translator, teacher, sports journalist, and director of corporate communications. Read more about her background and their transition from the race-car circuit to the pace of life in Provence here.
This couple may be enjoying retirement, but they are far from idle. As "chef de cuisine" Oscar is busy experimenting with the best of the season from the daily markets in Aix-en-Provence. Anne-Marie records the realities of life in France from politics to culture in her blog Provence Today. She has also written a book about discovering the Provencal lifestyle and traditions from their perspective as newcomers. Read Lynne's Aixcentric book review on "Taking Root in Provence" here.
The following guest post by Anne-Marie explores Chateau la Coste the vineyard and plein air contemporary art gallery near Aix-en-Provence.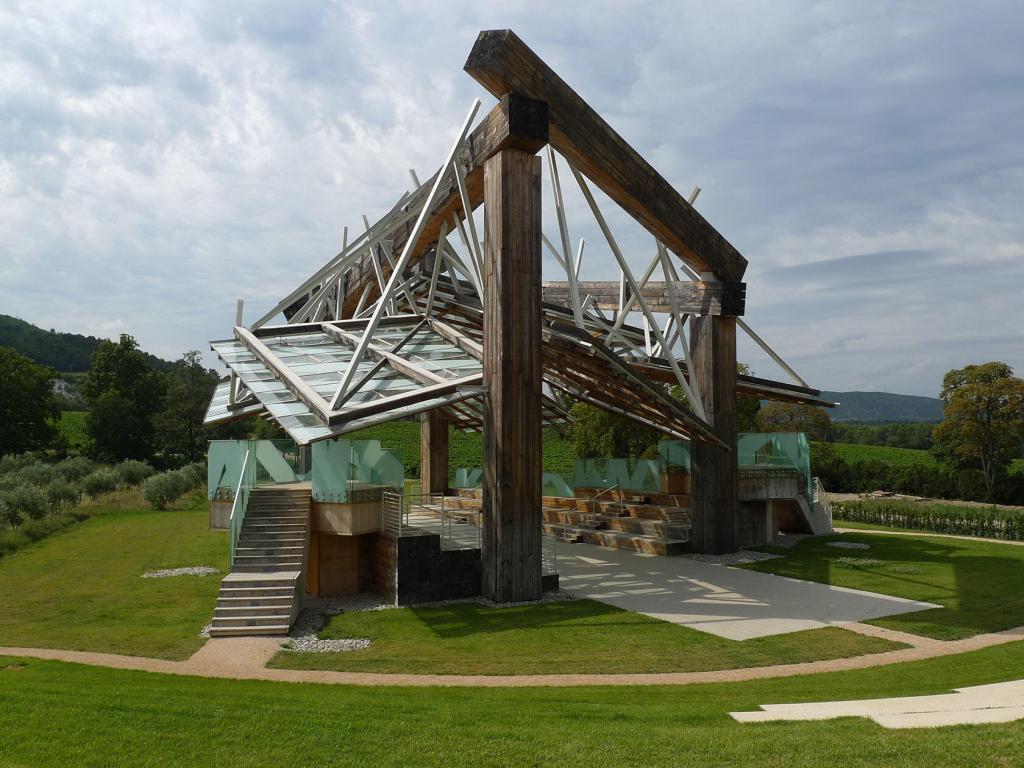 ---
One of Aix-en-Provence's greatest attractions lies exactly ten miles out of town.
It's a winery. Yes, but…  It's an art centre. Yes, but… It's both, and more than that. It's CHATEAU LA COSTE, a vineyard set in a beautiful hilly landscape that is dotted with world-class architecture and works of art. This is where in 2002 Irish businessman Patrick (Paddy) McKillen bought the existing La Coste winery near the village of Le Puy Ste Réparade to indulge his two passions: wine-making and creating a center for contemporary art. Today, fifteen years later, the gradual conversion to organic vines is complete, and the latest building by a renowned architect (Renzo Piano's exhibition hall) has just been opened to the public, following buildings by such star architects as Tadao Ando, Jean Nouvel, Jean-Michel Wilmotte, and Frank Gehry's music pavilion. Two more buildings are planned: one by the firm of legendary Brazilian architect Oscar Niemeyer and another by British architect Richard Rogers (who together with Renzo Piano designed the revolutionary Centre Pompidou in Paris). This year also saw the opening of a 5-star hotel-spa on the grounds, with a restaurant run by chef Gérald Passedat of three-Michelin-star fame in Marseilles.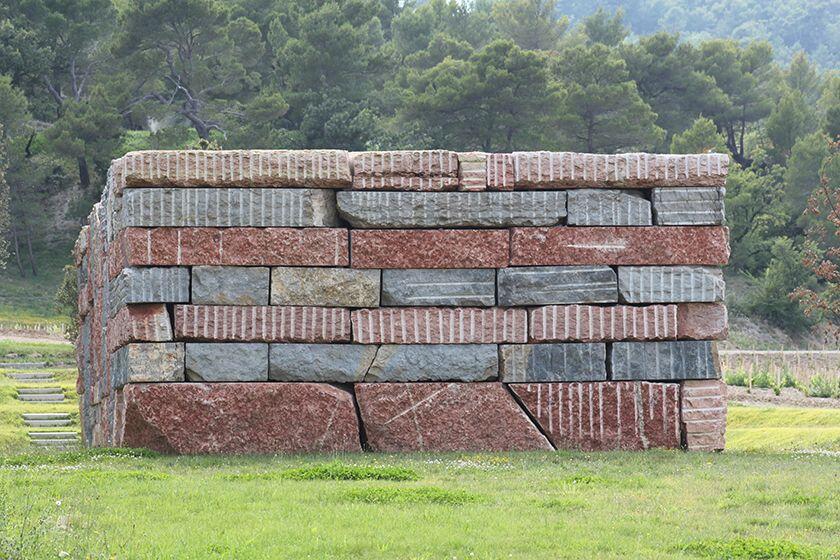 There are two other restaurants on the premises: one in the Tadao Ando art center and an Argentine restaurant that opened this spring, with a menu that leans more to French than to Argentine cuisine. In addition, there is La Terrasse, a pleasant outdoor cafe for simple fare at lunch and dinner times. These will take care of your basic needs so that your more spiritual needs can wander off into the gentle hills and feed on the works of art along the four kilometers of trails of the domain.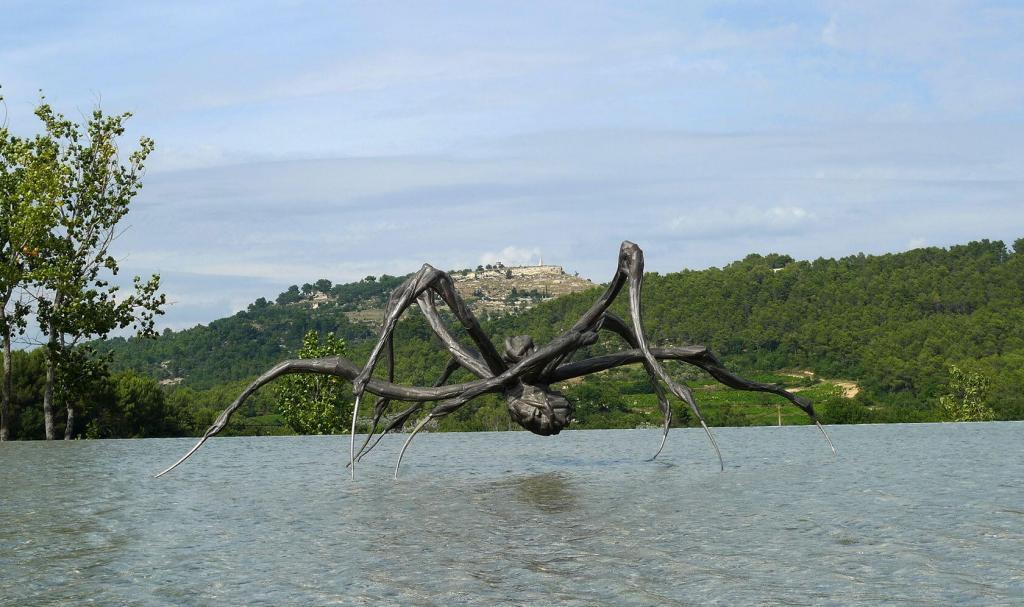 As Paddy McKillen began to create the winery of his dreams, he called on famous architects to design a number of buildings, and invited sculptors to spend some time in residence at Chateau La Coste in order to familiarize themselves with the landscape and choose a spot for their work. This has resulted in some two dozen works (so far) dispersed throughout the 200-hectare estate by an international roster of artists as diverse as their countries of origin. Among them: Louise Bourgeois (France), whose giant Crouching Spider greets you as you arrive at the Reception building, Ai Wei-Wei (China), Paul Matisse (US), Tunga (Brazil), Richard Serra (US), Tracey Emin (UK), Alexander Calder (US), Lee Ufan (Korea), and everybody's favorite, Tom Shannon (US), whose shiny "Drop" hovers among the trees like a UFO just about to touch down. On the highest point of the domain stands the little 17th-century chapel, beautifully restored and "modernized" with a glass surround by Japanese architect Tadao Ando, who also created the wooden "Four Cubes" environment pavilion and several origami benches along the way. Next to the chapel stands a large red cross, fashioned from glass balls by Jean-Michel Othoniel.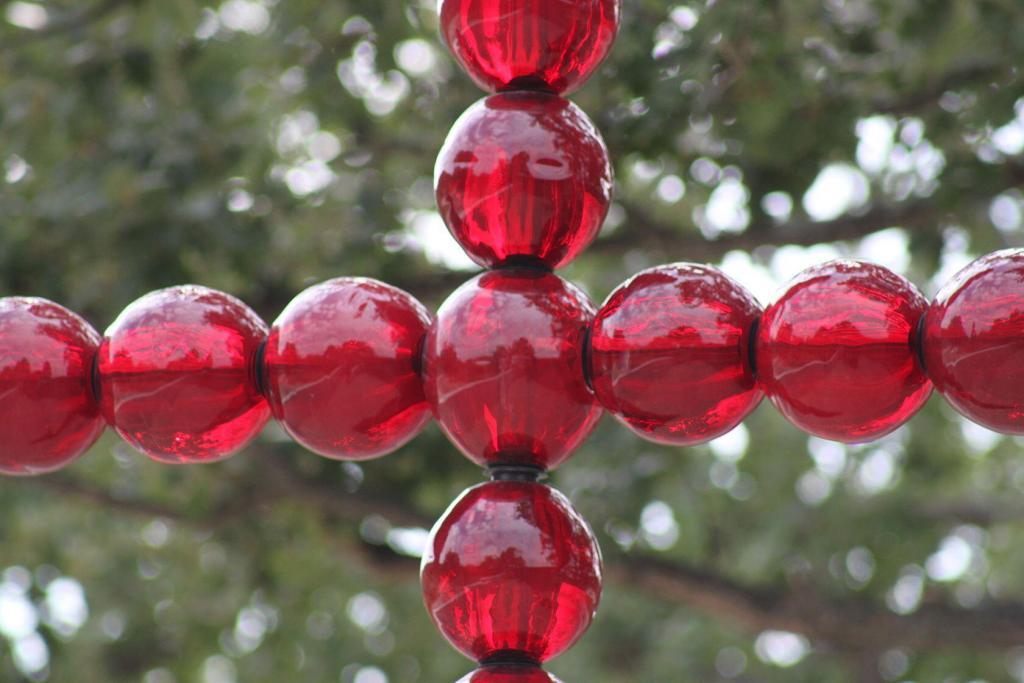 From this vantage point (and others along your path), take a minute to admire the surroundings, let your eyes glide over the vines, take in the deconstructed music pavilion of Frank Gehry down below, the Vietnamese teahouse and two Jean Prouvé houses that border the vegetable garden designed by famous landscaper Louis Benech, and move toward the Luberon mountains in the distance and the ruins of a castle above the village of Cadenet. Then proceed on your way down, past other works of art toward the final one, the interactive Meditation Bell by Paul Matisse. Set among the trees, this understated but ingenious metal structure allows you to pull a cord that moves two rubber-clad hammers to hit a hollow cross bar, emitting a deep, sonorous sound that like a Buddhist Ommm mantra hangs in the air, almost forcing you to close your eyes, sit down on the low stone wall surrounding the Bell and let the sound envelop you like a final blessing: "You have visited a place of beauty and peace. Now go, respect nature and act responsibly." Some visitors may hear a different message, but the important thing is to listen to the sound, feel its vibrations in your body if you put your ear to one of the metal tubes, and let it talk to you.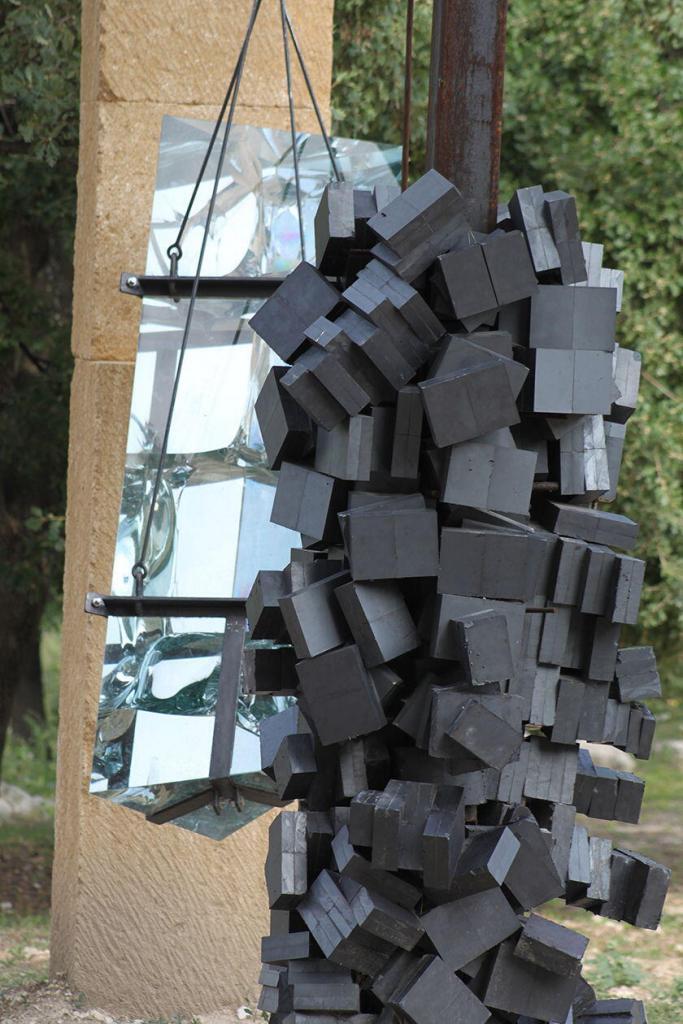 As you follow the narrow tree-lined path back, past the music pavilion towards the underground parking, the Bell may whisper in your ear: "Stop at the Terrasse for a refreshing glass of rosé. You deserve it." My advice: Don't fight the Bell's wisdom.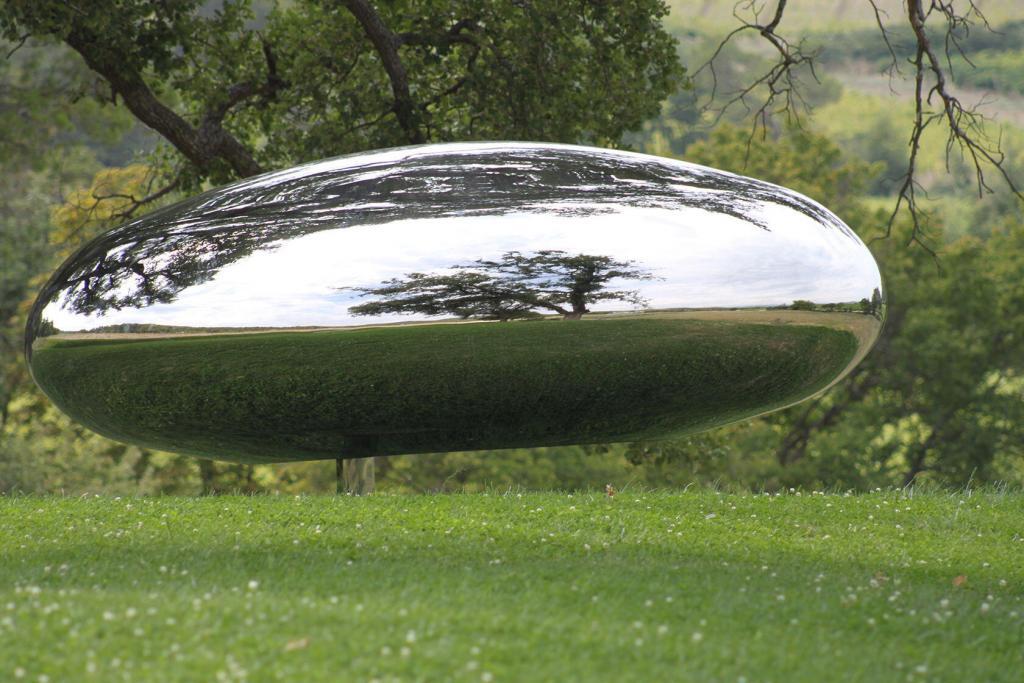 ---
Anne-Marie Simons author of TAKING ROOT IN PROVENCE, Distinction press, 2011
blogger of PROVENCE TODAY