A Delicious Tart Made with Fresh Apricots
Regarding dessert, tiny fruits merit tiny tarts like this recipe for a fresh apricot tart. I am trying to make smaller desserts: small-batch cookies, cakes, and (case in point) tarts. This approach yields fewer tempting leftovers. As it turns out, I have a very small and rather adorable pie plate that is just the right size for a half batch of my pâte brisée (pie crust). Continue reading here for the original article by Cocoa & Lavender.

Fresh Apricot Tart
If you are looking for a little treat to share with your family after a delicious dinner this apricot tart is perfect! 
Ingredients
2 3/8

oz

White Flour

see notes

3/4

cup

Whole Wheat Flour

see notes

2

tbsp

Sugar

divided

4

tbsp

Chilled Butter

cut into 1/2-inch cubes

2

tbsp

Chilled Milk

whole, 2%, or 1%

2

heaping tbsp of

Apricot Jam

room temperature (see notes)

9-10

small

Apricots

or 6 large apricots

Almond or Vanilla extract

Egg White or Additional Milk

for brushing

Vanilla Ice Cream

for serving (optional)
Instructions
In a medium bowl, whisk together the two flours and sugar. Add the chilled butter and toss to coat. Using your fingers, pinch the butter into the flour mixture until the mixture resembles cornflakes. Sprinkle this mixture with the milk and, using a fork, toss the mixture until it begins to come together. Finish bringing it together with your hands.

On a well-floured board or countertop, roll out the dough to a 9-inch circle about 1/8-inch thick. Place the dough in a small 8" pie plate with a flat rim. Using a 1 1/4-inch cookie cutter, cut semi-circles around the rim, as shown in the photo above. Place the pie crust in the refrigerator while you heat the oven and prepare the apricots.

Preheat oven to 375°F.

Slice the apricots in half; remove and discard the pits. Place apricot halves in a small bowl and sprinkle with sugar. Sprinkle over a few drops of extract and mix. Let's sit for 5 to 10 minutes to allow the flavours to blend.

Remove the crust from the refrigerator and spoon the apricot jam onto the base. Spread it evenly to the edges of the bottom. Take the sugared apricot halves and place them, cut-side down, around the outer edge of the tart, then fill in the center with the remaining halves. If any sugar remains in the bowl, sprinkle it over top. If any apricot halves remain, eat them!

Using a pastry brush, brush the visible edges of the crust with egg white or milk. Bake for 30 minutes or until the crust is golden brown. Don't worry if the jam seems a little loose; it will firm up as it cools.

Serve each slice with a scoop of vanilla ice cream if you like.
Notes
If you do not have a kitchen scale, measure a third of a cup of the white flour and place it in the bowl. Fill the 1/3 cup measure again but only halfway with white flour, then fill it to the top with whole wheat flour. (Much easier than using fractions!).
Using part whole wheat flour adds flavour and texture without making the crust heavy or tough. If the apricot jam you have is very chunky, purée the large chunks before spreading the jam in the crust.
Double this crust recipe for a 10-inch pie plate with a flat rim. The number of apricots will depend on their size. Baking time should remain the same.
Additional Tarts to Try:
Apricot Saffron Rose Tarts
Apricot Saffron Rose Tarts is a delicious dessert created to share. The tart is made with fresh saffron that can be found at local farms in Provence. 
Check out this recipe

Chocolate and Pear Tarts
These tarts are easy to make and a delicious finish to a fall menu. Make sure to leave enough time to prepare and rest the dough.
Check out this recipe

French-Style Apple Tarts
The smell of apple tarts baking in your kitchen is a temptation enough, but these individual pastries in the pretty flower pattern... Well, it takes a lot of willpower to resist. And, these individual tarts are delicious warm or cold, with a glass of our lovely rosé Pure!
Check out this recipe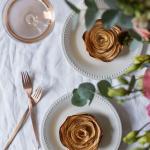 Individual Apple Tarts
These little tarts (tartlettes) are easy to make and a perfect finish to any meal. The ice cream is optional, but most guest will likely be happy with that addition.
Check out this recipe

Lemon Meringue Tart
There's nothing better than a classic lemon meringue tart. With tart citrus and sugary, creamy meringue, these small bites of heaven are sure to impress (if you don't eat them all yourself!).
Check out this recipe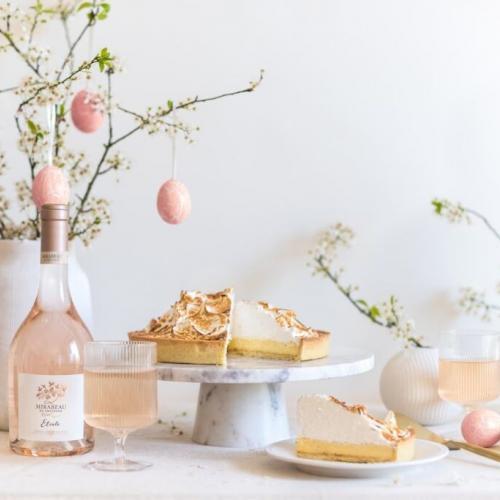 Pear Frangipane Tart
This pear tart is an excellent choice if you're looking for a delicately tart to add to a pastry table or serve with your afternoon tea. It's light, flaky, and the perfect accompaniment for a steaming hot pot of Earl Grey.
Check out this recipe