10 Best Places in Provence to Hike and Walk
Looking for a great hiking destination in Provence? Or, are you only interested in walking through this corner of France? In this article, we'll talk about 10 of the best places to hike and walk in the Provence.
Etang De Vaccares
At the mouth of the Rhone, the Camargue wetland delta is home to a renowned wildlife reserve. Pink flamingoes feed in the shallow inland seawater lakes. Plus, rare birds can be found around the Etang (inland lake), making this place a bird watcher's dream come true. Joining these birds are herds of "wild" white Camargue horses and bulls.
Read: 5 Reasons to Visit the Camargue
Gorges Du Verdon – Cascade Loop
This place offers hiking tours, more so for intermediate hikers. With a gorgeous view, along with an adventurous vibe, people with good fitness are welcome to hike this unique piece of Provence. With easily-accessible paths, all skill levels are encouraged to visit.
Marseille To Cassis (GR 98/51)
The Calanques, the fjords of Provence, are most famous for their clear waters and amazing pine-fringed rocky coves. Here, you won't see a single car, which can be comforting for those looking to escape the hustle-and-bustle of the city. Instead, people can travel by foot or by boat only.

The 35km stretch between Marseille and Cassis is a great paradise for walkers since they get to be surrounded by nature and the seaside at their best. So, if it starts to get hot outside, then feel free to jump into the water.
Colorado Provencale
Le Desert Blanc Loop From Gignac. An easy hike, the Colorado Provencale is great for any fitness level. With easily-accessible paths, not only is this place suitable for all skill levels, but it's also a popular hiking site for all visitors regardless if you're a hiker or a casual walker. Colorado Provencale also offers tours (right next to the site's parking lot) that let you get the best experience in either hiking or walking.
Sentier L'Imbut
From the Gorges du Verdon (a deep chasm cut in limestone cliffs), the Sentier L'Imbut takes you deeper into the heart of the Gorges, following a 9km loop which will take around 5 hours to complete. Plus, you might come across 3 different species of vultures and (if you're lucky) golden eagles.
Ancien Canal Du Verdon – Vue Sur Verdon Loop
Mainly for intermediate hikers and people with good fitness, the Ancien Canal du Verdon is a place in Provence that's sure to entice the thrill seeker with its easily-accessible paths that are fun to run through, along with its fantasy-like scenery – it's like you're walking through a fantasy movie!
Sentier Imoucha
Mont Saint Victoire is one of the most popular sites in Provence. Most notably, this place is the subject of the artwork of the painter Cezanne, who was obsessed with the way the light reflected off the rocky faces. Cezanne famously created canvas after canvas of this gorgeous place from different angles and at different times of the day.

Belvedere – Pont D'Estellié Loop From Route De Comps
Expert hikers are invited to visit Belvedere. With a challenging landscape that will entice the most daring thrill-seeker, hiking tours are available to visitors.
As you visit this part of Provence, be sure that you have sure-footedness, sturdy shoes, and an acceptable amount of alpine experience. Plus, tours normally start from Route de Comps and then finish at Pont d'Estelliè. As you go on the tour, you'll witness picturesque scenery, as you climb and carefully navigate the edges and narrow paths.
Sentier Des Ocres
One of the most family-friendly sites in Provence, the Sentier des Ocres is known for its circuit of the old ochre mine outside the picturesque village of Roussillon. With well-trodden paths and natural beauty, this place makes a fantastical experience for family and friends. With up to 20 different shades of ochre, along with an abundance of pine and rock, the Sentier des Ocres will not only welcome you with open arms, but it will also take you through history, as you witness the mining industry which had once provided paint pigment to factories across the world.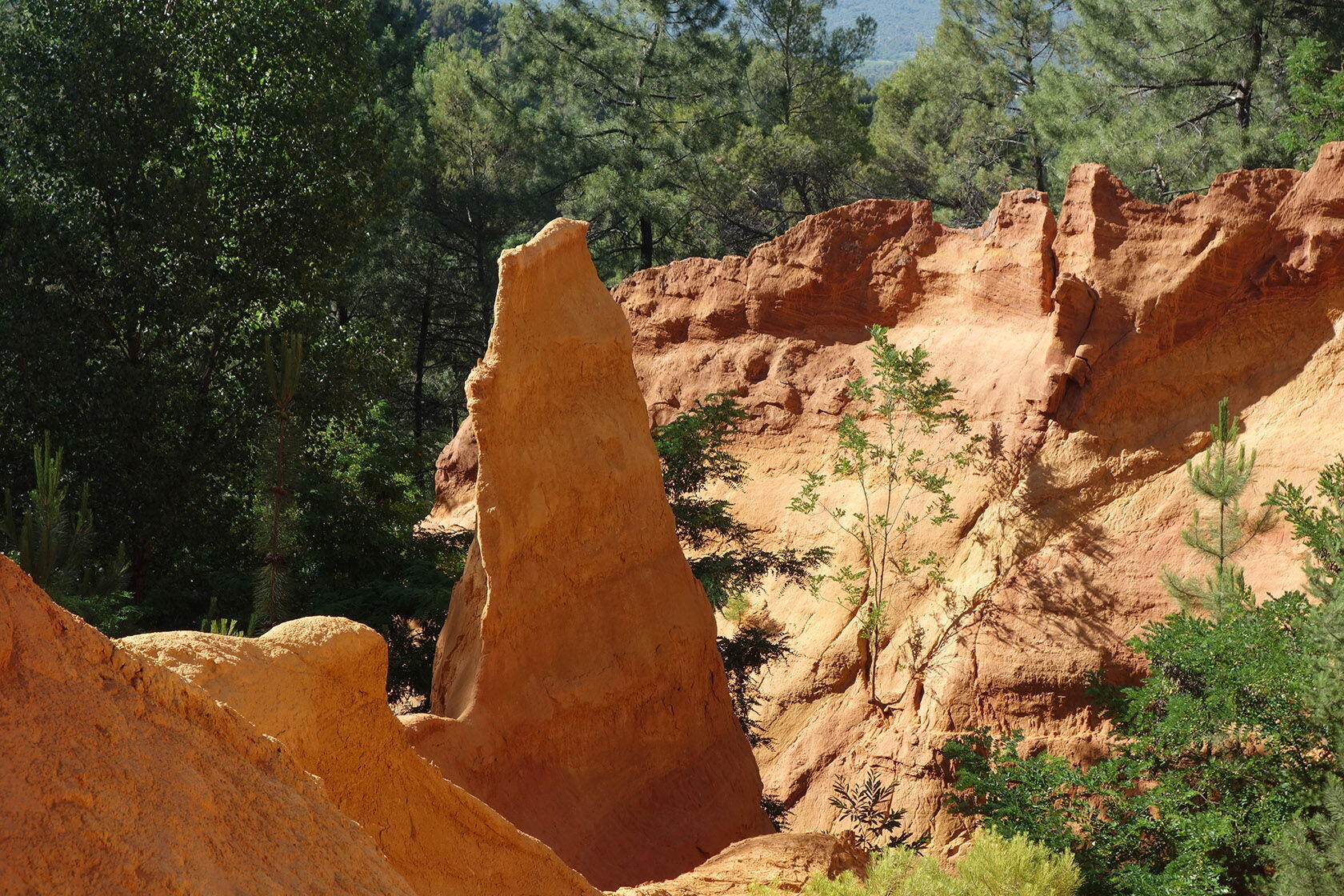 More reading:
Revisiting Provence's Natural Ochre Hues in Roussillon
Don't Miss the Ochre Cliffs of Roussillon in Provence
Urban Stroll in Nice
Finally, Place Massèna is a great place to start a city walk through Old Nice (Vieille Ville). With its easy-to-navigate scenery and paths, tours are available to visitors looking to take in the picturesque landscape that this place has to offer.
Conclusion
Now, these are just 10 of the best places to hike and walk in Provence. However, with these 10, Provence is worth visiting and exploring.
So, what are you waiting for? Put your walking shoes or hiking boots on, and get out there!
---
Kristin Herman writes at Paperfellows.com. As a travel enthusiast, she blogs about the latest travel trends. And, as a project manager, she oversees writing projects nationwide.
---
Other Top Hikes in Provence
French Riviera
There are many reasons why we love the Cote d'Azur. One of them is because of the hiking possibilities.

Les Etangs de Villepey  – The Lakes of Villepey in Saint-Aygulf is a protected natural area that is wonderful for exploring. The Argens River joins the Mediterranean near Fréjus creating a brackish water zone. Similar to the marshlands of the Camargue this 260-hectare area is home to many species of birds and coastal flora. The walk is flat, with some sections along a boardwalk.
The Coastal Path (Sentier du Littoral) Saint-Raphael
Pathways along the coastline in France date back hundreds if not thousands of years. However, only in more recent history staring on December 31, 1976, did the French State institute a program of mandating the ability of public access to the coastline and beaches. Today, these trails are hiking paths with fabulous views.
The trailhead starts at Port Santa Lucia in Saint-Raphael. If you walk the whole way to Agay it is 11km and should take roughly 4 1/2 hours. Laura recommends a shorter version (roughly two hours) for families with young kids. Discover the beautiful coast, sandy beaches and some private coves.
Pont des Tuves
The starting point for this hike is Montauroux, about a 40-minute drive from Saint-Raphaël. Laura says, "This is quite a steep hike, but one you will not regret!" Park at the Stade du Défens. This walk is not without a few challenges but delivers a variety of terrain, a bit of shade, beautiful views and the chance to swim.
Alpilles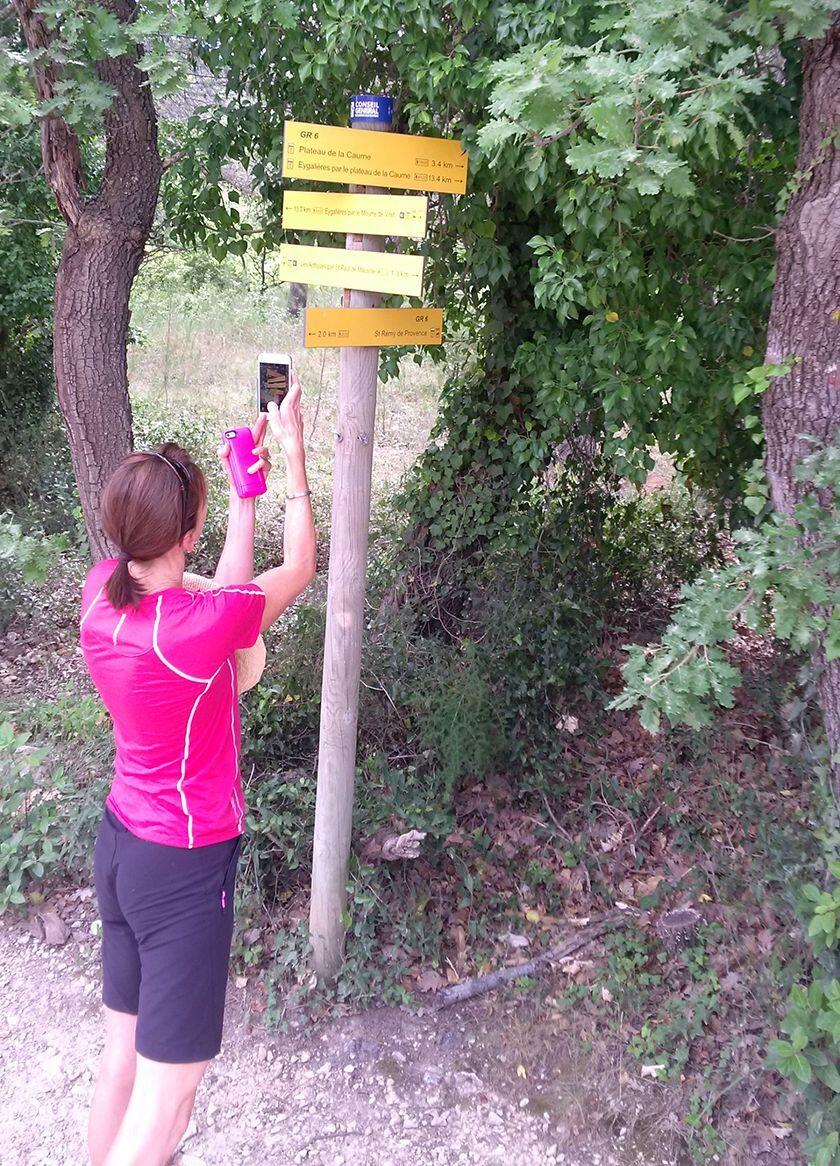 Established in 2007, the Parc Naturel Régional des Alpilles is a relatively new park. However, the mountain range itself is the result of millennia of continuous geological evolution. Artifacts from human settlements found in these hills date back to the Neolithic era. The beautiful thing about this 30 kilometre stretch of mountains is you might never tire of the opportunities to explore on foot. The Grande Randonnée (GR) #6 traces the summit from Tarascon to Aureille. Look for red and white flashes to follow sections of this multi-stage trail.
Walk the Canal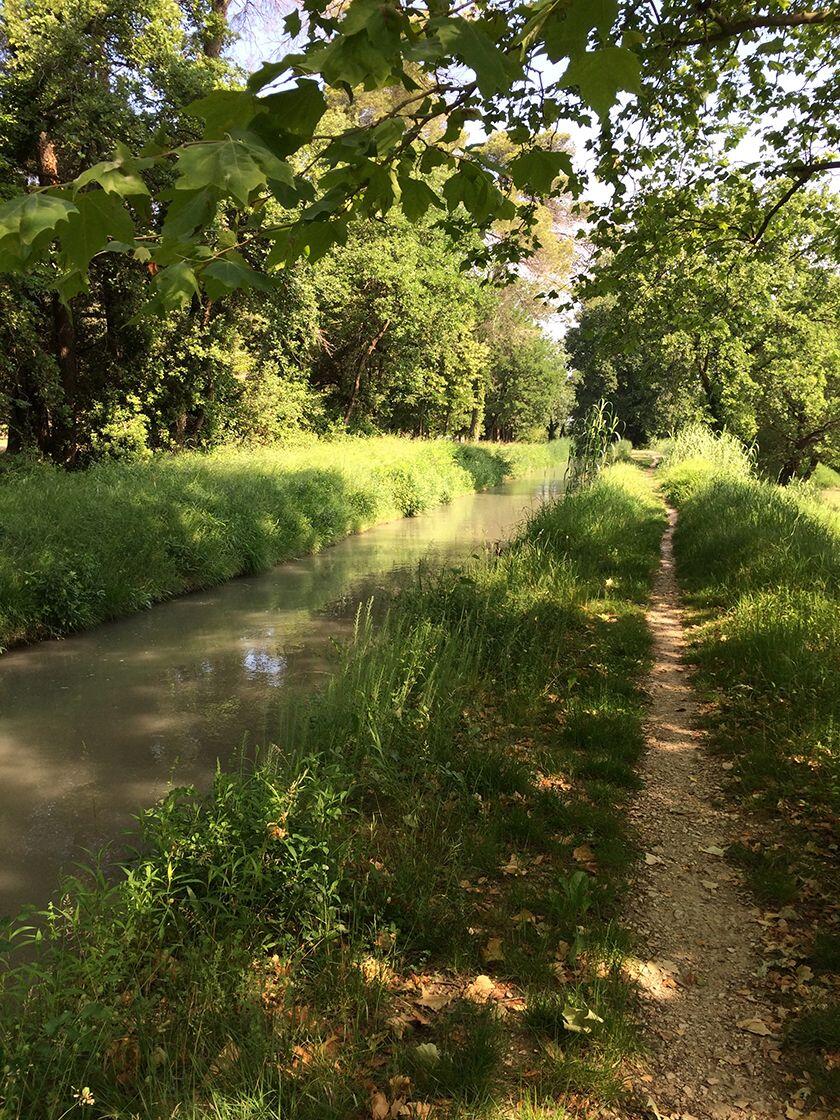 The area around St-Rémy-de-Provence is wonderful for hiking. The Alpilles Mountains are crisscrossed with well-marked trails that offer fabulous views. St-Rémy is surrounded by agriculture—vineyards, olive groves, and fields growing fruits and vegetables of all kinds. A vast network of canals, built around the main Canal des Alpines, supports it all and it's a great place for a shady walk on a hot day.
Luberon

Mur de la Peste: When most people hear of "the Plague," they shudder and think of the Black Death that killed nearly a third of Europe's population in the 1300s. But did you know that as late as 1720 an outbreak in Provence took the lives of over 100,000 people? And that the Pope and the King of France built a great wall to stop its spread? Today, the Mur de la Peste is seen mostly by hikers and dog walkers. Sections of the wall are still visible, and some areas are restored (approx. 6km) to demonstrate the enormity of this project and the desperate attempt to stop the spread of the plague. More details here and here.

Abbaye de Senanque to Gordes: Julie took her dog on a walk from the infamous Abbaye de Senanque to equally renowned Gordes. The Abbey can be a mass of people at the height of the lavender season, with everyone attempting to get that perfect shot of the lavender rows framing the Cistercian monastery. However, in the off-season, this part of the Luberon is magical for hiking. Here are the details.

Les Gorges de Régalon is located between Cavaillon and Mérindol, in the Luberon. The circuit is only 9km and offers a bit of everything in a three (3) hour hike. The walk starts at the easily accessible parking, where it is free to park, and you may even find a spot in the shade. The first stretch is a walk along a creek bed past a small grove of olive trees. Immediately after the olives, the trail heads straight into the gorge. The direction of the path is evident as the steep canyon walls close-in quickly.  There is only one way forward leaving no choice but to scramble over the rocks to follow the narrow corridor. This hike is not recommended for anyone with claustrophobia and absolutely not advisable on a wet day.
Haute Provence
Hiking and Culture – Works by British sculptor Andy Goldsworthy, known for creating outdoor installations from natural materials found nearby, form part of a new 150km "art" hiking route which stretches across the north of our region. Named the Refuge d'Art, in the Unesco Geopark reserve in collaboration with the Gassendi Museum in Digne-les-Bains and the Réserve Géologique de Haute-Provence, it is the largest public collection of his work.
---
Hiking Tips in Provence
The Institute National de l'Information Géographique et Forrestiére (IGN) produced detailed, accurate maps. There is also an IGN application for smartphones. IGN website.
Wear sturdy hiking shoes.
Take water, sunscreen and snacks.
Hiking poles help with steep downhill grades.
Watch for signs, rock piles and paint flashes to indicate the way.
DO NOT hike if there is any threat of bad weather.