Going to the Wednesday Market in St-Remy
My wife Val and I live part of the year in St-Rémy-de-Provence, a town just south of Avignon. There are lots of fun things to do in St-Rémy and one of our favorites is to go to the Wednesday morning market. What's it like to go to one of the best markets in Provence? Follow me and I'll show you.
We usually go early because the market can be crowded, plus during the summer it gets hot by mid-day. We're lucky because our house is within walking distance and we don't have to drive, and parking can be scarce on market day. If you'd like the insider's secret on where to park in St-Rémy, check out this article.
Our first stop is at the newsstand on Boulevard Marceau where I like to buy a copy of Le Monde. Then we start wandering through the market to see what looks good. We usually take our dog Mica and she loves the smells, especially when we walk past a butcher.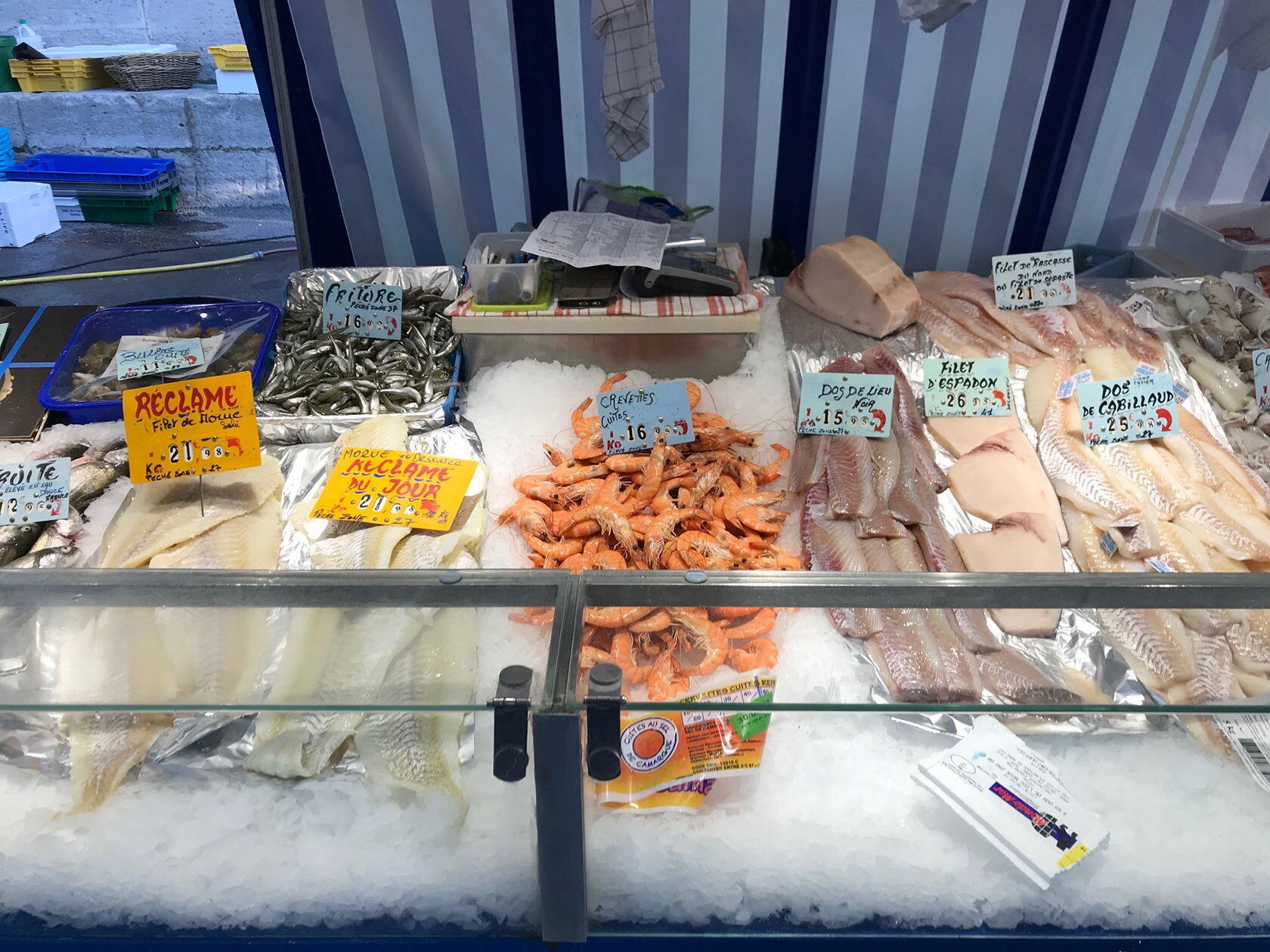 The first vendors we pass are the fishmongers and we stop by to see what's fresh. St-Rémy is not far from the Mediterranean Sea so there is always a good variety of seafood on display. Then we pass the paella man near the church, preparing his steaming paella in a big round pan nearly 3 feet across. Mmm, that smells good! Paella is a Spanish dish made of seasoned rice with seafood, chorizo and sometimes chicken, and is very popular in Provençal markets. Shoppers will often pick up a batch to take home for lunch.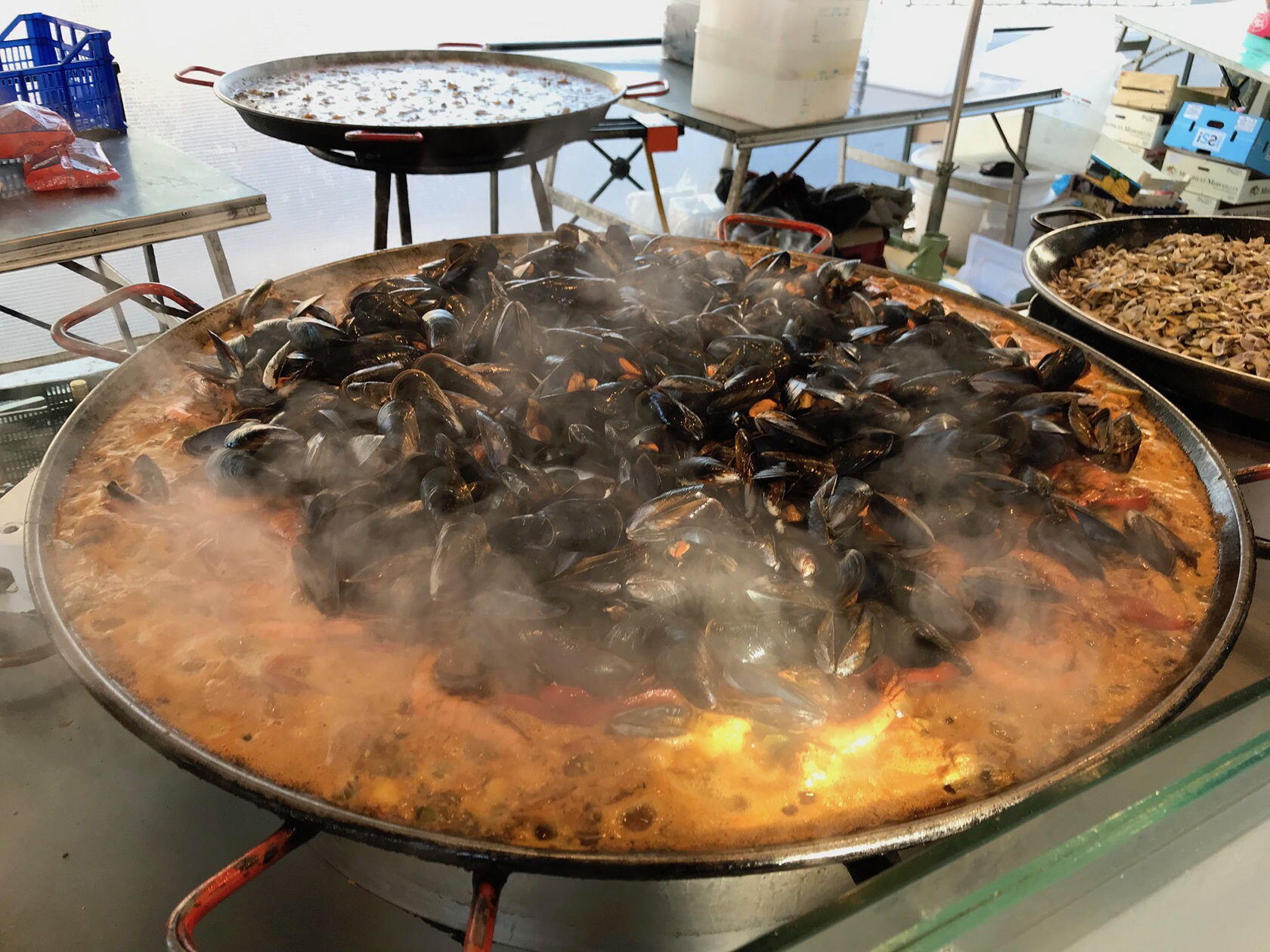 Next, we turn down the Rue Lafayette and head to the center of town. On the corner are vendors selling strawberries in the spring, then later cherries, and in the summer it's stone fruits and melons. There's always something good!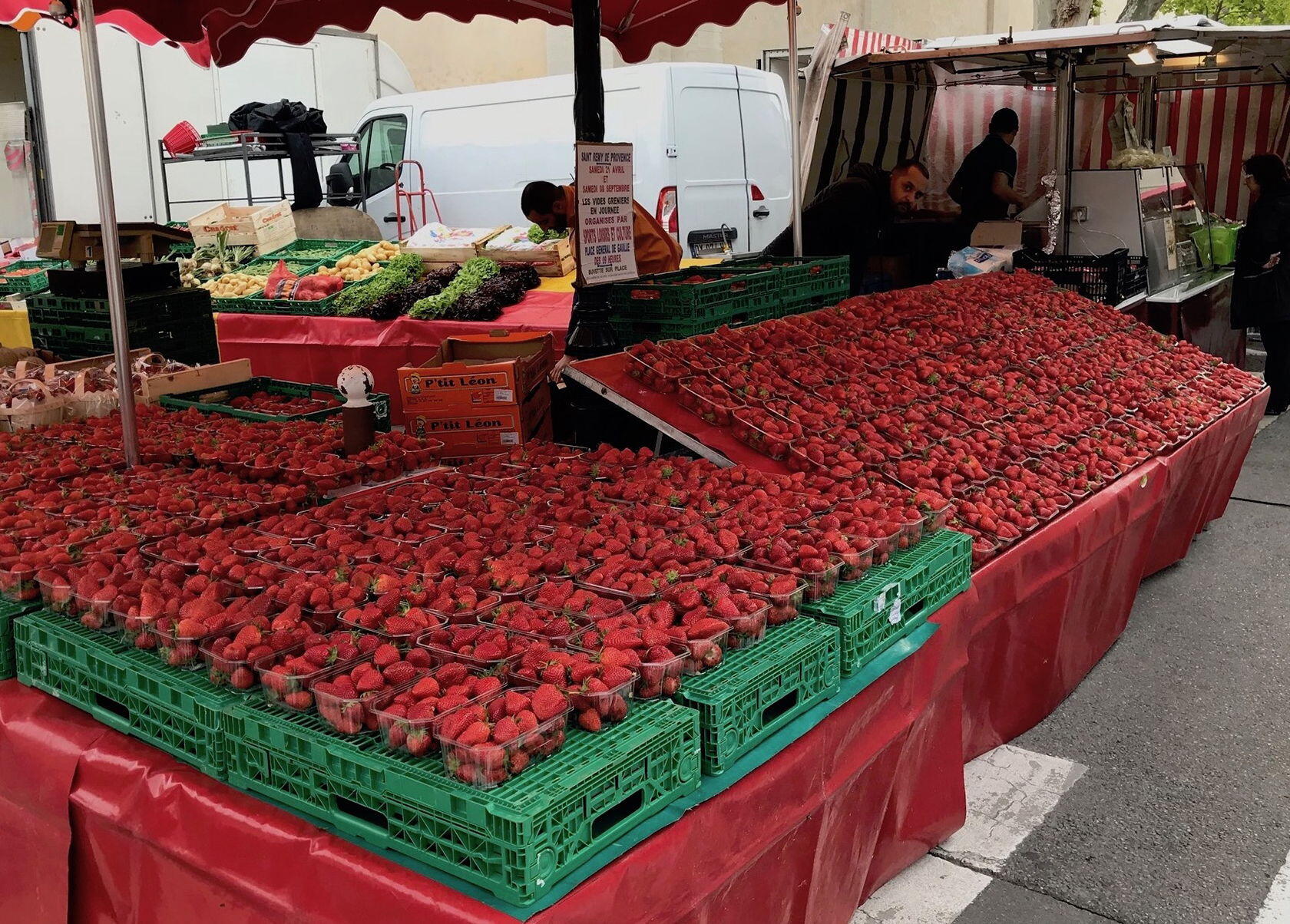 Then we pass the flower stand and agree to pick up a bouquet later—they look so good and they aren't expensive.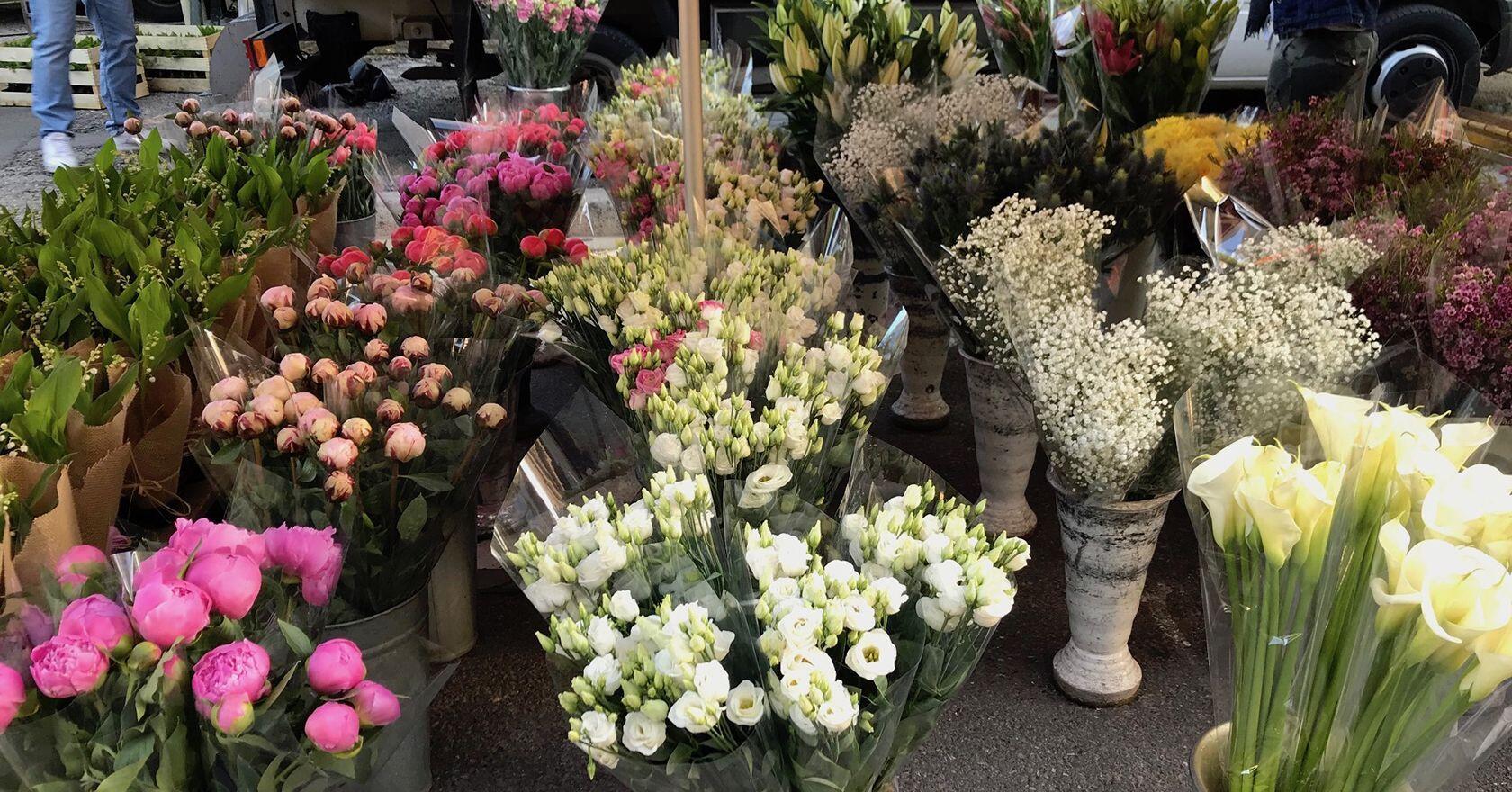 Further down the street, we pass one vendor selling honey and another selling jam—there's no shortage of good things to put on your baguette in the morning. There's also a man selling confit de canard (duck leg) in big cans. We never thought that something in a can would taste very good until a friend gave us one as a gift and we found out that it's delicious. Now we buy a few every year.
The main square, in front of the mayor's office, is the heart of the market. Our favorite olive vendor is there, with a wide variety of olives plus spreads like tapenade, pistounade, and caviar d'aubergine—they are so good to have later in the day at aperitif time. There are also vendors selling fruits and vegetables and it's hard to choose among them because everything looks so good. Provence is an agricultural area and it shows when you go to a market.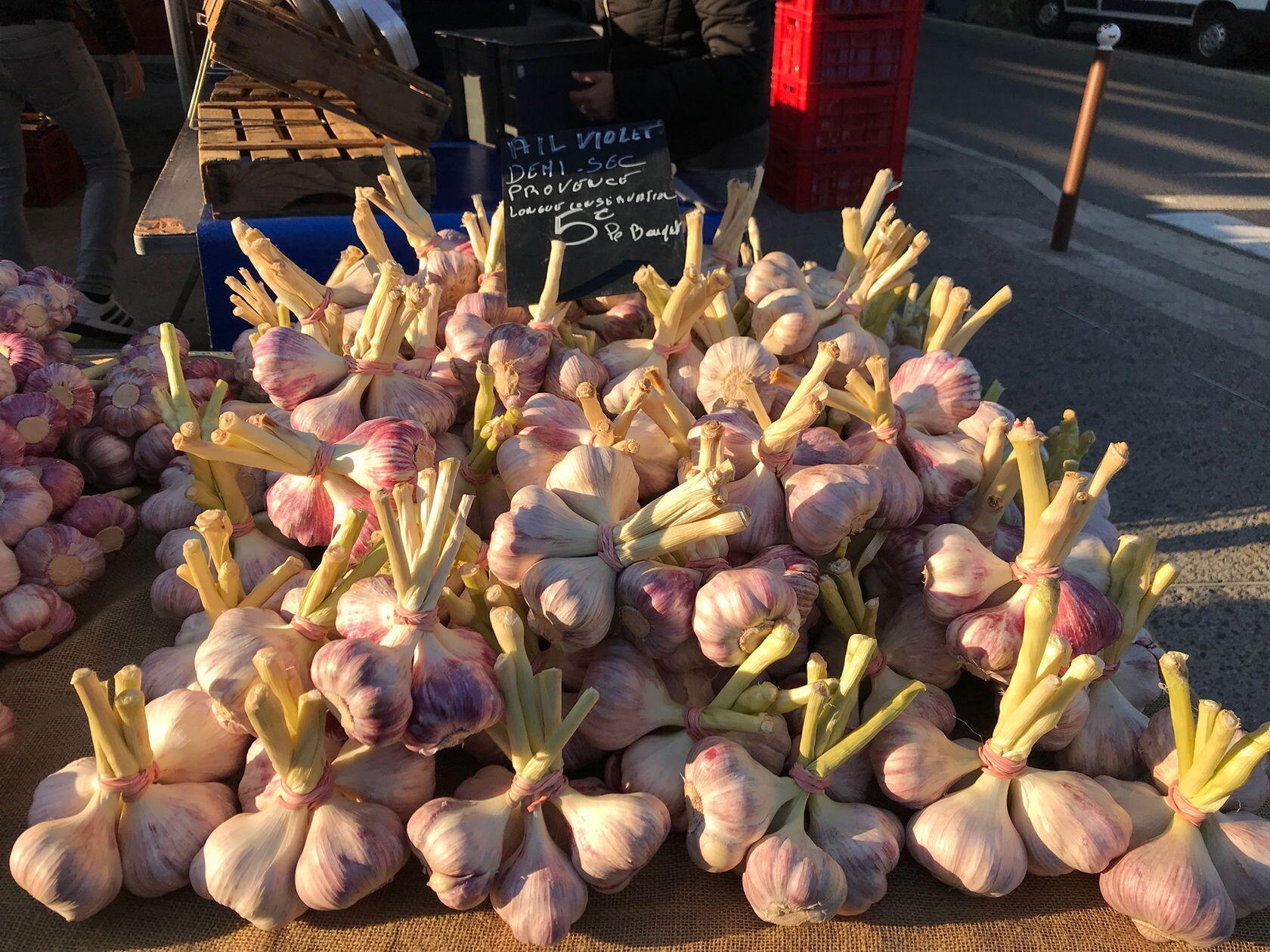 Nearby is a man with a big rotisserie that has chickens turning on the spit. The smell is so good that you get hungry even if you've just eaten! There's nothing better than a hot, juicy, roast French chicken—I still remember the time we bought one at a market nearby and ate it right away, hot off the spit, with chicken juice dribbling down our chins.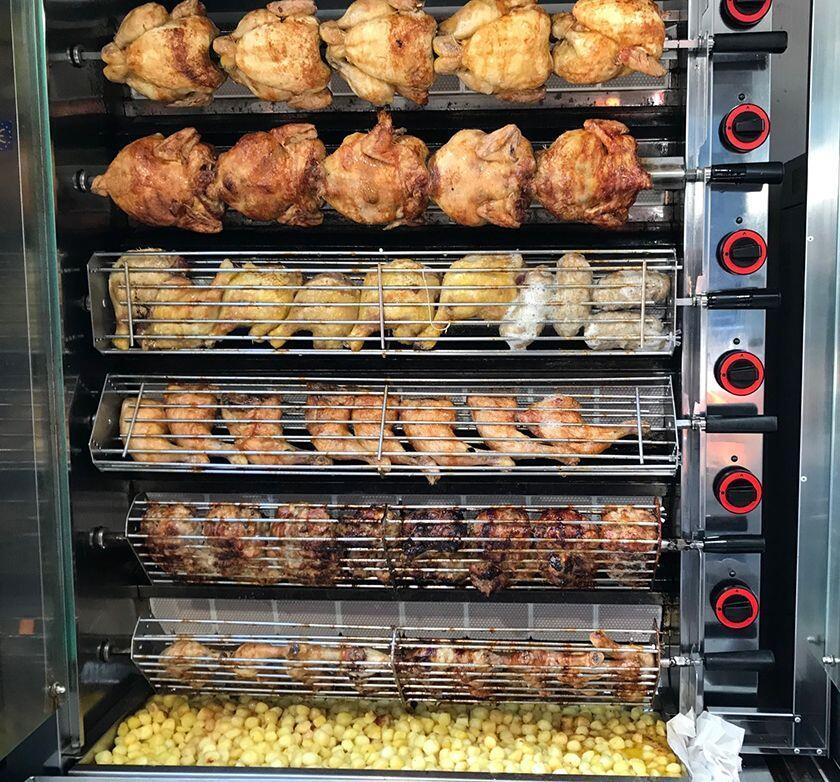 The cheese lady is near the chicken man, with more kinds of cheese than you can imagine. Charles de Gaulle once complained about the fractious French by asking, "How do you govern a country with 246 kinds of cheese?" We'd love to try them all!
At this point, we take a break and head to our favorite café, the Bar Tabac des Alpilles, for a coffee and maybe a croissant. We talk about what to buy and then I stay at the café while Val shops. I keep Mica with me and she snoozes or hunts for crumbs on the floor while I read the paper and maybe have a second coffee.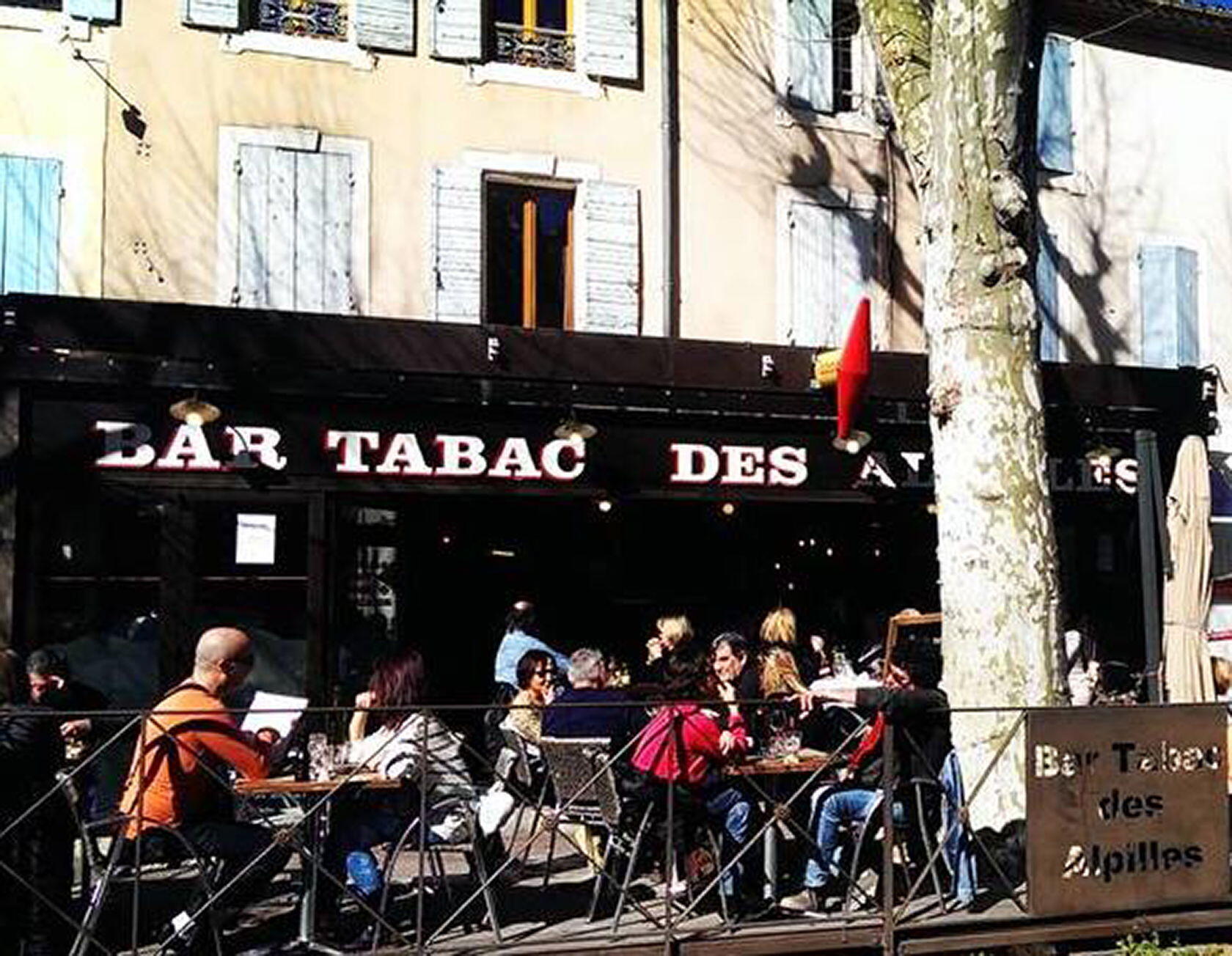 On the way back home we might look at tablecloths or scarves (you can never have too many scarves here, even if you're a man) and pick out something for ourselves or as a gift. There's nothing like a colorful tablecloth to remind you of your time in Provence.
If you haven't been to the St-Rémy market, you should try to visit because it's so much fun. And if you'd like help finding the best vendors or dealing with the language barrier (though most speak some English), you might consider a market tour organized by Ashley Tinker, a Canadian lady who lives nearby and is an expert on the local markets.
Have fun and happy shopping!