Wild Mushroom Season in Provence a Chicken Cannellini Cassoulet Recipe
This wild mushroom and white bean (cannellini) cassoulet is a great opportunity to use all the different types of mushrooms available in the market. I used chicken with my mushroom and cannellini cassoulet, but it works equally well with pork or lamb.  The cassoulet has loads of flavour and you can use any combination of mushroom varieties.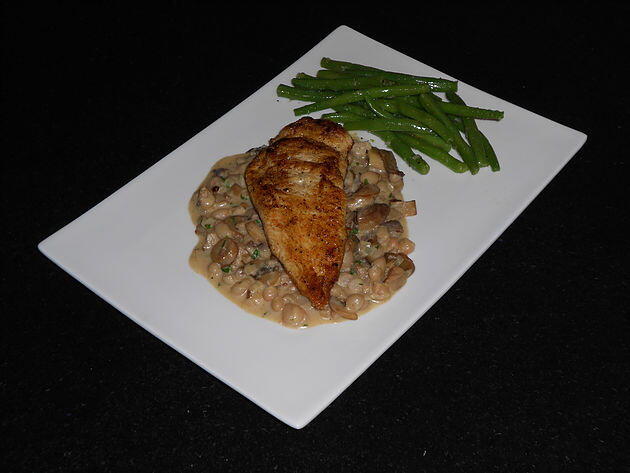 Chicken with Wild Mushroom and Cannellini Cassoulet
With the taste of an all day slow roasted cassoulet, this quick and easy version is great any day of the week. Tender chicken breasts with creamy cannelllini beans and wild mushrooms is a definite win at the table.
Ingredients
4

Chicken breasts

300

gr

Mixed wild mushrooms

chanterelles, girolles, black trumpet etc...

50

gr

Butter

2

Shallots

finely chopped

100

ml

double cream

400

gr

Tin of white cannellini beans

drained and rinsed

200

ml

Chicken or vegetable stock

250

ml

Dry White Wine

2

Garlic Clove

finely chopped

50

ml

olive oil

Ground Pepper

Sea Salt

10

gr

Flat leaf parsley

finely chopped
Instructions
Put 10 mls of olive oil and 20 gr of butter in a hot frying pan.

When the butter is turning brown, add each type of mushroom separately and sauté each type for approximately 5 minutes.

Put the cooked mushrooms together in a bowl and set aside.

Wipe clean the pan, add some olive oil and gently fry the chopped shallot and chopped garlic, being careful not to burn the garlic or the flavour of the cassoulet will be spoilt.

When the shallots are translucent, add white wine and simmer until reduced by half.

Add the stock and simmer again to reduce by half.

When the liquid has reduced down, add the beans and cook gently for 4 minutes.

Add the mushrooms, pour in the double cream and simmer very gently until the sauce thickens slightly.

Season to taste with black pepper and sea salt.

Set aside and keep warm.

Place the chicken fillets between two pieces of cling film and gently flatten with a meat mallet or rolling pin.

Trim away any fat or sinew and season with salt and pepper.

Heat the remaining oil and butter in a frying pan on a medium heat.

Sauté the chicken on both sides until nicely coloured and cooked throughout.

Reheat the cassoulet and sprinkle with the chopped parsley.

Serve the chicken fillets on top of the cassoulet with some lightly cooked French beans tossed in butter and garlic.