Veal Cordon Bleu Recipe and a History Lesson
Veal Cordon Bleu sounds French right? Of course, cordon bleu is French but we only recently discovered the origin of the term. According to Larousse Gastronomique, the cordon bleu was originally a wide blue ribbon worn by members of the highest order of knighthood, L'Ordre des Chevaliers du Saint-Esprit, instituted by Henri III of France in 1578. By extension, the term has since been applied to food prepared to a very high standard and by outstanding cooks. However, discover the origins of this recipe, which made it's way into the New York Times in 1955.
Your choice of side dishes will depend on your tastes and the time of year. For a Provencal, touch try Artichokes à la Barigoule,  Squash Puree with cumin or Ratatouille the French Laundry Way.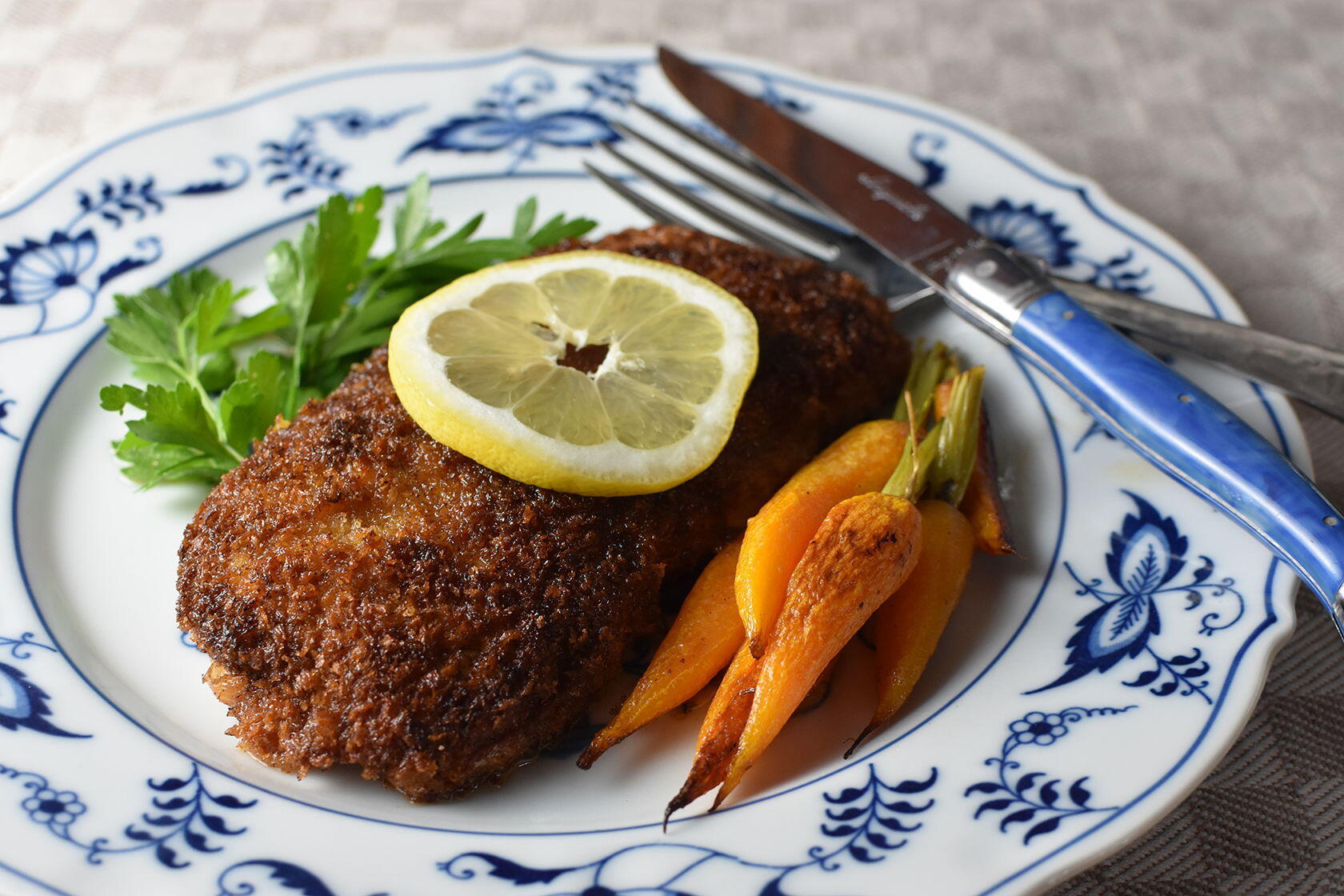 Veal Cordon Bleu 
This recipe is easy to prepare as long as you have the ingredients ready for the dipping stage. Serve with sides of your choice.
Ingredients
8

thin slices of

Veal from the leg or loin

pounded

4

slices

Prosciutto

3

oz

Gruyère

coarsely grated, preferably Swiss

2

Eggs

2

cup

Breadcrumbs

plus more as needed

8

tbsp

Unsalted Butter

juice of 1/2

Lemon
Instructions
Preheat oven to 350°F.

Lay out four veal slices. Place one slice of prosciutto on each slice of veal and top each with a quarter of the cheese, pressing the cheese down firmly to help make it stay in place.

Cover each with the remaining veal. Beat the two eggs in a pie plate or shallow soup plate. In another similar plate, spread out the breadcrumbs.

Dip each veal packet in egg, turning to coat, then place in the breadcrumbs, again making sure both sides are well coated.

Place them on a plate and then allow them to rest in the refrigerator at least 30 minutes.

In a skillet large enough to hold all four packets, melt 4 tablespoons of butter over medium-high heat.

When the butter has stopped foaming, sauté veal packets 4-5 minutes on the first side until a deep golden brown *, then about 2-3 minutes on the second.

Remove from fat and place them in a baking dish. Put them in the oven for 4 minutes. Do not clean the skillet.

When ready to serve, melt the remaining 4 tablespoons butter and the lemon juice together in the skillet.

Divide the veal packets among four heated plates, then pour lemon butter sauce over top.

Garnish with parsley.
Notes
* Some prefer theirs lighter, but darker provides for a better crunch!