Secrets of St Rémy: The Best Place for a Picnic
Just ten minutes from the centre of St.-Rémy is a shady picnic spot known only to the locals. It sits along the shores of a lake created thousands of years ago by the Romans.
When hordes of tourists crowd into town, it's nice to take a break in a quiet spot. So grab some wine and cheese, and let's go!
The Lac du Peiroou is a small reservoir resulting from a dam that spans two rocky outcroppings near the ancient city of Glanum.
Continue reading here to discover this small lake near St Remy de Provence. The location was the site of a Roman dam from approximately 1 BC.
---
Picnic Essentials from Provence
Picnic is a universal term for enjoying a culinary experience outdoors with some of your favourite portable foods. The French, though, take the word pique-nique to an elevated culinary level! My experiences in North America pale in comparison to the memorable pique-nique outings in Provence.

Start with a Plan (or Not)
You start with a basket, backpack or cooler of the foods and wine you want to share with your family, friends or hiking/cycling group. Often, the destination is as important as the precious cargo you are transporting. It could be a hiking adventure to one of the beautiful Calanques near Marseille or Cassis, or it could be a bike trip to one of your favourite villages. I love cycling in Bonnieux and Saignon as the views are so breathtaking and the hills so challenging.
Essential Ingredients
The presentation of your culinary spread is not as crucial as your culinary selections, but with a little effort, you can create a feast to impress your fellow picnickers. It helps to bring a colourful blanket to display your ensemble of some of the following suggestions (click the links for recipes):
Pan Bagnat (a Niçoise Tuna Sandwich)
This sandwich is often described as salad Niçoise on bread. It's delicious, quick to make and best consumed right away. (Photo by David @Cocoa&Lavender)
Check out this recipe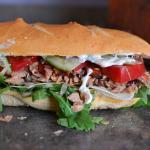 Pork Rillettes
Because of the lengthy cook time, Lisa and I like to make a big batch of rillettes every winter and freeze them in small jars ready to enjoy all throughout the year. Rillettes are best served at room temperature spread thickly on toasted bread.
Check out this recipe

Sweet Moroccan Cucumber Salad
This recipe serves 4 people as a starter or salad. Alternatively, serve as a side dish with grilled meat or fish.
Check out this recipe

Moroccan Carrot Salad
Easy to make and a delicious side dish with roasted meat or fish. Also, perfect for a picnic or just because.
Check out this recipe

Crespeou Provencal Picnic Fare
This dish is not complicated, despite the number of steps. You can use whatever ingredients you prefer in the layers. Serve with the tomato sauce and a green salad. Alternates for ingredients: roasted red pepper, mushrooms, ham, cheese, pesto - just make sure to choose one ingredient per layer
Check out this recipe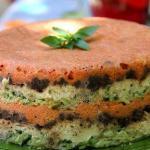 Olive Tapenade, Caviar d'Aubergine and Goat Cheese and Basil Dips
These three dips include classic ingredients from Provence. Each one is very easy to make, all you need (besides the ingredients) is a blender.
Check out this recipe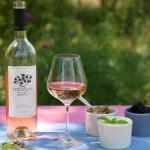 Here is a market bag that doubles as a picnic basket:

Or this sturdy handwoven tote: