Bike Riding around the Lavender Fields in Provence
Contributor blog post by David Taylor:
Early July is the peak of colour in the lavender fields that surround us.
Whilst I cycled it would be a very pleasant drive and encompasses some spectacular scenery.
From Saint Saturnin Les Apt I took the D179 towards Rustrel and then turned left onto the D34 which takes 12 kilometres to reach Lagarde d'Apt at just over 1000 metres altitude.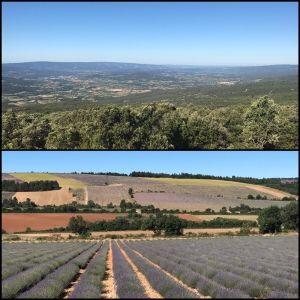 ..Continue reading here for David's explanation of his whole cycling route, a bike ride loop of 96km and elevation gain of 1730M – not for the faint of heart. However, you could drive the same route and enjoy the views of the lavender fields just as much.
Via:: Accommodation in Provence