Savoury Olive Cake Appetizer
Aurelie Gilabert, the founder of Avignon Gourmet Tours, is an Avignon native who seamlessly navigates her way between three languages (French, English and Portuguese). She offers guided tours of the papal city with just the right blend of historical information and foodie tidbits – be prepared to sample local treats along your walk. Aurelie agreed to share her recipe for Nyons olive cake, a savoury appetizer, with Perfectly Provence readers.
Needless to say, in the south of France love "L'apéro," as we call it here. Call it aperitif, pre-dinner nibbles; it's all about sharing a great time with your friends and family. A traditional aperitif is made of different olive varieties, tomatoes (either confites or small fresh ones), some nice cheese and sometimes cold meat cuts. But if you have some time on your hands, it's always nice to add one or two homemade delights.
Here is a recipe for a savoury olive cake or bread that can be eaten on its own or even replace the bread for your dinner. We'll use a local variety of olives called "Nyons". They are protected by a quality label that guarantees their origins and quality. They grow in the town of the same name (Nyons), located 70km north of Avignon and are picked at full maturity between December and January. If you can't get your hands on Nyons Olives, try and look for good quality black olives (Greek Kalamatas, for example).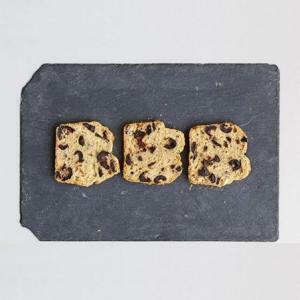 Savoury Olive Cake
Today we're sharing a delicious recipe made of Provençal ingredients that will be perfect for your aperitif and a glass of Rosé (or 2!).
Equipment
Ingredients
100

g

Nyons olives

pitted

150

g

Plain Flour

2

Free range eggs

4

tbsp

double cream

4

tbsp

Extra virgin olive oil

1/2

tsp

chopped rosemary

1/2

tsp

chopped thyme

1

tsp

Sugar

1/2

tsp

Salt

1/2

tsp

Pepper

1

tsp

Baking Powder
Instructions
Preheat your oven at 180°C

Grease the base and line a loaf pan

In a bowl, whisk the eggs with the salt, pepper and sugar until the volume doubles.

Add the thyme, rosemary, cream and oil. Use a sieve to add the flour and baking powder to the mixture.

Put in the oven and bake for about 40 minutes. To check if the cake is ready, insert a skewer in the center of the cake. It should come out clean.

Leave to rest for about 5 minutes in the tin before turning out on a wiring rack to cool.
More Recipes with Olives:
Fougasse with Olives and Cherry Tomatoes
The combination of sweet cherry tomatoes and tangy black olives make this focaccia-style bread a stunning addition to any meal. You can even enjoy it on its own with some olive oil or accompanying some soup for a well-rounded and delicious meal.
Check out this recipe

Chicken Tagine with Green Olives and Preserved Lemon
Adapted from a recipe by Tyler Florence.
Check out this recipe

Cake Aux Olives Vertes - Green Olive Cake
A quick and delicious appetizer bread that's easy to make and even easier to eat! A savoury delight with salted olives, rich smoky duck breast and creamy bites of Gruyère. A must for your next dinner party.
Check out this recipe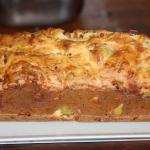 Olive Tapenade, Caviar d'Aubergine and Goat Cheese and Basil Dips
These three dips include classic ingredients from Provence. Each one is very easy to make, all you need (besides the ingredients) is a blender.
Check out this recipe