Roast Pheasant with Marsala Sauce
Unless you are a bird hunter or know someone who is pheasant and many other game birds like duck are sadly underrepresented in the kitchen. Today's cooks often tend to choose "safer" (read: not too culinary adventurous) poultry like chicken or turkey. As kids, my dad would hunt, and my mother would roast the pheasant, we had to do the plucking.
The good news is now many farmer's markets, like the one close to us in Tuscon, have wonderful farm-raised birds. Enjoy this recipe for roast pheasant with a tasty orange and marsala sauce.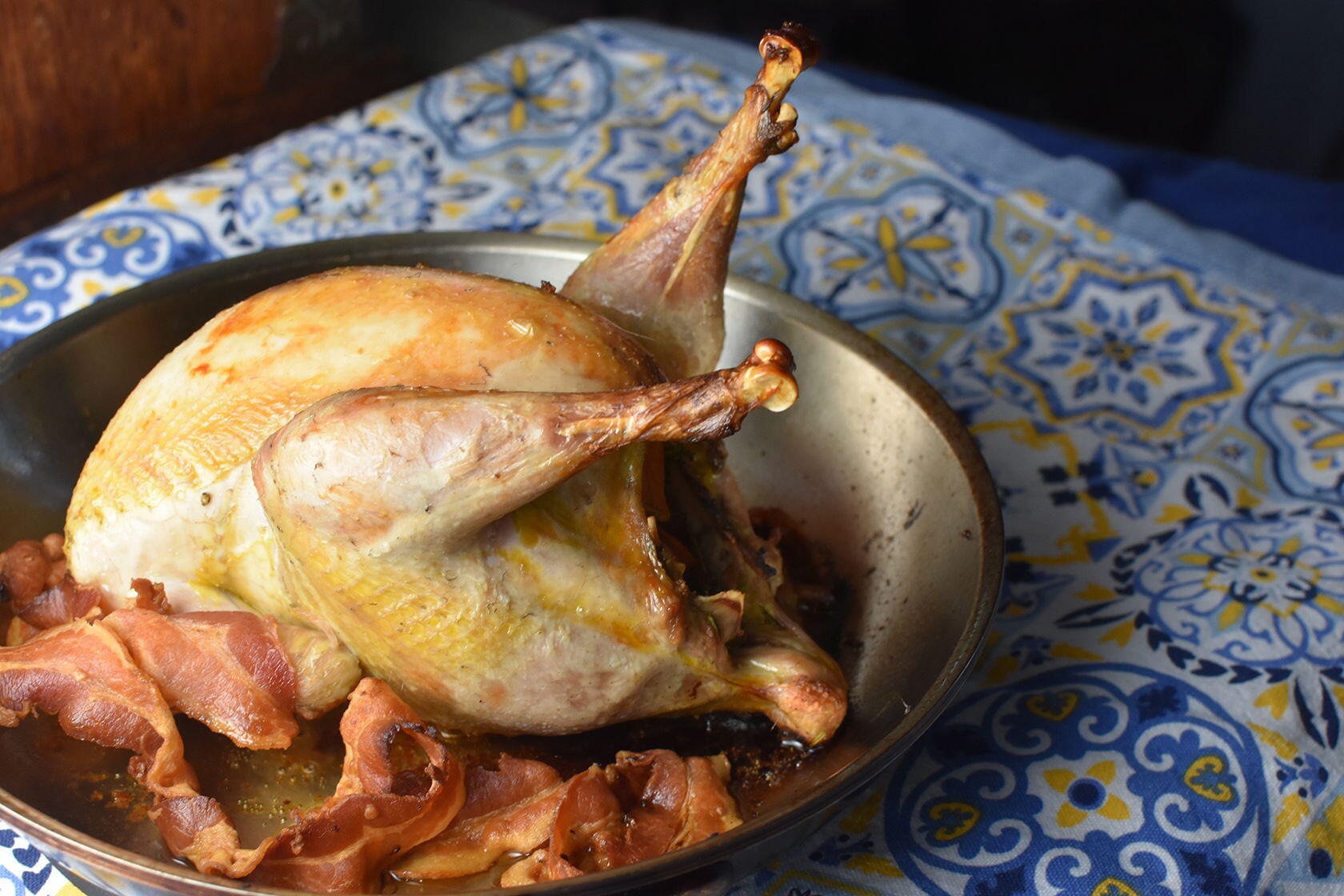 Roast Pheasant with Marsala Pan Sauce 
Roast poultry of any kind is easy to make and fills your home with delicious aromas. This recipe is for two people, but can easily be doubled.
Ingredients
1

(2lb - 1 kg)

Pheasant

farm-raised

Salt

Freshly ground black pepper

1

shallot

peeled and halved

1

small

Carrot

peeled and cut into 1-inch pieces 

3

sprigs

Fresh Thyme

1

sprig

Bay Leaves

2

sprigs

rosemary

8

slices

Pancetta

juice of 1

Orange

1/4

cup

Marsala wine

1

cup

prepared demi-glace

or rich stock

2

tabsp

Unsalted Butter

cold
Instructions
Preheat the oven to 500°F and position the oven rack in the bottom third of the oven.

Wash and pat the bird dry.

Season the cavity and the outside of the pheasant liberally with salt and pepper.

Stuff the cavity with the halved shallot and carrot along with the bay leaves, rosemary, and thyme.

Squeeze the juice from orange and set aside.

Arrange the pheasant in an ovenproof skillet (cast iron is a good choice), breast side up.

Cover the pheasant with the pancetta slices, including the legs.

Roast for 15 minutes at 500°F, then reduce oven to 400°F.

Remove pancetta from the pheasant and let it fall into the pan. It will crisp as it roasts.

Roast for another 23 minutes, or until the juices run clear.

Remove from the oven and transfer the bird and pancetta from the pan to a carving board.

Let the bird rest, tented loosely with foil to keep it warm.

Set the crispy pancetta aside.

Place the skillet with the drippings over high heat and, when hot, deglaze the pan with the reserved orange juice and Marsala, scraping up any brown bits from the bottom of the pan.

When the liquid has reduced by half, add the demi-glace and continue to cook until sauce has reduced enough to coat the back of a spoon, about 3 to 4 minutes.

Whisk in the butter and remove from the heat.

Using a fine-mesh sieve, strain the sauce into a clean bowl.

Carve the pheasant, serving a breast and a thigh-leg to each guest, with the crisp pancetta as a garnish.